10 Second Magical Royal Icing
09 Tuesday Apr 2013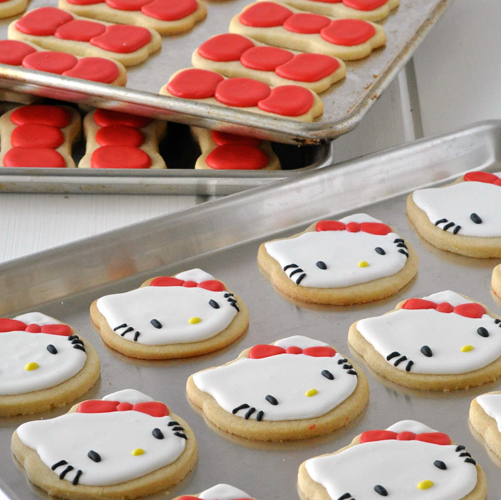 It's that time of year again, when I make cute sugar cookies with royal icing for my daughter's favor bags for her birthday. This year, for her third birthday, she wanted the theme to be Hello Kitty. I honestly saw this a mile away since she was in love with Hello Kitty at the time of her second birthday as well!
While I have used this royal icing recipe in the past and have had success, I learned from Marian of Sweetopia at the Mixed Conference that there is an easier way! My biggest complain of royal icing is having to have a thick icing for outlining and a thinner one for flooding. If you have multiple colors that means you need two of everything. This can make for a tedious prep and cleanup. I don't have time for that, especially with a three year old running around! This icing was great for an outline and then filling in right away. I also learned the shake method from Marian, where you give the cookie a slight shake and icing will fill your design, rather than chasing it around with a toothpick. For some great tutorials, check out Sweetopia, the link is at the bottom of this recipe.
For the bow shaped cookies, I used this tutorial. I had a bone cookie cutter hanging around from last year's puppy themed second birthday party so I simply bent that a little bit and made it broader and more bow like. With the large bow cookies and the bows on Hello Kitty's face, I did the center piece first, allowed that to dry for 20 minutes and then went back and did the side pieces. For the faces, I then filled in the white part and let that dry overnight. The next morning I added the details of her face.
I used my go to sugar cookie recipe for these cookies.
10 Second Magical Royal Icing
Ingredients
6 oz. warm water (about 3/4 cup)
5 Tbsp Meringue Powder
1 tsp Cream of tartar
2 1/4 lbs Powdered sugar
1 tsp clear vanilla (if there is no vanilla present in the meringue powder)
In the bowl of your standmixer, add water and meringue and hand whisk (do not use the mixer!) for 30 seconds.
Add the cream of tartar and hand whisk for an additional 30 seconds.
Add the powdered sugar, and using the mixer paddle attachment, mix on slow for 10 minutes.
Tint with your desired color. Remember, if you are after a true white, you will want to use a brightener. Although this mixture appears white, it will look dull once you have applied it. Also, make sure you keep a damp towel over the icing or keep a lid on the icing to make sure it does not dry out.
Source: Sweetopia