4th of July Recipe Roundup
02 Thursday Jul 2015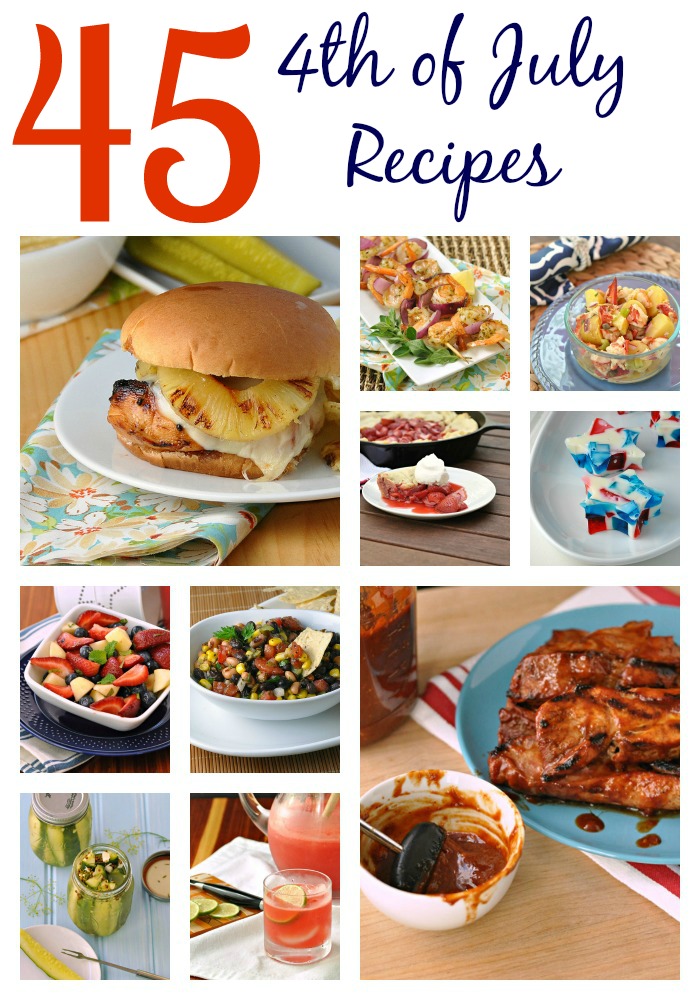 The 4th of July is fast approaching and I wanted to share some of my favorite recipes. Really, these can be made all summer long, but the 4th usually involves large gatherings so food is a plenty! I chose these recipes because they are easy to make and most can be made well in advance. The 4th is supposed to be about kicking back and relaxing, so no slaving over the oven and grill. I hope you all have a great 4th of July weekend, filled with fun, family and friends, beautiful weather, and lots of good food! Enjoy!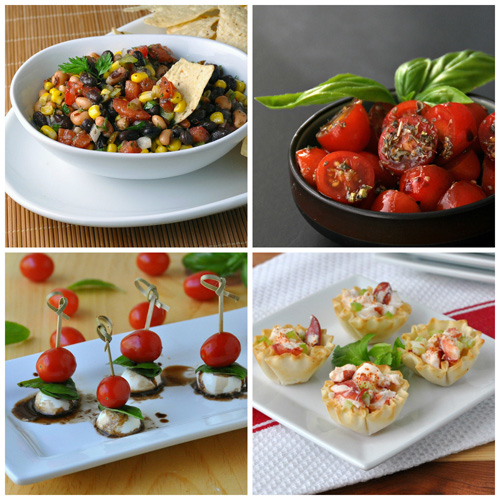 Appetizers
Every good party has to have snacks while you're waiting for the main event to finish grilling. I usually love to have some chips and dips, fresh fruit and veggies cut up, or one of these. Keep it simple and tasty when it comes to summer barbecues!
Balsamic Cherry Tomatoes ~ These are so delicious and easy to prepare in advance. If you like tomatoes, you'll love these!
Cowboy Caviar ~ This has become a staple at most of our barbecues. Just watch out, it's so tasty and filling that you'll find yourself eating the whole dish!
Mini Caprese Bites ~ Another simple, fresh item that is easy to prepare in advance and offers a nice snack without ruining your appetite for dinner. This is the time of year to enjoy caprese as the tomatoes and basil are fresh!
Lobster Roll Cups ~ A great way to get a taste of New England. These can be made in advance and are perfect for a party as they give you a bit of lobster roll indulgence without breaking the bank!
Bruschetta Classic Tomato Topping ~ Another great dip option that highlights the fresh summer harvest. So many use it for indoor parties, but I love enjoying this on a summer's night.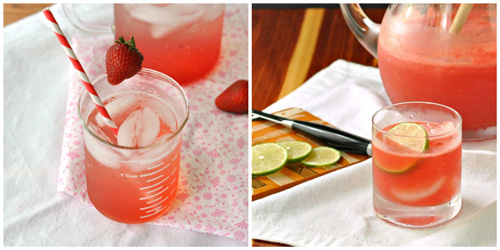 Beverages
Every good party deserves some good beverages! While a few bottles of your favorite beer or wine is great and you can never go wrong with a classic lemonade, I love to have one special drink mixed up as well, .
Strawberry Rhubarb Italian Soda ~ Sweet and tart, fresh and bubbly. What's not to love?
Tequila Watermelon Refresco ~ This can be made for adults only or leave out the tequila for a fun non-alcoholic drink for all!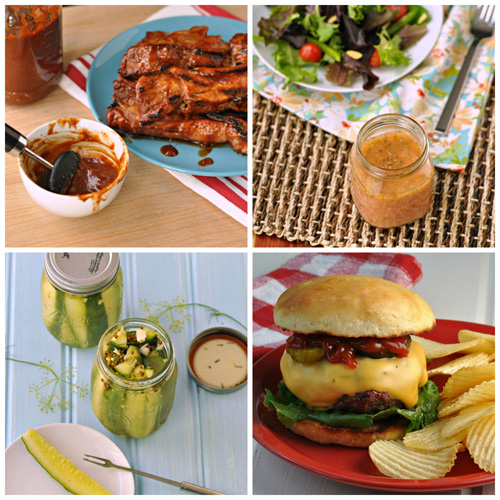 Do It Yourself
Make some of these items yourself for an extra delicious barbecue this summer. Everyone knows homemade is always better, but did you know you can make these barbecue staples? The best part is you can make them in advance!
Hamburger Buns ~ If a loaf of fresh baked bread is desired by all, then why not make your own hamburger rolls as well? Doesn't that amazing burger deserve it?
Marshmallows ~ That's right. I said make your own marshmallows. Once you've done it you'll never go back. These are amazing, don't burn your mouth when you eat them, and will have everyone coming back for more!
Montreal Steak Seasoning ~ Don't reach for the pre-made stuff. Use these simple pantry staples and  whip up a great steak or potato side dish in no time.
Ketchup ~ While the stuff in the squeeze bottle is easy and expected, why not give homemade ketchup a try?
Ranch Dressing ~ Take advantage of all of the herbs that are growing this time of year and whip up a batch of this easy ranch dressing. Your veggies will thank you for it!
Light Italian Dressing ~ Please, skip that bottled stuff and skip all of those unneeded extra ingredients. You'll thank me.
Grilled Corn Dressing ~ OK, one more but this dressing is fun and adds a different flavor for your backyard spread.
BC's Barbecue Sauce ~ Every good BBQ needs a great barbecue sauce. This is easy to make, lasts for weeks, and appeals to all palates!
Refrigerator Dill Pickles ~ These pickles can be made quickly and don't require a long sit time. Add some flavorful crunch alongside your main dish.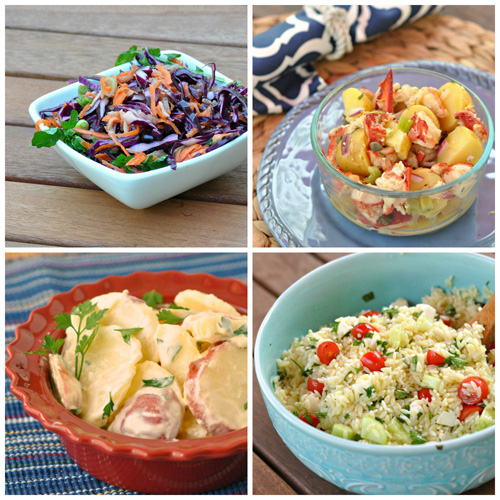 Side Dishes
While the main event is always talked about when it comes to barbecues, I think that the side dishes are the ones every one really loves. Everyone has a favorite they love to bring or hope someone brings. These are dishes that are a plenty on a picnic table and everyone loves to grab a bite of each.
Confetti Coleslaw ~ Make it pretty and festive and change up the classic a bit.
Creamy Cucumber Salad ~ One of my favorites, this sweet and creamy cucumber salad is perfect on a hot summer's day.
Caprese Orzo Salad ~ Want a change from the potato or pasta based salads? Go no further! This salad is fresh and light, perfect for an already heavy meal!
Grilled Bell Peppers Stuffed with Mozzarella ~ Leave a little room on the grill for these and everyone will thank you. What's not to love about warm, gooey mozzarella with bread and grilled bell pepper?
Long Island Potato Salad ~ A classic in my family and barbecues growing up.
Dijon Potato Salad ~ A little tangy way to mix up potato salad.
Lobster & Potato Salad ~ Up the ante on your classic potato salad. This can be a side or a meal!
Mom's Macaroni Salad ~ My favorite growing up! If it wasn't macaroni and cheese, it was this creamy macaroni salad.
Zesty Grilled Veggies ~ A fun and tasty way to get your veggies in!
Shrimp Salad ~ A great way to add some seafood to your day and skip the pasta and potatoes!
Montreal Seasoned New Potatoes ~ These slightly spicy grilled potatoes are a perfect side dish to any BBQ.
Tropical Butternut Squash Salad ~ A great, fun side dish that probably no one else will bring. I love the bursts of flavor from the cilantro, pineapple, and cilantro in here!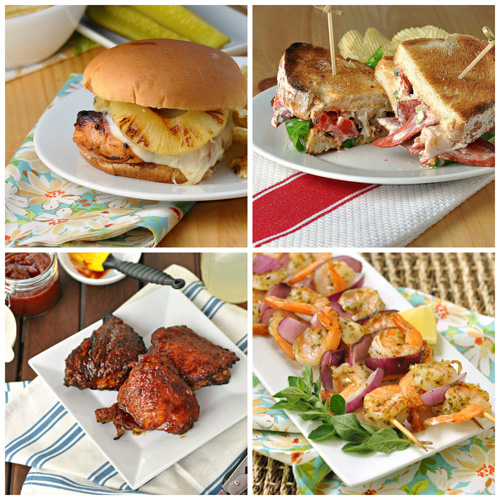 Main Dishes
The main event for a 4th of July party doesn't have to always be burgers, hot dogs, and ribs, but it's okay if it is too. Here are some of my other favorites that I hope you'll enjoy!
Spiedes ~ This is an upstate NY classic that you will want to try. Customarily made with lamb meat, you can also use this marinade on pork and chicken.
Pulled Chicken Sandwiches ~ Make this delicious, tender meat ahead of time and assemble your sandwiches once you're ready.
Chipotle Lime-Glazed Shrimp ~ These are tasty on their own, topping a salad or a steak.
Kalbi Beef ~ Please the crowd with this easy Korean marinade that will have them coming back for more!
Chipotle Barbecue Chicken ~ Kick your barbecue sauce up a notch with this awesome chipotle barbecue sauce.
Grilled Oregano Shrimp ~ Shrimp are always a favorite when grilling since they take mere minutes to cook. These are definitely great on their own or as an accompaniment.
Lobster BLT ~ Who says you have to grill on the 4th? There isn't a law and if you want to pack some sandwiches, shouldn't they be a little indulgent?
Hawaiian Chicken Sandwiches ~ These are my family's favorite grilled chicken sandwiches and for good reason. A sweet marinade, melted provolone, and a grilled pineapple slice hit all the right notes!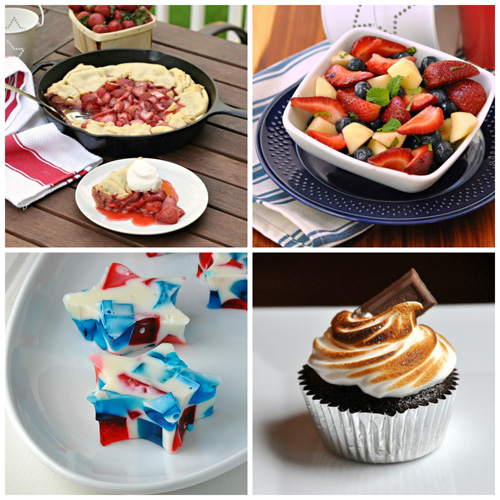 Desserts
Hope you saved room for desserts because everyone loves to bring something sweet to a barbecue. Whether it's some sliced watermelon, popsicles, or some festive pies and cakes, the 4th of July definitely requires a little dessert!
Red, White & Blueberry Salad ~ Don't want that added sugar after a large meal? Enjoy this fresh, festive fruit salad.
Grilled Skillet Strawberry Pie ~ Put this pie on the grill after you've served your entree and relax while it bakes.
S'mores ~ S'mores just got better by using all homemade ingredients. Tell someone to bring the chocolate bars because you'll be making your own graham crackers and marshmallows. S'mores CAN taste better!
S'mores Cupcakes ~ Want a make ahead s'more? Make these adorable S'more cupcakes and wow everyone at the party.
Star Spangled Jello ~ This always impresses and is really festive.
Key Lime Ice ~ Want something little, yet sweet? This sweet, yet tart shaved ice will satisfy you on a hot day.
Key Lime Cupcakes ~ Love citrus flavor, but need something more substantial before you watch the fireworks? These key lime cupcakes with an awesome filling will definitely be a crowd favorite.
No-Bake Fresh Strawberry Pie ~ Pie just got easier with this delicious no-bake strawberry pie!
Strawberry Ice Cream Brownie Cupcakes ~ These are an oldie and a goodie around these parts. Ice cream meets brownie in an easy to eat way. Make plenty because most people will want two!