ActiFry Giveaway!
15 Friday Feb 2013
Recently, I was asked if I would like to try out a T-fal ActiFry and review it on my blog. Not only would I receive one, but a lucky reader would as well! I was hesitant at first, since I'm leery of new gadgets and pride myself in avoiding "uni-taskers." I asked around and the consensus was that not many people had tried one, but really wanted to. My next step, before saying yes, was to look into possible recipes that I could use it for. What I found was that it really can make a lot, you can use their recipes or your own. From appetizers to desserts, the ActiFry says it can do it!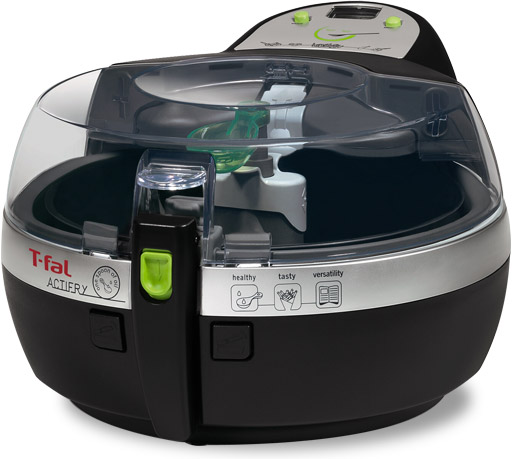 When I received the ActiFry, I also received a well appointed recipe book. There were many recipes included from each course and a whole section on fries. Since this is what the ActiFry is known for, I wasted no time in making a batch of french fries that night. I'll admit, I was a little hesitant as the machine started to operate. It sounds a bit like a hairdryer. My husband and daughter had fun watching it work since you can see the magic happening through the clear plastic lid. I had heard that it takes a really long time for the french fries to cook, but I think 30-40 minutes is a fair amount of time since it's the same for the store bought variety and you are getting something home made with barely any oil. The verdict on the french fries? Great! We've made them a few times already which pleases my husband and daughter. Before, I would rarely make them since the quality was never that great unless I deep fried them.
While it makes some pretty darn good french fries, I needed to test it out on a few different recipes to really see if the ActiFry could earn a place on my counter. So, I tried out a variety of recipes that included different cooking methods. Plus, things that a lot of people may not make at home, but after trying it out in the ActiFry, realize they can make it with ease and often! I think I really put the ActiFry to the test with Steamed Mussels, Risotto, Stir-fried chicken, a apple and banana dessert, and regular french fries and sweet potato french fries. I wasn't disappointed with any of the results. The mussels were steamed to perfection, the risotto was creamy and cooked wonderfully, and the chicken was just as good as if I stood over a wok. I think my favorite use of the ActiFry has to be the risotto. While I don't mind making it, who wants to stand over a pot constantly stirring if they don't have to? The ActiFry does the labor for you. That meant I could prepare risotto on a weeknight with my husband at work still and my toddler running around and not be frazzled at all. Wonderful!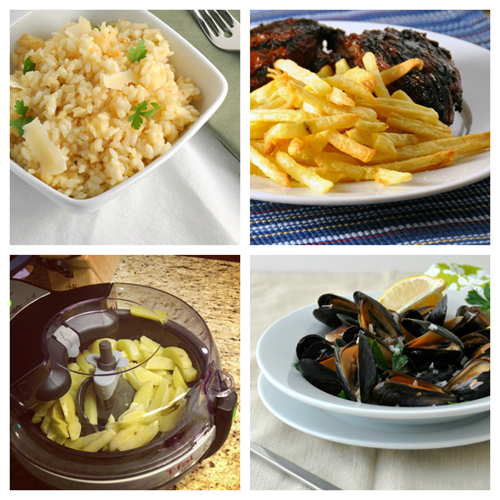 I've talked about the ease and versatility of the ActiFry, but I haven't mentioned the fact that using the ActiFry limits your oil use in cooking. At most, you only use one tablespoon. Now, I know a lot of recipes call for that when you are sauteeing, but how many of you use more? You look and go, hmmm I think I'll add a smidge more. Well, you don't have to with the ActiFry because everything tastes great with that one little scoop. Plus, the machine is on and you aren't as tempted to stop it to add more!
So, we have something easy to use, with great results, uses less oil, and can hopefully inspire people out there to try different recipes. What's not to lose? Yes, it does take up some counter real estate and I'm one of those people that doesn't like anything on my counters. Nothing, nada! If I could, I would remove my microwave everyday. The ActiFry has been on my counter for over three weeks now and I haven't had a panic attack once! It gets used so there is no reason to set it aside. I am also looking forward to using the ActiFry in the summer. My mind already races with all of the things I want to make in the oven, yet refuse to when it's 90 degrees in the house.
I know a lot of you are already excited about the giveaway. Every time I mention in on Facebook I get emails asking if it's too late to enter. Well, the wait is over. One lucky reader is going to win their very own ActiFry, that's a $250 value! Here is what you need to do in order to be entered to win:
That's 4 separate entries to win! Make sure to leave separate comments as your comment number is your entry number.
I'm sorry, but the giveaway is only open for those living in the United States. A winner will be selected Friday, February 22nd at noon EST by a random number generator and contacted by email. All entries are subject to verification.
Good luck!
***Congratulations Melinda Bricker!***
T-fal provided me with the ActiFry, but as always the opinions expressed here are solely my own.