Apple Streusel Muffins with Maple Drizzle
24 Thursday Mar 2016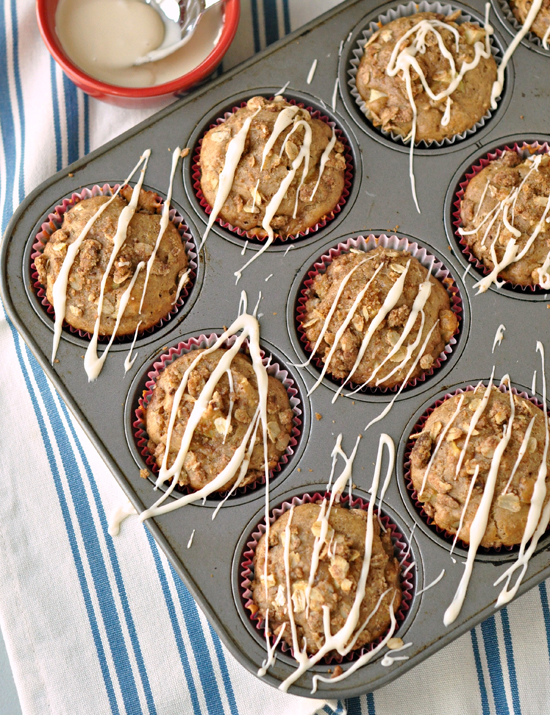 Move over muffins laded with berries and sugar. I've found a new favorite. Don't move over too much though, I still love you, just not as much. These muffins have been in my queue for a while now. They appeared during the fall for apple picking season and then again for maple syrup season. Then I finally made them, fell in love with them. Besides the overall package, they appealed to me because everyone in my family loved at least one of the key ingredients. I figured if they didn't go over swimmingly since they were healthier that I could bring these ingredients up as I coerced them to eat them. There was no need. These are gobbled up immediately.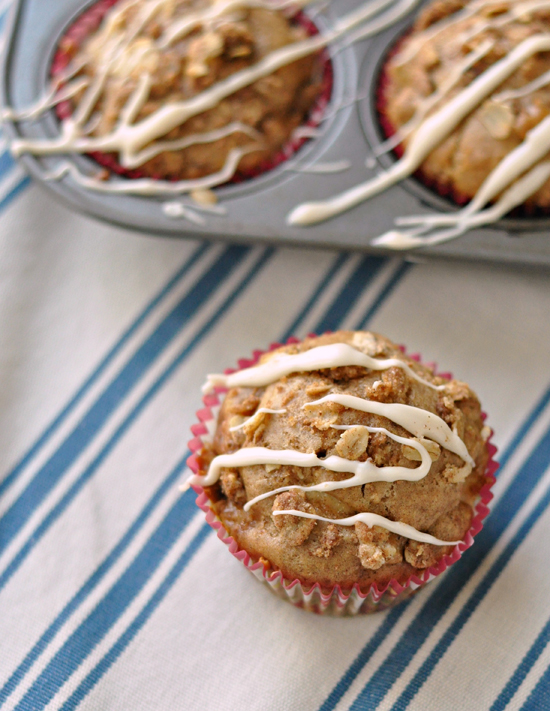 Before you've noticed, you've eaten one and are going back for another. That second one you appreciate all of the flavors and complexity of the muffin. Even eaten at room temperature you have a warmth from the cooked apples and cinnamon. Oh that cinnamon is delicious too, let me tell you. Then you have that lovely brown sugar and oatmeal crunch on top. Yum! All of this is topped off with a lovely maple syrup glaze that isn't overly sweet and just gives that perfect finishing flavor to everything. These are really the best little muffins. They can totally be considered a dessert since they have that great apple pie taste. When these are in the kitchen, the chant for "muffiiiiiins" is louder and ever more present from the kids, and my belly!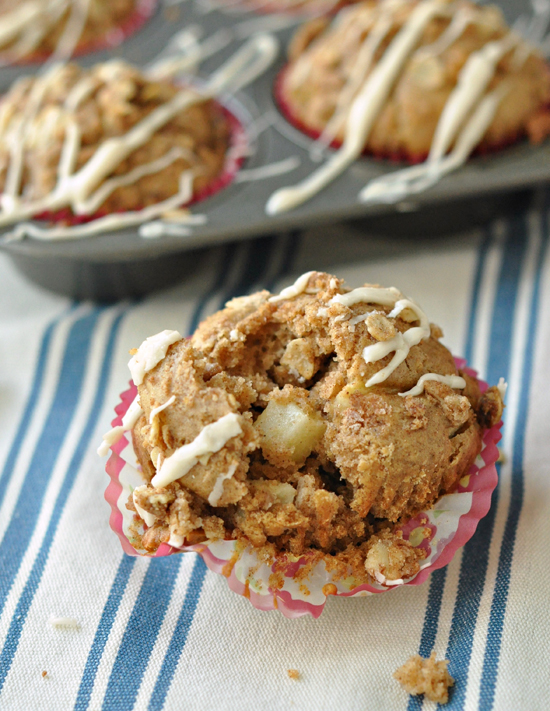 Apple Streusel Muffins with Maple Drizzle
Ingredients
For the streusel:
2 Tbsp old-fashioned rolled oats
2 Tbsp spelt flour
1 Tbsp brown sugar
1 Tbsp butter, melted
1/2 tsp ground cinnamon
For the muffins:
5 oz spelt flour (about 1 cup)
2.5 oz whole-wheat pastry flour (about 1/2 cup)
2 tsp ground cinnamon
1 1/2 tsp baking powder
1/2 tsp baking soda
1/4 tsp kosher salt
3/4 cup low-fat buttermilk
1/2 cup brown sugar
2 Tbsp canola oil
1 Tbsp butter, melted
1 large egg, lightly beaten
1 Granny Smith apple, diced (about 1 1/4 cups)
1/2 cup powdered sugar
2 tbsp maple syrup
1/2 tsp water
Pre-heat oven to 400 F.
To prepare streusel, combine the first 5 ingredients in a bowl, set aside.
To prepare the muffins, combine flours, cinnamon, baking powder, baking soda, and salt in a medium bowl.
Combine buttermilk, brown sugar, oil, butter, and egg in a bowl. Add buttermilk mixture to flour mixture, stirring until just combined.Fold in apple. Divide batter among 12 paper-lined muffin cups and top evenly with streusel.
Bake for 16 minutes to until a wooden toothpick inserted in the center comes out with moist crumbs clinging. Cool in a pan for 5 minutes. Remove from pan and cool completely.
Combine the powdered sugar, syrup, and water in a bowl, stir until smooth. Drizzle evenly over muffins.
Serves 12
Source: Cooking Light, Sept 2014