Bacon Corn Bread ~ Guest Post by Books-n-Cooks
02 Monday Dec 2013
Here is another fabulous guest post by one of my blogging friends. I met Liz from Books-n-Cooks at a conference last year around this time of year. She was pregnant with her daughter and I was reminiscing about the newborn stage as I dealt with being away from my 2.5 year old for the first time. I really enjoy her blog because she makes approachable recipes for everyone. She brings the "yum" factor and always has something just a little bit different than what other blogs are bringing to the table.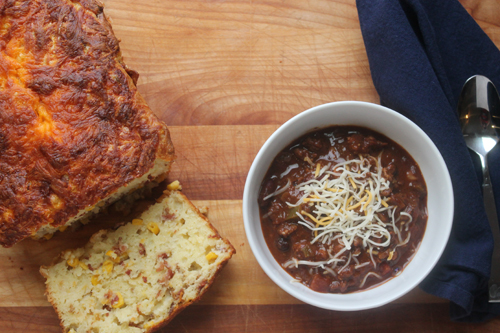 This time last year, I was 6 months pregnant. I was entering my third trimester and planning all of the things I'd do during maternity leave. I'd blog twice a week. I'd read a book a week. I might paint a room or two in my new house. Ha! Was I in for a wake up call!
Now Maeghan, she's a smart cookie. She knows that the third trimester is no picnic and that maternity leave is not the vacation that I was clearly planning for. She's already had a couple fabulous bloggers guest post for her and I was thrilled to be among them.
I wanted to make you something warm and cozy to tide you through the winter months. In my house, chili is a staple in the fall and winter months. I have a couple of recipes I rely on – one for quick weeknight meals and the other for a lazy Sunday, when a huge batch of chili can simmer on the stove all day. However, I've always gotten a little lazy with my side dishes. I usually resort to tortilla chips or rice. It was a rare occasion that I made corn bread. A few weeks ago, however, I decided to treat my husband to a new recipe featuring two of his favorite items – corn and bacon. This bread, a Bacon Corn Bread, is easy to make and super flavorful. Super bacony. It was a great side dish to accompany our weekend chili.
Maeghan, congrats on the new addition to your family! Enjoy your first weeks as a family of four!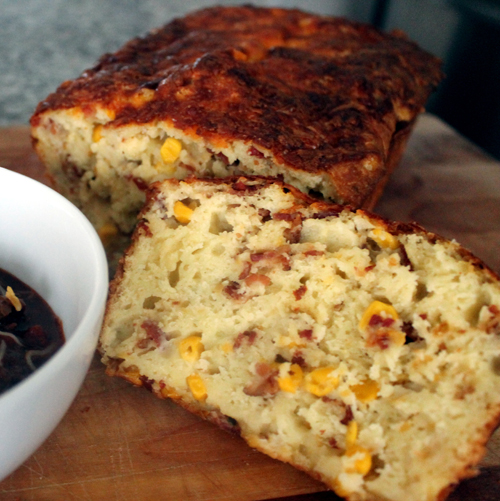 Bacon Corn Bread
Ingredients
2½ c. all-purpose flour
2 tsp. baking powder
1 Tbs. granulated sugar
1 tsp. salt
4 large eggs
½ c. (1 stick) unsalted butter, melted
1 c. milk (I used skim)
1-15 oz. can whole corn kernels, drained
1-8.5 oz. can creamed corn
1 lb. bacon, cooked and diced
1 c. shredded cheddar cheese
Preheat oven to 350°F. Grease a loaf pan and set aside.
Sift flour, baking powder, sugar and salt together in a large bowl. In another bowl, whisk together eggs, melted butter and milk, until just combined. Add to flour mixture and stir until just combined with a wooden spoon. Fold in corn and bacon.
Pour into prepared loaf pan and sprinkle top with cheese. Bake for 50-65 minutes, until top is golden and a skewer inserted into center comes out clean. Remove from oven and allow to sit for 5 minutes. Serve warm or move to a wire rack to cool completely.
Yields 1 loaf.
Guest Post by Books-n-Cooks, originally from Simply Delicious