Baked Fettuccine Alfredo
14 Monday Oct 2013
Written by Maeghan in Pasta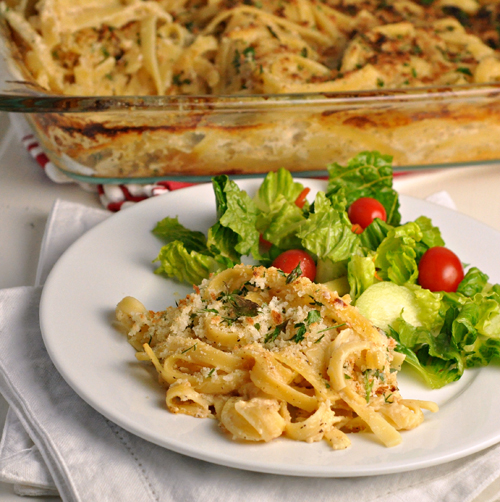 It's getting cooler out so I am finally getting in the mood to make some baked dishes. My husband would have baked pasta several nights a week if I let him all year round, but I have to wait for the cooler weather. It's a mindset thing. I wanted to try something new out because my daughter does not like red sauce, or anything tomato for that matter, and almost my entire recipe book is filled with baked pasta dishes loaded with tomato sauce! Back when my husband and I first started dating he refused to eat Alfredo sauce, but little by little he has come to like it. Granted, he'll choose tomato over it any day. I decided to temp fates and see if I find something that my daughter would eat and he would tolerate occasionally. This dish did the trick and will go into rotation. When they eat it for leftovers for two additional nights, you know you've found a dish that will work!
While there is still a bit of a process with taking the dish out of the oven a few times, I like that I can go back and forth in the kitchen rather than stand over a stove. Gives me time to tidy, set the table etc. I did adapt the recipe to avoid a few steps I thought were unnecessary though so we weren't slaves to the oven! I opted to use evaporated milk rather than half and half. Either works well, but I always have evaporated milk in my pantry. You can use Parmesan cheese if you choose, but it leads to a saltier taste and I think the pecorino is just perfect for this dish.
Baked Fettuccine Alfredo
Ingredients
1 lb dry fettuccine, snapped in half
2 cups low-sodium chicken broth
1 1/2 cups water
1 Tbsp minced fresh garlic
Zest from 1 lemon
Juice from 1 lemon
1 tsp kosher salt
2 cups half and half or evaporated milk
2 cups grated pecorino or Asiago cheese, plus 1/3 cup for topping
2 tsp black pepper
1/2 cup fresh bread crumbs
1/4 cup chopped fresh parsley
Pre-heat oven to 400 F.
Combine the pasta and then next 6 ingredients up to salt in a 9 x 13-inch baking dish. Cover with tin foil and bake for 20 minutes. Uncover dish and stir the pasta with a fork, cover and bake for another 20 minutes.
While the pasta is cooking, in a small bowl stir together the 1/3 cup cheese, bread crumbs, and parsley. Set aside.
Stir in the half and half, 2 cups cheese, and pepper. Cover with foil and bake for 15 minutes.
Remove the foil, stir the casserole and sprinkle the cheese mixture you made for the topping over the top of the casserole. Bake, uncovered for 10 minutes or until the topping is golden brown.
Makes 6 servings
Adapted from Cuisine at Home, October 2013