Balsamic Roasted Brussels Sprouts
25 Monday Feb 2013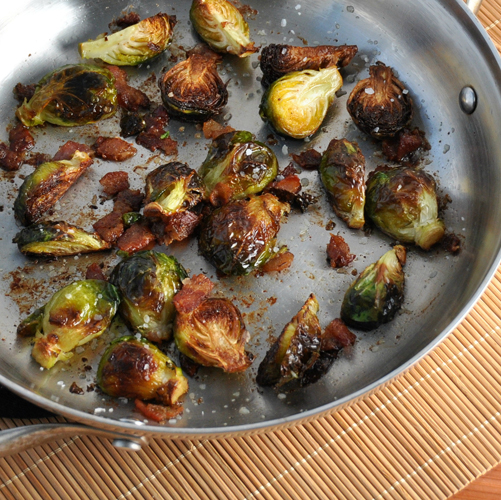 I am always looking for ways to play around with Brussels sprouts. My husband and daughter really don't care for them and while I have found a few good ways to make them, they aren't something I would ever order out at a restaurant. As I continue to try to new ways to prepare them, I am beginning to really enjoy them for more than the occasional dinner vegetable change up.
Knowing I had everything in my pantry except a few Brussels sprouts, and knowing Ina usually doesn't steer me wrong, I decided to give this a try. Maybe that carefree attitude of thinking it wouldn't be much off my back if they didn't taste good, or maybe the fact that everything tastes good with pancetta or bacon, allowed me to be more open to these. Whatever it was, I couldn't stop eating these. I kept waiting for my husband and daughter to try them and finally just scooped up all but two pieces for myself. The roasted pancetta and balsamic vinegar were tormenting my senses with a delcious aroma and I couldn't take it. The Brussels sprouts were nicely roasted, with a little crispness to them that made them easy to pop into your mouth.
Everyone should really try these. I know that is a huge statement to make, but if you don't like them you haven't had them like this, if you are so-so on Brussels sprouts this will make you a believer, and if you love them you will love them prepared this way as well! Seriously, anything with pancetta and then browned? Yum!
*If you don't want to spend a fortune on aged balsamic vinegar that is syrupy, you can boil good balsamic vinegar until it is reduced to half its volume and it will become syrupy!http://www.thewaytohisheartblog.com/wp-admin/post-new.php
Balsamic Roasted Brussels Sprouts
Ingredients
1 1/2 lbs Brussels sprouts, trimmed and cut in half through the core
4 oz pancetta, sliced 1/4″ thick
1/4 cup olive oil
1 1/2 tsp salt
1/2 tsp fresh ground pepper
1 Tbsp syrupy balsamic vinegar
Pre-heat oven to 400 F.
Place the Brussels sprouts on a sheet pan or stainless steel skillet, including some of the loose leaves, which get crispy when roasted. Cut the pancetta 1/2″ thick dice and add to the pan. Add the olive oil, salt, and pepper and toss to coat. Spread out the mixture in a single later.
Roast the Brussels sprouts for 20 to 30 minutes, until tender and nicely browned and the pancetta is cooked. Toss once during roasting. Remove from the oven and immediately drizzle the balsamic vinegar over the Brussels sprouts, and toss again. Taste for seasonings and serve hot.
Source: Ina Garten, Barefoot Contessa Foolproof