Banana Blueberry Muffins
12 Wednesday Jun 2013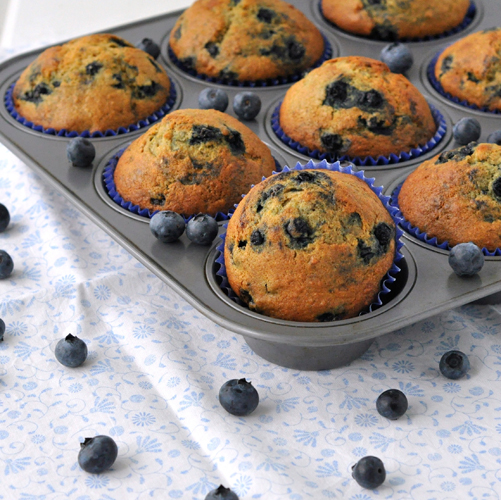 My daughter and I like to pass the many rainy mornings we've had here lately with baking. Muffins are usually a top pick because we can enjoy a few and then freeze the rest. Thus, we can bake something else the next day and not feel guilty! These muffins tend to get gobbled up before they ever reach the freezer, and I'm okay with that. They are a healthier alternative and they also provide the benefits of bananas and blueberries. I have no problem with handing my daughter one of these for a snack! While I enjoy the buttery taste that these yield, you can go one step further and change out the butter here and use 1/2 cup of coconut oil if you prefer.
This time of year, we are lucky here in Maine to have wonderful blueberries in season. While we eat our weight in fresh blueberries, I also like to freeze a bunch for year round goodness and baking recipes like these. Using frozen blueberries in this recipe will ensure that the blueberries stay intact rather than creating a purple mess in your muffin. Plus, if you have kids they will love getting their hands purple from the blueberries which always leads to some good laughs in the kitchen.  Also, try to use over ripe bananas rather than ripe. This will really give you the good banana flavor you are looking for, while adding moisture that most blueberry muffins need.
Banana Blueberry Muffins
Ingredients
1 cup whole wheat flour
3/4 cup all-purpose flour
1/4 cup wheat germ
1 tsp baking soda
1/2 tsp salt
1/2 cup (1 stick) unsalted butter, room temperature
1/3 cup granulated sugar
1/3 cup packed light brown sugar
2 large eggs
2 over ripe bananas
1/3 cup 2% milk
1 tsp pure vanilla extract
1 cup frozen blueberries
Pre-heat oven to 350 F. Line a 12 cup muffin tin with paper liners.
In a medium sized bowl, combine flours, wheat germ, baking soda, and salt. Set aside
In the bowl of a stand-mixer, beat butter and sugars until light and fluffy. Add the eggs, one at a time, beating well between each egg.
In a small bowl, mash the bananas with a fork and stir in the milk and the vanilla. Set aside.
With you mixer on low, alternatively add the flour mixture and banana mixture into the bowl of the mixer that contains the butter. Make sure to start and end with the flour mixture and mix just until combined. Fold in the frozen blueberries.
Divide the batter among the muffin cups and bake for 23 to 25 minutes, or until a toothpick inserted comes out clean. Rotate the pan halfway through the cooking time.
Let the muffins cool in the pan for 10 minutes and then transfer to a wire rack to cool for an additional 10 minutes.
Serve warm or at room temperate. May be frozen.
Nutritional Information
Per muffin: 222 calories; 9.2g fat; 4.4g protein; 32.3g carbohydrates; 2.6g fiber.
Adapted from: Everyday Food, January/February 2009