Broccoli Cheddar Soup
19 Wednesday Dec 2012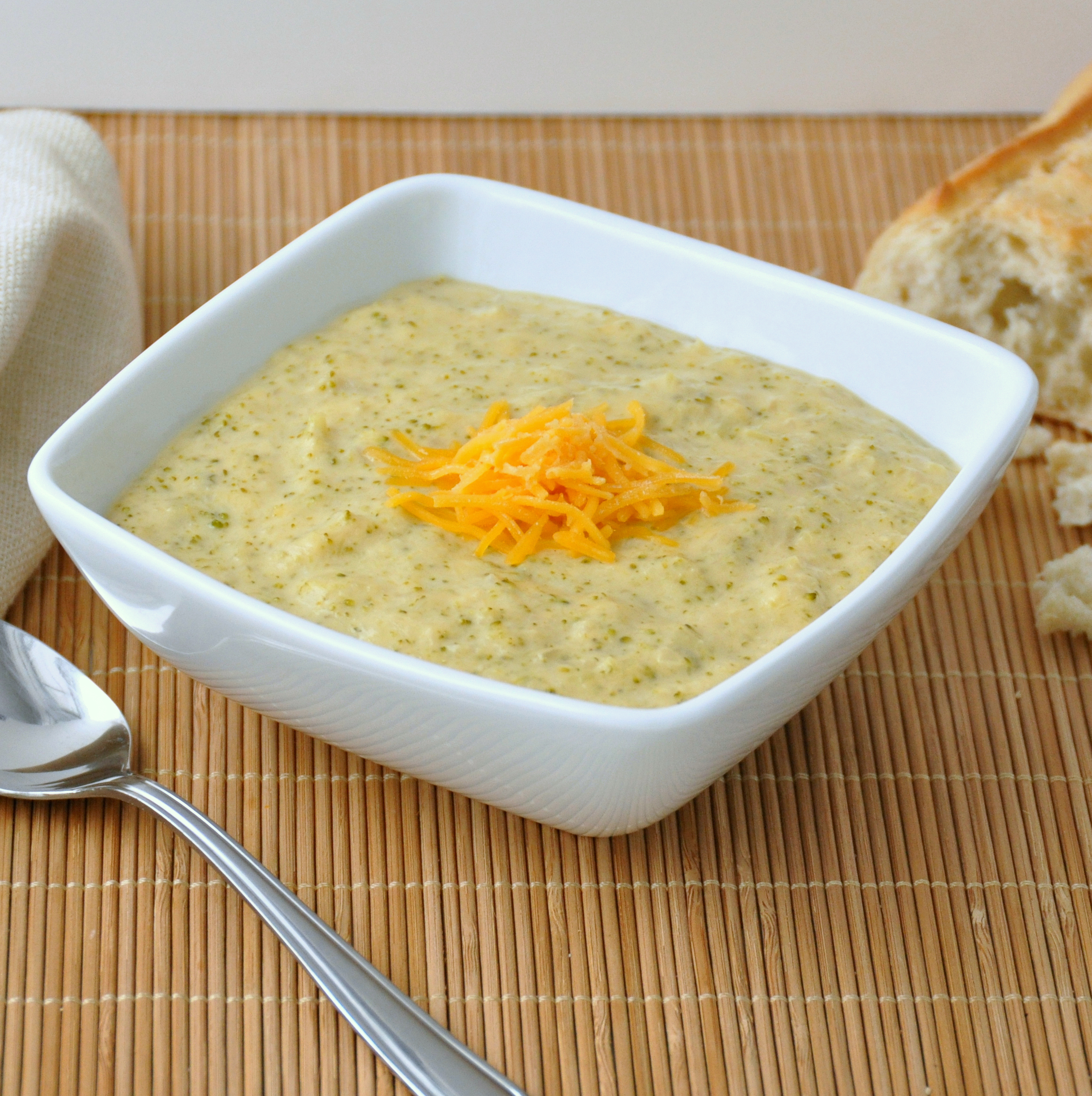 This time of year is usually busy for everyone. Between finishing work projects, shopping, decorating and trying to find some time to actually enjoy yourselves you are spent! It's no surprise that we tend to get sick around this year and my household is no exception. This miserable cold has been here since Thanksgiving and has gone around to each family member twice so far. So, that makes my job as mom a little more difficult since I'm sick, caring for the sick, keeping house and trying to accomplish my long holiday list! Recently, I stopped in to Panera and enjoyed a nice bowl of soup. The restaurant was quiet, there was a warm fireplace next to me, and I just sat and enjoyed some quiet time over a warm bowl of soup. These times are rare for me! What was even better was I was enjoying something that was good for me on so many levels! For my sanity, that warm, steaming bowl of soup was everything I needed to get through the days. Most importantly, I was enjoying something that was good for my body as well. No stopping and getting something that would make me feel worse. I enjoyed a freshly made bowl of soup that had great ingredients and tasted like it was homemade. Panera's "Good Goes In" is more than a philosophy, it's an end product that delivers! As most of you know, I'm a big fan of using good ingredients and trying to make things from scratch, so it's rare when I find a restaurant, a chain at that, which can deliver the same things that are important to me.

I found myself wanting some more soup the other day, but it was snowing here in Maine and it was my time to deal with this cold, again! For some reason, even after all of this time in the kitchen, my first though is never to make my own soup. Well, Panera inspired me to give it a go. I had everything on hand that I figured I would need and gave it a go, making my own adaptation of their Broccoli Cheddar soup. Minus the carrots, neither my daughter nor I were crazy for them in the original, I think I matched the taste of their soup. Which, is refreshing since it means I know they are using great, wholesome ingredients!
So, if you are at home and need a filling soup that will wrap you up like a warm blanket, try this recipe. If you are out and about and want a great tasting meal with good ingredients (or a quiet place to hide for a little bit) then head to Panera!

I have partnered with Panera Bread through DailyBuzz to help promote their "Good Goes In" soup philosophy. I have been compensated for my time commitment to work with this product. However, my opinions are entirely my own and I have not been paid to publish positive comments.
Broccoli Cheddar Soup
Ingredients
4 Tbsp unsalted butter, divided
1/2 cup diced yellow onion
1 lb. broccoli (including upper stems)
2 cups of vegetable stock (or chicken stock)
Pinch of nutmeg
Pinch of red pepper flakes
1/4 tsp garlic powder
3 Tbsp all-purpose flour
1 cup half and half (or use 2 cups total of milk)
1 cup milk
8 oz. mild cheddar cheese
Salt and pepper to taste
Melt 2 tablespoons of butter, on medium-low heat, in a large pot or dutch oven. Add the onion and a pinch of salt, to sweet the onion, and cook until tender, about 5 minutes.
Add the broccoli, vegetable stock, nutmeg, red pepper flakes, and garlic powder to the pot. Bring to a boil and then simmer for 20 minutes.
As the broccoli cooks, make your roux by melting 2 tablespoons of butter in a medium saucepan. Add flour and whisk constantly until the flour has turned a pale color, about 1 to 2 minutes. Keep watch as the roux will quickly turn dark and take on a different flavor. Add the half and half and the milk and allow to cook for 5 minutes, stirring occasionally. Remove from heat and add the cheese, stirring to combine. Set aside.
Using an immersion blender, or a regular blender, blend the broccoli until your desired thickness. Add the cheese mixture and salt and pepper to taste. If the soup is too creamy for your desired taste, simply add a bit of stock to thin it out.
Source: The Way to His Heart, inspired by Panera Bread