Brooklyn Popcorn Review & Giveaway!
13 Monday Jan 2014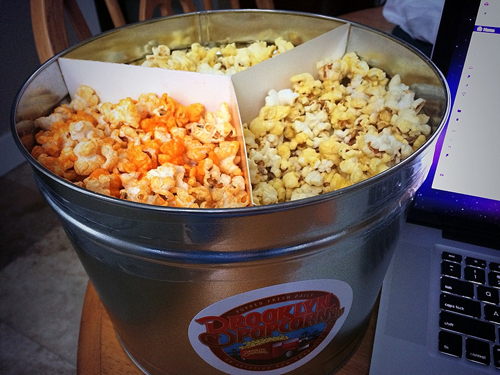 If you walk into my house on any given night there is a good chance you will smell popcorn. We've been known to wake a sleeping child by the aroma. Getting drilled from upstairs with, "What's that smell?" Santa even bought us one of those nice stove-top poppers for Christmas this year. We are always tweaking and playing around with recipes, new cooking methods or flavors. I've even been known to have popcorn for dinner if left to my own devices.
So, when Brooklyn Popcorn contacted me and asked me to review their gourmet popcorn I felt it was my duty and my luck. As soon as I opened the giant tin my family came out of the woodwork. I think I even saw my 7 week old sniffing around when he was nearby. Speaking of the tin, this isn't one of those gaudy tins that popcorn comes in. It's like this giant, commercial tub that is just dying to get re-proposed. Yeah, I'm one of those people who keeps vessels to put more stuff in.
Moving on to the most important thing, the popcorn! I sampled the Plain Butter, because you need a good neutral to really judge, their Classic Cheddar Popcorn, and their Dill Pickle Popcorn. Being a lover of classics, I hit the Plain first and devoured it. The popcorn was still very fresh and had the perfect balance of being nice and airy to having a great crunch. It was perfectly seasoned. I'm not typically a fan of Cheddar Popcorn, but if I can eat Brooklyn Popcorn's Classic Cheddar Popcorn all of the time, I would be! This flavor was mouthwatering. I've never had anything like it. It was the family favorite and my daughter was not happy to find out that the "orange" popcorn was gone. We all tried to the Dill Pickle, but kept going back to the other flavors. We weren't sure about the flavor, but once the other two flavors were gone it didn't take long to demolish the Dill Pickle Popcorn either! It grew on us fast and we couldn't stop eating it. Everyone familiar with the blog knows I love taking pictures of food, whether it is mine or a product for review, but this stuff just went too fast, we kept migrating towards the counter to eat more!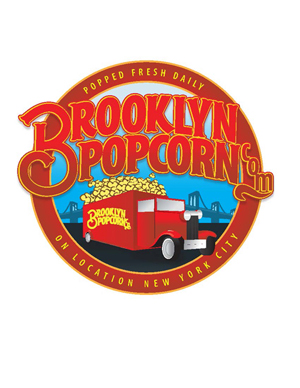 Interested in trying Brooklyn Popcorn's Gourmet Popcorn and aren't in NYC to locate their food truck? Well, they've been generous enough to allow me to give away a $20 gift certificate to order from their online site. You can mix it up with whatever sweet or savory flavor you'd like.
Brooklyn Popcorn provided me with their gourmet popcorn to sample and are sponsoring this giveaway, but as always the opinions expressed here are soley my own. This giveaway is for residents of the contingent United States and will end on Janruary 16th, 12:00 am EST.