Caramelized Bacon
20 Wednesday Feb 2013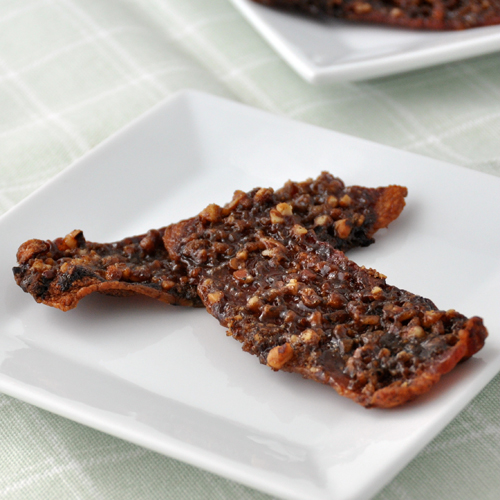 This past Valentines Day I did something a little different for my husband. I couldn't share it on here beforehand since he would obviously see it. While my husband has a sweet tooth, especially for candy, I know one of the ways to his heart is bacon. So, for his Valentines sweets, I made him bacon a few different ways. Here is the first. This was definitely something different then we had ever tried. The flavor hit a lot of notes with the sweet brown sugar, the pecans, and even just that little bit of cayenne pepper gave it a kick. This is wonderful as a snack or as hors d'oeuvres as intended. Supposedly, they go great with cocktails. Or, if you're like us, they went great when walking by the container in the kitchen!
You can make these up earlier in the day and stored in an airtight container at room temperature for one day.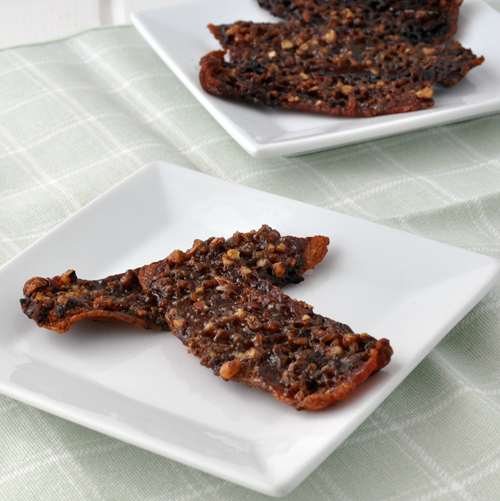 Caramelized Bacon
Ingredients
1/2 cup light brown sugar, lightly packed
1/2 cup chopped or whole pecans
2 tsp kosher salt
1 tsp freshly ground black pepper
1/8 tsp ground cayenne pepper
2 Tbsp pure maple syrup
1/2 lb thick-sliced applewood-smoked bacon
Pre-heat oven to 375 F. Line a baking sheet with aluminum foil and place a wire baking rack on top.
Add the brown sugar and pecans in a food processor and pulse until the pecans are finely ground. Add the salt, black pepper, and cayenne pepper and pulse to combine. Add the maple syrup and pulse to moisten the crumbs.
Cut each bacon slice in half crosswise and line the pieces up on the baking rack making sure the slices don't touch. With a small spoon, evenly spread the pecan mixture on top of each piece of bacon, using up all of the mixture.
Bake for 25 to 30 minute, until the topping is very browned, but not burnt. If it is under baked, the bacon won't crisp as it cools.
While hot, transfer the bacon to a plate lined with paper towels and set aside to cool. Serve at room temperature.
Source: Ina Garten, Barefoot Contessa Foolproof