Chicken & Black Bean Enchilada with a Pumpkin Sauce
17 Tuesday Sep 2013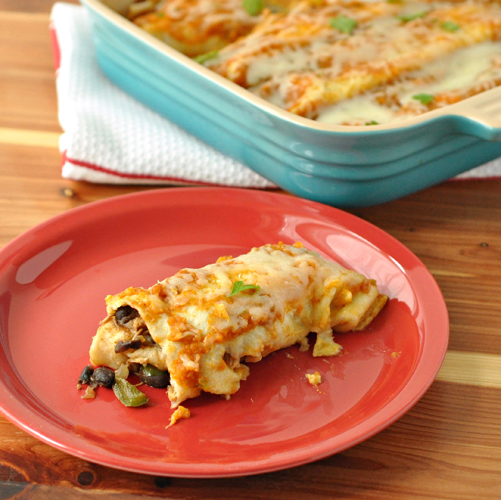 We've hit that season, you now, the time of year when everything on blogs contains pumpkins? I'm partaking as well, we love pumpkin and can't get enough of it. What's better than pumpkin? Mixing it in with a little Mexican flair! We love enchiladas here and are always looking for new varieties. I've also just started the process of stocking my freezer for the baby's impending arrival. I'm getting an early start since my daughter came five weeks early and my refrigerator was full, but my freezer was not that time around!
I tweaked this recipe a bit, while I am not a fan of too much spice or heat, I felt it needed a little kick so the pumpkin wouldn't overwhelm the sauce it make it bland. I also cut down the onions because we're just not big fans of a lot of onion. If you're looking for something a little different or perhaps you went crazy in the store and bought way too many cans of pumpkin puree, go ahead and try this out. You're going to love it and your family and/or friends will think you're oh so clever.
Chicken & Black Bean Enchilada with a Pumpkin Enchilada Sauce
Ingredients
Chicken & Black Bean Enchiladas
1 chicken breast, cooked and shredded
15 oz can reduced sodium black beans, rinsed and drained
1 bell pepper, diced
1/2 onion, diced
1 tsp cumin
1 tsp cayenne pepper
1/2 tsp salt
1 Tbsp chili powder
1/2 cup chicken broth
8 tortillas
1/4 cup shredded Monterry Jack cheese
Pumpkin Enchilada Sauce
15 oz canned pumpkin puree
1 jalapeno
2 tsp chili powder
3 cloves garlic
2 cups vegetable broth
salt and pepper to taste
Pre-heat oven to 350 F. Lightly spray a 9×13″ casserole dish with cooking spray.
In a large skillet, combine all of the ingredients down to the chicken broth and simmer on low heat for approximately 10 minutes or until the peppers have softened and most of the broth has evaporated.
Meanwhile, add all of the ingredients from the pumpkin enchilada sauce in a food processor and pulse until a smooth sauce is reached.
Place about 1/3 cup of the chicken and bean mixture on to each tortilla and roll. Place seam-side down in the prepared dish. Pour the pumpkin enchilada sauce over the tortillas and bake for 20 minutes. Sprinkle the cheese over the top of the pumpkin sauce and cook for an additional 5 to 7 minutes, until the cheese has melted.
Adapted from Branny Boils Over