Chicken Cordon Bleu Wonton Bites
08 Friday Mar 2013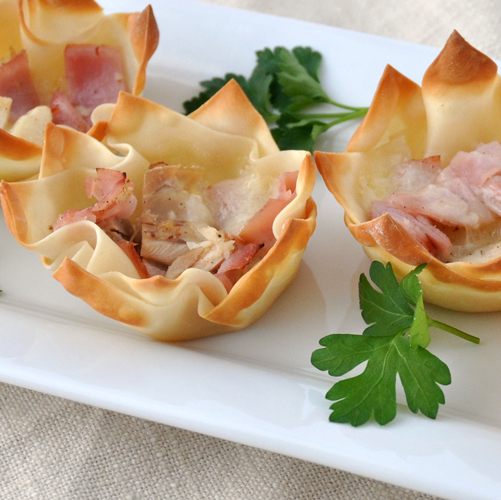 Sometimes, I think having leftover items in the pantry is where the fun of creating and cooking comes in. I'm a big fan of using up everything in my refrigerator rather than throwing it away. Now, the pantry is another story because things can get lost in there ! One of my favorite items to have fun with is wonton wrappers. I've come up with a lot of fun things over the years since these items don't have a very long shelf life and typical recipes only use up half of a package. My husband jokes about my need to find new ways to use wonton wrappers! Sometimes, it's just playing around with an existing recipe and utilizing it in a different fashion. I've shown one quick recipe makeover just the other day on Facebook and I'll try to continue to do that in the future.
I've had Chicken Cordon Bleu before but have never had a desire to make it at home. These tasty little bites have changed all of that, although I don't think I'll ever make it the traditional way after these! I was staring into my refrigerator one day and noticed I had leftover chicken and wonton wrappers to use up. The light bulb went off in my head and after deciding on the perfect cheese to accompany this I was quickly whipping these up. My husband, ye of little faith, just sighed and figured this would be something he wouldn't enjoy. After seeing a teaser photo I sent him at work he was quick to try some when he walked through the door. He had never had Havarti cheese before, but really agreed that the cheese was a great choice for these, adding just enough of a bite and salt while still offering that gooey, cheesiness that makes you want more!
This twist on a classic is a perfect choice when entertaining, yet simple enough to whip up for weekend snacks!
Chicken Cordon Bleu Wonton Bites
Ingredients
1 cup cooked chicken, chopped
1 cup ham, diced
1 tsp salt
1 tsp pepper
3 oz Havarti cheese, small cubes
24 wonton wrappers
Cooking spray
Pre-heat oven to 350 F. Lightly spray muffin tin cups with cooking spray.
Place two wonton wrappers in each muffin tin, one slightly overlapping the other.
In a small bowl, mix the chicken, ham, salt, and pepper. Evenly distribute the chicken into the assembled wonton wrapper cups.
Next, place the cheese cubes in the wonton wrappers. I got about 3 small cubes in each wonton.
Bake for 7 to 9 minutes, or until the wonton wrappers are lightly browned and the cheese has melted.
Yields 12
Source: The Way to His Heart