Chipotle Honey-Lime Pork Tenderloin
06 Thursday Feb 2014
Written by Maeghan in Pork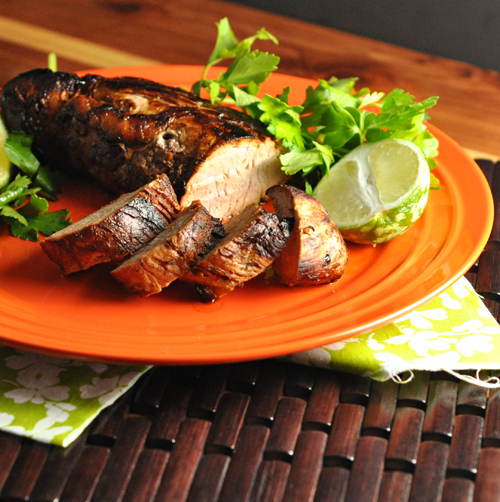 We've been searching for some quick meals that pack a lot of flavor lately. My freezer stash has been depleted and we don't have a lot of time with the new baby to invest in cooking meals. I haven't had a lot of time to even check out all of my bookmarked recipes, but I remembered this one and knew I wanted to make it. I kept putting it off because I wasn't sure how my daughter would like it. We try to stay away from anything too spicy for her or make something separate for her. We don't have time for separate right now! We had everything on hand so we decided to whip it up and see if it tasted as good as it sounded.
While the recipe clearly states to marinate overnight, I missed this point in my haste to make dinner. So, we marinated it for 6 hours. This still led to a flavorful piece of meat. I also messed up and used all of my marinade, which probably helped the meat with flavor, but I didn't get to make the glaze. I whipped up a quick glaze at the end with the ingredients again, but it honestly didn't need it. The meat was so moist and flavorful and had a great sear on it, so I left it off!
We loved it and my daughter actually liked it as well! We cut the "crust" off so she wouldn't get quite as much of the spice. I served this with mashed potatoes, but any starch would do, but I'd have something just in case some bites are a little bit too much for you.
Chipotle Honey-Lime Pork Tenderloin
Ingredients
1 lb pork tenderloin
1/2 cup lime juice
zest from 1 lime
1/4 cup honey
1/2 Tbsp salt
1/2 tsp garlic powder
1 chipotle chili in adobo sauce, chopped
1/2 Tbsp adobo sauce
Canola oil
Chopped cilantro for garnish
Place the tenderloin in a large plastic bag to marinate.
In a medium bowl, combine the lime juice, zest, honey, salt, and garlic powder. Stir to combine, then pour half over tenderloin, reserving half for sauce. Add chipotle and adobo sauce to tenderloin. Seal and marinate in the refrigerator overnight.
About 30 minutes before you are ready to cook, remove the pork from teh refrigerator and allow to come to room temperature. Pre-heat oven to 450 F. In a heavy, oven-safe skillet, heat enough oil to coat over medium high. Remove tenderloin from marinade and sear in hot skillet on all sides, 3 minutes per side. Place the skillet in the oven and roast the tenderloin for 15 minutes, turning once halfway through the cooking time.
Check temperature with an instant read thermometer. remove pork from the oven at approximately 140 to 145 degrees, then cover pork in skillet with foil. Let rest for 5 to 10 minutes or until temperature rises to 150 degrees. Remove pork to a cutting board and slice into 1-inch medallions.
Pour reserved lime juice mixture and leftover marinade into skillet with meat juices and heat on medium-high. Allow sauce to reduce and thicken slightly, then pour over sliced pork. Garnish with freshly chopped cilantro and serve.
Source: A Taste of Home Cooking , originally adapted from Alton Brown