Chocolate Butterscotch Rice Krispie Treats
03 Thursday Oct 2013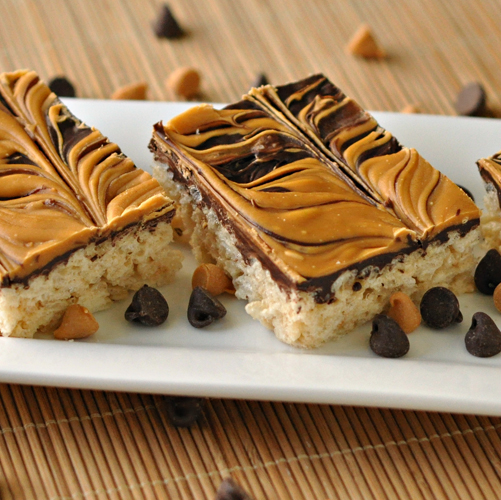 Are you looking for a quick and easy treat for the kiddos or perhaps to bring into the office this fall season? Sometimes you just don't have the time, but you want to bring in something that's a little different and will be well received. Who doesn't love Rice Krispie treats? Add some chocolate and butterscotch and you've got an easy winner that looks and tastes great! It literally took me 10 minutes to whip these up from start to finish, granted they were gone in just about the same amount of time! So, offer these up to your little ghosts and goblins this Halloween and you'll be thanked many times over. You'll also be asked to make more and soon!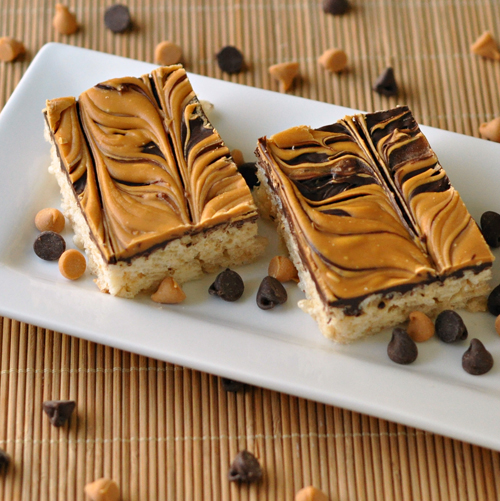 Chocolate Butterscotch Rice Krispie Treats
Ingredients
2 Tbsp unsalted butter
10 oz. marshmallows
6 cups Rice Krispies
1 cup semi-sweet chocolate chips
1/2 cup butterscotch chips
2 tsp fat-free milk
Coat a 13 x 9-inch pan with cooking spray, set aside.
Melt butter and marshmallows over medium-low heat, stirring constantly. Remove from heat. In a large bowl combine the marshmallow mixture and the rice cereal.
Press cereal into prepared pan, packing until even.
Microwave chocolate chips for 1 minute, stirring every 20 seconds. Spread over cereal mixture. Microwave butterscotch chips and milk  for 30 seconds; stir once. Dollop butterscotch mixture over chocolate and swirl with a knife. Chill.
Serves 20
Nutritional Information
Per serving: 149 Calories, 5g Fat, 71mg Sodium
Source: Cooking Light October 2013