Chocolate Zucchini Cake
06 Friday Sep 2013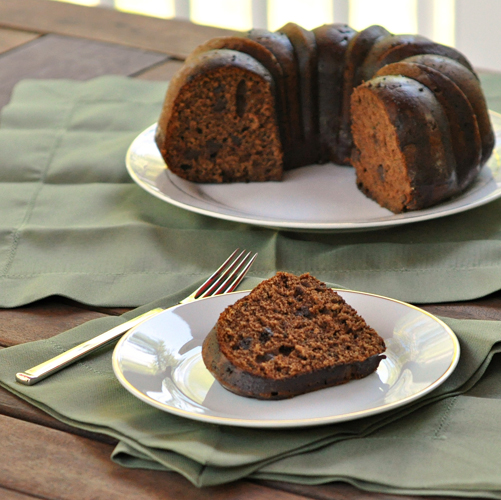 My daughter started pre-school this past Tuesday. Oh, how the years have flown by. Since I stay at home I figured I wouldn't send her until she was 4, that way she had more time in the comfort of our home and my arms, but she convinced me otherwise. She is such an astute, mature for her age, little girl that I had to send her. She craves the atmosphere and routine that school will give her. She just finished day two and the teachers there are so impressed with just how well she has adapted, even helping the other children who are sad when their parents leave! I can't be sad at the empty house these two mornings a week because I know she is having a ball there! I can be sad that she keeps asking if she can drive there herself and when does she get to start Kindergarten and High School. I know this is just practice, the real hurdle we will have to cross is Kindergarten, but for now this change is going well and I'm so proud of my sweet, little girl.
In honor of the first day of pre-school I thought I'd use some of my free time while she was at school and make her a cake. We would have a wonderful dinner and enjoy some dessert as we discussed her day. I decided to use up some of last years frozen zucchini and I've had this recipe bookmarked for a while now. The zucchini makes the cake part okay, right? Well, if you don't think so, the recipe has been adapted so that it's a little healthier in a few different places besides simply using zucchini. Don't worry though, you're family wont have a clue as they dig into this delicious, chocolatey cake!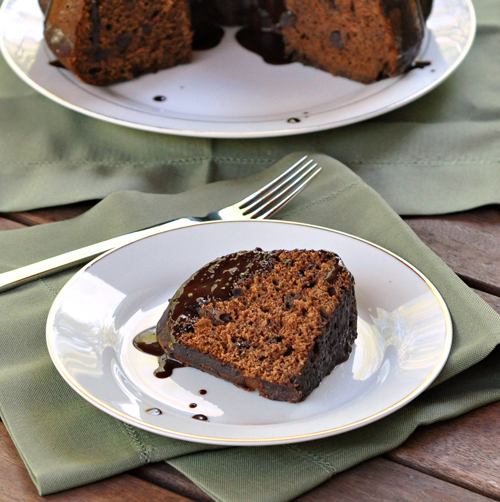 Chocolate Zucchini Cake
Ingredients
Cake
Cooking spray
1 Tbsp all-purpose flour
3/4 cup granulated sugar
1/2 cup packed brown sugar
1/2 cup (4 oz.) fat-free cream cheese, softened
1/3 cup vegetable oil
2 large eggs
2 large egg whites
1 tsp vanilla extract
2 1/2 cups all-purpose flour
1/2 cup unsweetened cocoa
2 tsp baking powder
1/2 tsp baking soda
1/2 tsp salt
1/2 tsp ground cinnamon
3/4 cup fat-free buttermilk
2 cups shredded zucchini
2/3 cup semisweet chocolate chips
1/4 cup chopped walnuts
Glaze
3/4 cup powdered sugar
3 Tbsp unsweetened cocoa
8 tsp  fat-free milk
2 Tbsp semisweet chocolate chips
1 tsp instant coffee granules
1/2 tsp vanilla extract
Pre-heat oven to 350. Coat a 12 cup Bundt pan with cooking spray and lightly dust pan with 1 tablespoon of flour.
Place sugars, cream cheese, and vegetable oil in a large bowl. Beat with a mixer at medium speed until well blended, about 5 minutes. Add eggs and egg whites, one at a time, beating well after each addition. Beat in 1 teaspoon of vanilla extract.
Lightly spoon 2 1/2 cups flour into dry measuring cups and level with a knife. Combine the flour and the next 5 ingredients, through to cinnamon, in a medium bowl, stirring well with a whisk.
Add flour mixture and buttermilk alternately to sugar mixture, beginning and ending with the flour mixture. Stir in zucchini, chocolate chips, and nuts. Pour batter into prepared pan and bake for 1 hour, or until a wooden pick inserted in the cake comes out clean. Cool in pan for 10 minutes on a wire rack. Remove from pan and allow to completely cool on a wire rack.
To prepare the glaze, combine the powdered sugar and cocoa powder in a small bowl; stir with a whisk. Combine the milk, chocolate chips, coffee, and vanilla extract in a 1-cup glass measure. Microwave at medium for 45 seconds or until chocolate melts, stirring after 20 seconds. Combine powdered sugar mixture with chocolate mixture, stirring with a whisk. Drizzle glaze over cake.
Yields 16 servings
Nutritional Information
Per serving: 281 Calories, 9.5g Fat, 6.6g Protein, 45.6g Carbohydrates, 2.6g Fiber, 27mg Cholesterol, 2.2mg Iron, 241mg Calcium
Source: Cooking Light, June 2002