Classic Lasagna & Dreamfields Pasta Giveaway!
04 Monday Mar 2013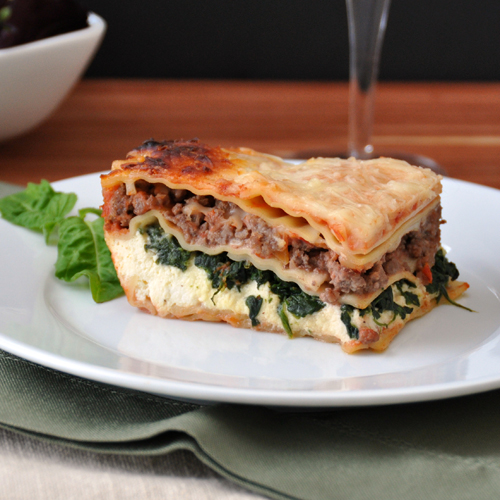 During the winter I love being able to crank up the oven and let it warm the house up while I make a nice, comforting meal for my family. In our house, our choice of comfort is usually a pasta dish and this lasagna is high on the request list. The problem with all of these comfort dishes, is spring and summer are around the corner and you wont be able to hide under bulky sweaters for long! So, of course you eat a fair proportion and you eat these things in moderation. It also doesn't hurt when you toss in a nice vegetable like the spinach included here! You can make it better though, just because it's pasta doesn't mean it has to be bad for you! Dreamfields Pasta is not only delicious, but its patented manufacturing process that protects most of the carbohydrates from being absorbed.  So one serving has 5 grams of fiber and only 5 grams digestible carbs.  That makes it ideal for the entire family, including those who are watching their weight or maintaining healthy blood sugar levels. Even if you aren't, why not take extra measures to help your families health? You went through the long process of preparing this meal for them, go that extra step!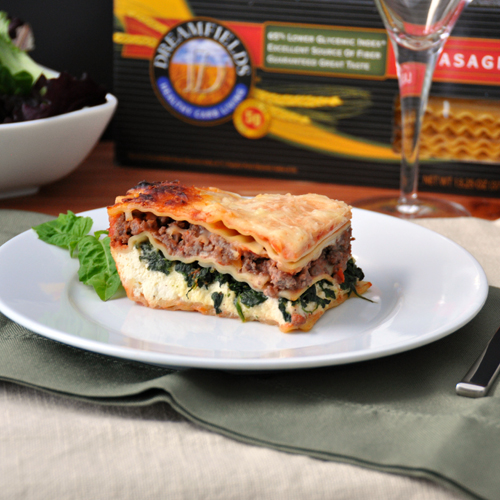 ***Congratulations to Barbara McCrary! ***
So, whether you are continuing your path on a healthier you this year or want to simply enjoy the delicious Dreamfields Pasta here is your chance to win! The winner will receive several boxes of Dreamfields Pasta Lasagna noodles. You can try this recipe and make your family favorite. I bet you'll love the difference the pasta makes! All you have to do to enter to win is:
Leave a comment telling me your favorite lasagna recipe or one you want to try!
Leave a separate comment below that you like us on Facebook
Leave a separate comment below that you like Dreamfields Pasta on Facebook
Tweet about the giveaway (it's easy, just click here!) and leave the link to your Tweet in the comments
That's 4 separate entries to win! Make sure to leave separate comments as your comment number is your entry number.
I'm sorry, but the giveaway is only open for those living in the United States. A winner will be selected Friday, March 8th at noon EST by a random number generator and contacted by email. All entries are subject to verification.
Good luck!
Dreamfields Pasta provided me with some lasagna noodles, but as always the opinions expressed here are solely my own.
*This makes a large, traditional lasagna. Make sure to have your marinara, bechemal sauce, and spinach all ready to go to make assembly easy.
**The lasagna can be prepared  one day in advance if covered tightly with plastic wrap and refrigerated. Or, you can freeze the lasagna buy wrapping a layer of aluminum foil over top as well. Remove wrappings and thaw before baking.
Serves 6
Classic Lasagna
Ingredients
Salt
2 Tbsp vegetable oil
15 dry lasagna noodles Dreamfields pasta
3 Tbsp. extra-virgin olive oil
1 pound ground beef chuck
1 tsp freshly ground black pepper, plus more to taste
2  1/2 cups Bechamel Sauce, see recipe below
1 1/2 cups Marinara Sauce
1 1/2pounds whole milk ricotta cheese
3 large eggs
2 Tbsp unsalted butter
2 (10 ounce) packages frozen chopped spinach, thawed and squeezed dry
3 cups shredded mozzarella cheese
1/4 cup freshly grated Parmesan cheese
Bring a large pot of salted water to a boil. Add vegetable oil to help prevent the noodles from sticking together. Cook the noodles until al dente, about 6 minutes. You want the center of the pasta to still be firm so that they don't become soggy during baking. Drain, then rinse the noodles under cold water. Cover lightly with a damp towel and set aside.
In a large saute pan, heat olive oil over medium-high heat. Add the beef and 1/2 teaspoon of salt and pepper. Saute until the beef is brown. Break up large clumps of meat and cook for about 8 minutes. Remove from heat and drain the excess fat. Let cool completely.
Position your oven rack to the center position and preheat to 375 F.
In a medium bowl, mix the bechamel and marinara sauce together. Season the sauce with salt and pepper to taste.
In another medium bowl, combine the ricotta, eggs, and 1/2 teaspoon of salt and pepper and set aside.
Spread the butter over a 13 x 9-inch baking dish. Spoon one third of the bechamel-marinara sauce over the bottom of the dish. Arrange 5 lasagna noodles atop the sauce, overlapping slightly and covering the bottom of the dish completely. Evenly spread all of the ricotta mixture over the noodles. Top with spinach. Arrange 5 more lasagna noodles atop the spinach, then top with the ground beef. Spoon one third of the remaining bechamel-marinara sauce over, then sprinkle with 1/2 cup mozzarella cheese. Top with the remaining 5 lasagna noodles. Spoon the remaining bechamel-marinara sauce over the lasagna noodles and then sprinkle with the remaining mozzarella cheese and the Parmesan cheese.
Line a large baking sheet with foil. Place the prepared lasagna dish on top of the baking sheet to avoid a messy cleanup. Bake until the lasagna is heated through and the top is bubbling, about 45 minutes.
Bechamel Sauce
Ingredients
5 Tbsp unsalted butter
1/2 cup all-purpose flour
4 cups warm whole milk
1/2 tsp salt, plus more to taste
Pinch of freshly ground white pepper, plus more to taste
Pinch of freshly grated nutmeg, plus more to taste
In a 2 quart saucepan, melt the butter over medium heat. Add the flour and whisk until smooth, about 2 minutes. Gradually, add the warm milk, whisking constantly to prevent any lumps from forming. Simmer over medium heat, whisking constantly, until the sauce is thick, smooth, and creamy, about 10 minutes. Make sure the sauce does not boil! Remove the saucepan from heat and stir in a 1/2 teaspoon of salt and a pinch of pepper and a pinch of nutmeg. Season the sauce with more salt, pepper, and nutmeg to taste.
This sauce can be prepared up to 3 days in advance, just be sure to cool it and then cover and refrigerate it.
Makes about 4 cups.
Source: Everyday Italian, Giada De Laurentiis 2005