Cookies and Cream Cookies
14 Monday Jan 2013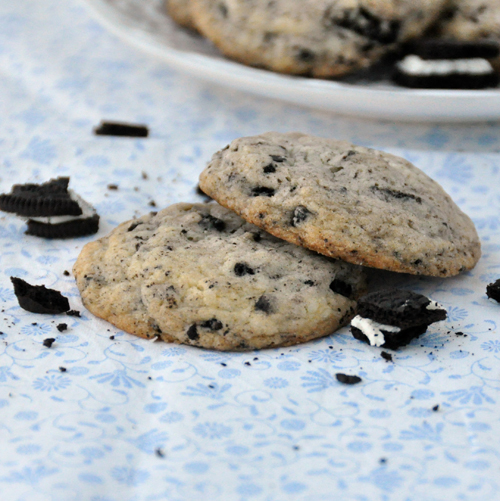 When I first mentioned I was going to make these cookies my husband said, "Why make a cookie with an Oreo when an Oreo is already a cookie?" Oh ye, of little faith! It did sound a bit overindulgent, but it's dessert and I am baking so why not go a little overboard sometimes? These cookies were very tasty, but they weren't as rich as one would think. They had a subtle Oreo taste with a little bit of creaminess to them. I really liked the change of pace and will definitely make these again.
*A quick tip, if your cookies get a little too crisp, store a slice of bread with the cookies and they will soften up nicely.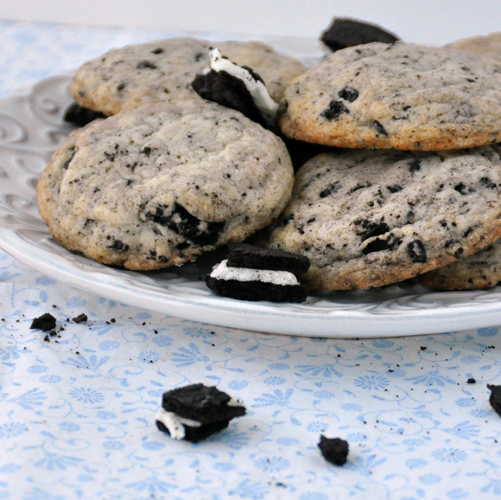 Cookies and Cream Cookies
Ingredients
2 1/2 cups + 4 Tbsp all-purpose flour
2 Tbsp cornstarch
2 tsp cream of tartar
1 tsp baking soda
1 cup unsalted butter, softened
1 1/2 cup sugar
2-6 Tbsp egg white, or until dough comes together
2 tsp vanilla extract
11 Oreo cookies, crushed
In a medium bowl, whisk together the flour, cornstarch, cream of tartar, and baking soda and set aside.
In the bowl of a standmixer, cream the butter and sugar on medium speed just until smooth. Add the egg white and vanilla extract. Add the flour mixture, just until combined. Fold in crushed Oreos.
Refrigerate the dough for 10 minutes.
Pre-heat oven to 375 F. Line baking sheets with parchment paper or a silpat.
Using a cookie scoop or tablespoons, drop dough onto baking sheet, about 1 1/2 inches apart. Bake for 10 to 12 minutes, they should be slightly undercooked. Let the cookies cool on the pan until set.
*Make sure to refrigerate dough when not using.
Yields 38 cookies.
Adapted from: The Knead for Speed