Creamy Cucumber Salad
09 Tuesday Jun 2015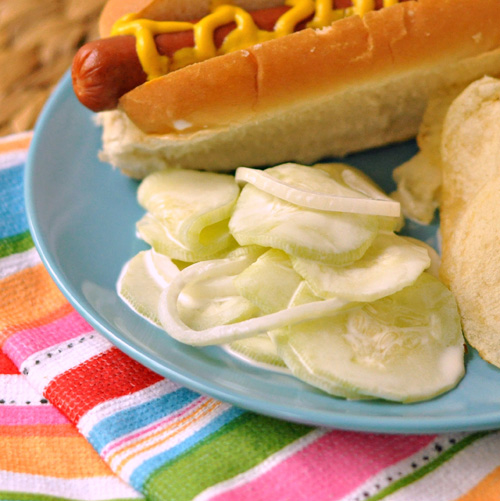 Everyone has their favorite side dish to bring to, or expects, at a barbecue. Summer is the time for potato, pasta, garden, and veggie based salads. What I love about these well loved side dishes is that they usually are all pretty similar, just slightly tweaked from family to family and generation to generation. Each family holding on to their favorite as the best.
This is my family's cucumber salad. You wont hear anyone calling it "Creamy cucumber salad," but since I make a few that are vinegar based, like this Japanese Cucumber Salad, I had to differentiate. This Creamy Cucumber Salad has passed through the ranks of my family and of course I find it as "the best." It has a creaminess that outshines those others that tend to be watery. It has just the right amount of sweetness, without being sugar laden.
Throughout the summer I am always collecting produce to have enough to make big salads like these. I usually make a double batch at least, or am collecting enough cucumbers to make pickles for canning. What usually happens is me panicking because I am afraid the produce will spoil before I get to use them.

Did you know that more than 25% of the fresh fruits and vegetables purchased by U.S. consumers are wasted annually before being consumed. That equates to more than 226 pounds per the average U.S. family! Why do we waste so much produce? When you bring produce home, you usually keep it in the plastic bags or the container it comes in. Storing your produce like this is actually causing it to go bad faster — this is the reason you often find rotten and slimy lettuce when you go to make a fresh green salad.
There are three main reasons produce rots and spoils:
– Ethylene Gas: Fruits and vegetables give off ethylene gas. Exposing produce to ethylene gas speeds up the ripening process, causing it to over ripen and go bad.
– Improper Airflow: When produce rests against the walls of containers, bags or crispers, moisture can build up and cause rotting.
– Uncontrolled Humidity: Fruits and vegetables require the perfect balance of humidity to keep them crisp and prevent wilting. To make things more difficult, different kinds of produce require different humidity levels.
I was asked by OXO to try out the 5qt GreenSaver and I was excited to put it to the test. I bought these large slicing cucumbers and left them in the GreenSaver for over a week. Slicing cucumbers from the market are typically already on their way out, but these stayed nice and crisp and weren't spoiled at all. Perfect for someone like me who buys a lot of produce in the store and gets busy later on in the week. I loved how I could change the settings to accommodate all kinds of produce and what I liked best is I took this uni-tasker and turned it into a multi-tasker by using the inside as a colander for all of my sliced cucumbers. Then, I used it to sweat the cucumbers and allow the water to drain into the main compartment!
OXO provided me with the OXO GreenSaver, but as always the opinions expressed here are solely my own.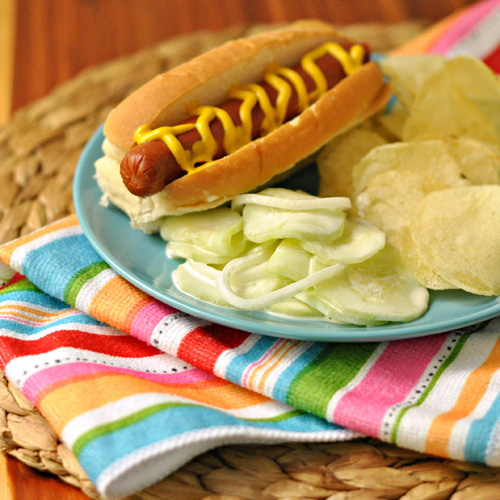 Creamy Cucumber Salad
Ingredients
3 cucumbers, sliced thin
2 tbsp salt
1 qt water
1 medium Vidalia or sweet onion sliced thin into rings
1 cup thick mayo or salad dressing
1 1/2 tsp sugar
1 1/2 Tbsp white vinegar
1/2 cup evaporated milk**
Add cucumbers, salt and water to a large bowl and let soak for two hours.*
Dry cucumbers on paper towels, pressing gently to squeeze excess water out.
Combine remaining ingredients and let sit for a few hours. Serve cold.
Source: The Way to His Heart
*We tweak it each time, but the end result is usually the same. Feel free to tweak as you go as well, adding a little more vinegar or sugar to your liking. Instead of soaking, you can also sweat the cucumbers and then do a quick rinse and dry.
**You can omit the evaporated milk, but that is what makes this so nice and creamy.