Crispy Wonton Strips
27 Wednesday Mar 2013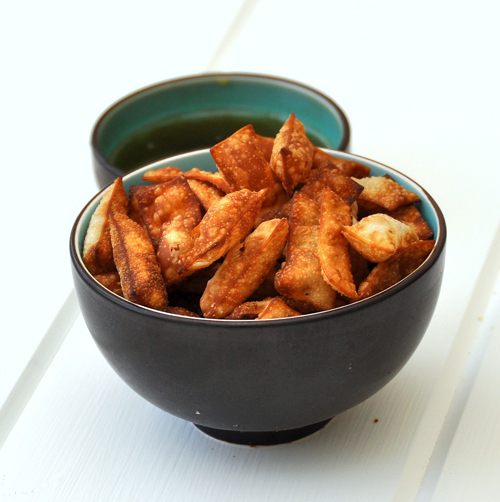 Growing up my favorite part of going to Chinese restaurants, besides playing drums with the chopsticks, was the little bowls of crispy wonton strips served with Duck sauce. I was content with a cup of hot tea and those little bits of crispy goodness. I still love finding a restaurant that serves those, but here in Maine they are few and far between. My mom always kept a package at home and I grew up always putting them in my soup. Now that I'm at home and always have a package of wonton wrappers in my refrigerator, I make my own batches for snacks and soups. My daughter loves to put them in her soup as well and my husband will grab a handful to snack on here and there.
So, whether you love these crispy strips or want to use up the rest of your wonton wrappers, here is a quick and easy way for them to be yours! It isn't healthy, but I prefer to fry them since they puff up nicely. I've included directions for frying and baking.
Crispy Wonton Strips
Ingredients
wonton wrappers
1/2 peanut or vegetable oil
Cut each wonton wrapper into rectangular strips, about 1/4 inch.  I get about 5 strips per wonton wrapper.
In a small saucepan, heat oil on medium-high heat. Once the oil is hot, drop in a few strips at a time, making sure not to crowd the pot, and allow to fry until golden brown. Usually only takes about 20 seconds.
Remove the wonton strips and place on a paper towel to absorb excess oil.
Store in an airtight container at room temperature for 1 to 2 weeks
**Alternatively you can bake these at 350. Place on a baking sheet and brush an egg wash over each strip and bake for 10 minutes or until golden brown.
Source: The Way to His Heart