Crock Pot Honey Sesame Chicken
10 Wednesday Apr 2013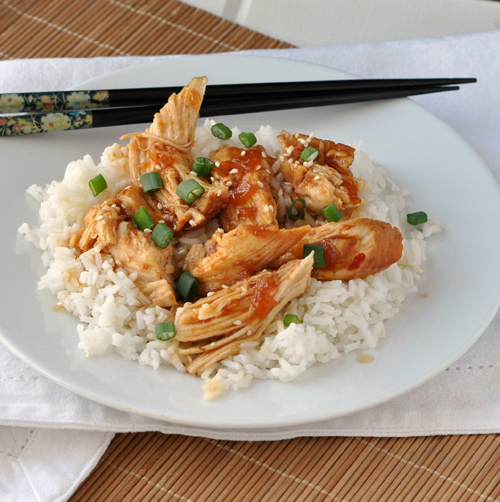 Oddly enough, I don't cook with a crock pot. I have one, but it is too large and overcooks things in a hurry so I just stopped. Also, I love bringing out my Dutch ovens and seeing my beauties out on the range. The only problem with this is you can't leave the house and it can burn gas in a hurry! So, I decided to give the crock pot another chance, this time borrowing a smaller crock pot. I've done a couple of things with it so far and I plan on trying out something every couple of weeks now. So, hopefully I'll have a nice full crock pot tab that everyone can check out son enough. I know a lot of you want quick food and besides the prep, the crock pot is a great tool for those that work.
This was the second recipe I tried out in the crock pot and we enjoyed it a lot. It was a bit too sweet with the ketchup as the original recipe called for, so I played around with it and made some substitutions instead. Grab a couple of bags of minute rice and you have a nice meal in a matter of minutes. Well, prep minutes that is!
Crock Pot Honey Sesame Chicken
Ingredients
4 boneless chicken breasts
salt and freshly ground black pepper
1/2 cup diced onion
2 cloves garlic, minced
1/2 cup honey
2 Tbsp tomato paste
2 Tbsp apple cider vinegar
1/2 cup low sodium soy sauce
2 Tbsp vegetable or canola oil
1/4 tsp red pepper flakes
4 tsp cornstarch
1/3 cup cold water
1/2 Tbsp toasted sesame seeds
1 green onion, sliced for optional garnish
Place chicken in crock pot and season with salt and pepper.
In a medium bowl, mix the onion, garlic, honey, tomato paste, vinegar, soy sauce, oil, and red pepper flakes thoroughly. Pour over the chicken and cover the crock pot. Cook on low for 3 to 4 hours or on high for 2 hours.
In a small bowl, mix the cold water and cornstarch to make a slurry, set aside.
Remove the chicken from the crock pot and place on a cutting board, leaving the sauce in the crock pot. Add the cornstarch mixture to the crock pot and stir to combine. Turn heat on to high and allow to cook until thickened, about 10 minutes.
While the sauce is thickening, shred the chicken into bite sized pieces.  Once the sauce has thickened, plate your chicken and pour sauce over it. Sprinkle with sesame seeds and green onion.
Serve with rice.
Adapted from The Comfort of Cooking