Crust-less Apple Pie
22 Friday Nov 2013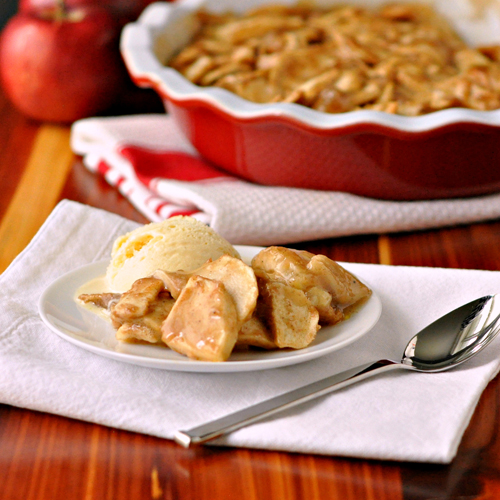 I have never been a fan of apple pie because while I loved the filling, the pie crust was too overwhelming for me. When I met my husband one of the first things he ever made for me was his apple crisp, except it wasn't really a crisp since it didn't have oatmeal in it, but it was a delicious dessert. Essentially it was exactly what I wanted all along. Warm seasoned apple slices paired with a scoop of vanilla ice cream. I could enjoy the fall classic while omitting the heavy pie crust that I always left on my plate.
Every year we go apple picking and pick more apples than we know what to do with and every year we still end up going back for more. What I have finally learned is you can also can this recipe, using a water-bath, and you'll have it to enjoy any time!
So, this holiday season, when you are full from the delicious turkey and heavy side dishes, don't feel guilty about saving room for dessert, with this crust-less apple pie you can enjoy without the guilt!
Crust-less Apple Pie
Ingredients
4 cups apples, peeled, cored, and sliced thinly
1 tsp ground cinnamon
1 tsp nutmeg
1/2 tsp salt
1 cup granulated sugar
1/4 cup water
3/4 cup all-purpose flour
1/4 cup Smart Balance Buttery Blend Original
Pre-heat oven to 350 F.
Mix apple slices with cinnamon, nutmeg, and salt. Rub together with the water and flour.  Mix sugar and butter into the apples. You don't have to use your hands, but you get more of the sugar and spices into the apples this way.
Pour apples into a 8 x 8-inch glass dish. Bake for 40 minutes, stirring half way through.
Serve warm. Store in refrigerator for 4 to 5 days.
Serves 10, 1/2 cup servings.
Source: The Way to His Heart