Ecuadorian Potato and Cheese Patties & A Cookbook Giveaway!
21 Friday Mar 2014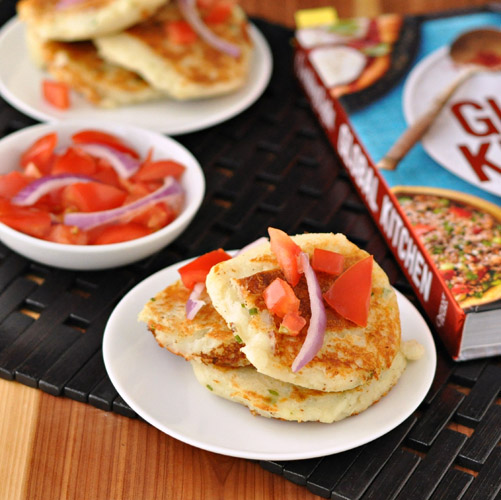 I know a lot of people talk about wanting to venture out when it comes to their meal planning. Maybe you want to try a different cuisine or you had something at a restaurant and you've never thought about making it at home. I love trying different cuisines, but there are a few that I shy away from since I don't have a lot of experience with them. Indian is one of them since the spices are complex and out of my comfort zone. Cooking Light and David Joachim have just published a great book called "Global Kitchen" which puts together a broad recipe collection. You'll find a lot of new dishes that you probably haven't ever heard of, but you'll also see ingredients that you are familiar with. It really has a nice balance and makes it easy for the home cook to get out of their comfort zone.
We've been on "Operation get my daughter to like potatoes" for a month or so now so naturally when I saw these cute little potato cakes that had cheese mixed in I thought we may have a winner. I was only half right, she liked them, but only if she could put sour cream on them. Then, once she realized we were happy that she liked them, she stopped liking them. Kids I tell ya! They are really simple, but have such a nice flavor. They aren't too heavy and work well with the provided tomato salad or as a side starch for any dinner. They also reheat nicely. For an added richness, you could also add some chopped avocado to the tomato salad.
I really think you'll enjoy this book, so Cooking Light has provided me with an extra copy to give to one of my lucky readers. I have so many recipes bookmarked and have also tried the Haitian Pork that was wonderful, albeit a little spicy for this bland girl. To enter, all you have to do is check out the Rafflecopter widget and follow the steps for several chances to win!
***Congratulations Laura!***
Cooking Light provided me with the copy of Global Kitchen, but as always the opinions expressed here are solely my own. This giveaway is for residents of the contingent United States and will end on March 27th, 12:00 am EST. Physical address required for shipping; no PO boxes. All entries are subject to verification.
Ecuadorian Potato and Cheese Patties
Ingredients
1 3/4 tsp kosher salt
2 medium baking potatoes (about 1 1/4 lb), peeled and quartered
1 1/2 oz shredded queso fresco or Monterey Jack cheese (about 6 tablespoons)
2 Tbsp minced green onions
1/4 tsp freshly ground black pepper
1 Tbsp olive oil
3/4 cup diced tomato
1/2 cup julienne-cut red onion
Place 1 1/2 teaspoons salt and potatoes in a saucepan and cover with water. Bring to a boil; reduce heat, and simmer 15 minutes or until tender. Drain and mash with a potato masher until smooth. Cool.
Add cheese, green onions, remaining 1/4 teaspoon salt, and pepper to potato mixture, stirring well. Divide potato mixture into 6 balls (about 1/2 cup per ball). Flatten balls into 1/2-inch-thick patties (about 3-inch diameter). Place on a baking sheet; cover and refrigerate 20 minutes or until firm.
Heat large nonstick skiller over medium heat. Add oil to pan;swirl to coat. Place patties in a pan; cook 5 minutes or until bottoms are browned. Turn patties; cook 3 minutes. Top patties with tomato and red onion.
Serves 6
Nutritional Information
Serving size: 1 patty, 2 tablespoons tomato, and 4 teaspoons red onion
157 calories, 4.6g fat, 4.2g protein, 24.9g carbohydrate, 2.1g fiber, 6mg cholesterol, 0.6mg iron, 279mg sodium, 64mg calcium
Source: Global Kitchen by David Joachim