Eggnog Fondue
31 Monday Dec 2012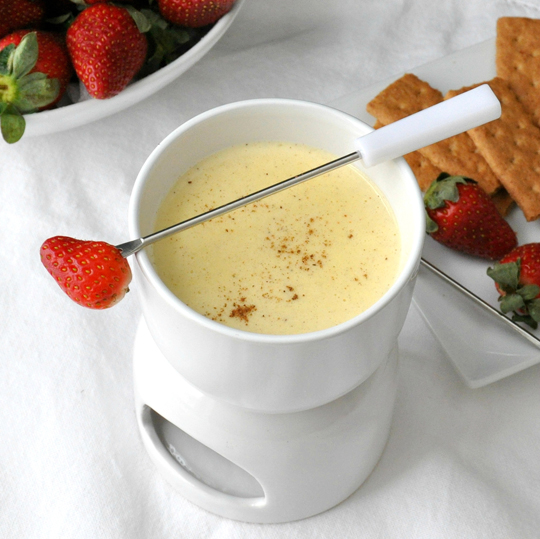 Whether you are in a rush to prepare a dessert for a holiday get together or you want to sit back, relax, and indulge a little, this eggnog fondue recipe is great to have in your back pocket. It takes just a few minutes to prepare, but it is so thick and luscious that everyone will love it. Fondue is perfect for gatherings since everyone can take as much as they like and sample a few bites at a time.
This recipe calls for brandy and while I am a fan of it, you can leave it out if you so wish. Also, fresh nutmeg really enhances the flavor, but if all you have it ground nutmeg go ahead and use it.
Eggnog Fondue
Ingredients
1 1/2 cups heavy cream
3/4 whole milk
1 Tbsp. cornstarch
3/4 tsp freshly grated nutmeg
4 egg yolks
1/2 cup granulated sugar
3 Tbsp brandy
strawberries, graham crackers, vanilla wafers, or cubed pound cake for dipping
In a small sauce pan on medium heat, whisk cream, milk, cornstarch, and nutmeg together. Bring to boil. Remove the milk mixture from heat and allow to cool for one minute, whisking constantly.
In a small bowl, whisk the egg yolks and sugar together rapidly until it turns pale yellow. Slowly pour about half of the milk mixture into the egg mixture, whisking constantly to avoid curdling. Return the egg mixture to the saucepan and bring the fondue to a boil, cooking for one minute. Whisk constantly. Transfer to a fondue pot and serve immediately.
Source: Cuisine at Home, Nov./Dec. 2012