George Turns Two! A Boat Party
21 Thursday Jan 2016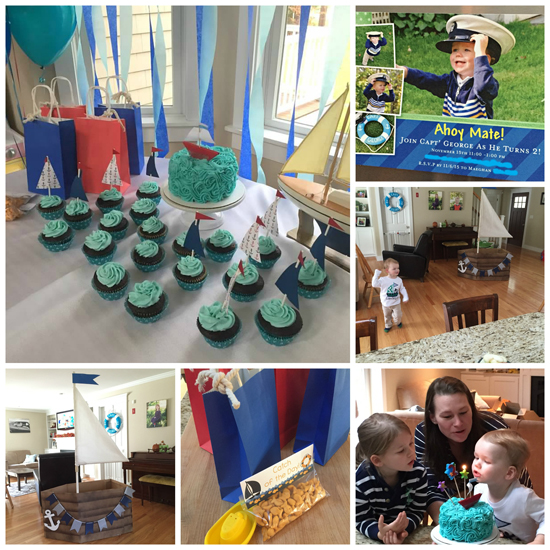 My George is two. How did time go by so fast? I've heard the second child grows up faster, but this is ridiculous! He's always grown fast, but now he's in a rush to do the same things as his sister which means I'm losing the toddler in him very fast. His birthday was back before Thanksgiving and we knew were going to throw him a boat party. He's been loving boats all summer long and anytime we go over a bridge, by a stream, or by the ocean he'll ask, "boat?"
Now that I've gotten a few children's parties under my belt and have two kids to look after I decided to hold back a little and keep this party simple. My husband and I also really didn't want to deal with fondant this year so there were no 3D puppy cakes or bounce houses like his sister's second birthday party, but we had just as much fun and the food and decor were a hit!
I opted to make a simple wave cake for George. I've never done a smash cake before and I figured this would be the last chance to do one so I thought making a smaller cake with simple piping to look like waves would be cute. Top it with a little origami boat and it's a win. George loved the cake, but didn't do the typical smashing. I thought he would since the kid loves cake, but he chose to eat his with a fork. For everyone else I made cupcakes with little sailboat toppers. There were a few more toppers made but George woke up a few days before the party and decided to play with them. No problem, we'll just have less. I'm learning that sanity is worth a lot more then four extra toppers!
For the food I decided to go with some comfort food. It was before Thanksgiving and I wanted to steer away from those flavors, but it was cold and I just thought some chili would be great. I also made a batch of macaroni and cheese because I knew it would be a hit for both the children and adults. Through in some great breads, simple appetizers, and we were good to go! I went real simple with the favor bags and opted to give the kids some goldfish and a tub toy boat. Again, they are two and they really don't need any more desserts to go home with and now that I'm a bit wiser I also didn't want to send their parents home with more stuff!
We had a great time and this party was really simple to plan and execute once I decided on everything. We still play with the cardboard sailboat and George now has a cute life preserver with his name on it for his bedroom door!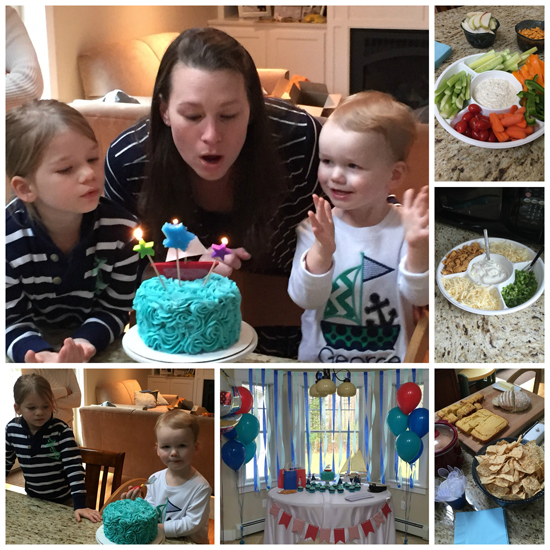 Menu
Snacks
Crudites with Ranch Dressing
Chips and French Onion Dip
Queso
"Catch of the Day" Goldfish
Apple slices
Lunch
Texas Chili with fixings (corn chips, sour cream, green onions, cheese)
Crockpot Macaroni & Cheese
Dessert
Ice Creams ~ Easy Mint Chip, Vanilla Bean, Ben's Chocolate Ice Cream
Cupcakes and Cake ~ Chocolate Cake, Buttercream Frosting
Decor
George's Sailboat ~ A few inspirations from Pinterest and a handy husband
George's Life Preserver ~ Purchased from Amazon, personalized by Wink's Kennebunkport
Paper Sailor Hats
Favor Bags ~ Tub toy boat and goldfish with Catch of the Day Bag Toppers