Hoisin Flounder
01 Friday Mar 2013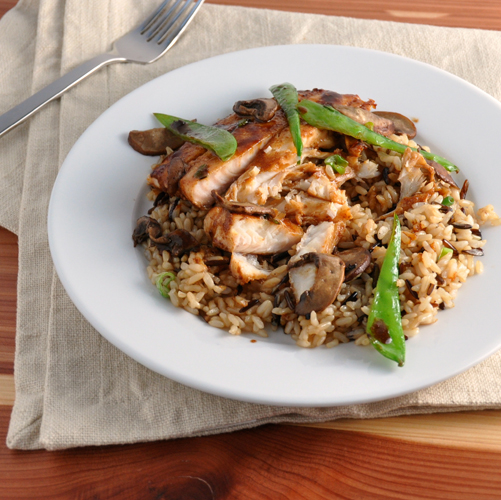 It's that time of year again. When I finally dismiss all of the wonderful sugary things and put aside the heavy foods and proclaim that I will get back on the bandwagon, be healthy, and get in shape for the impending warmer weather. I have to think warmer, it's freezing and we are up to our necks in snow here in Maine! Lots of people use January as their time to start anew, but I can't with all of those wonderful leftovers, game day snacks from the Superbowl and then Valentines Day comes around! But, between Valentines day and my daughters birthday in the beginning of April I have about 5-6 weeks where I can be good. Those weeks break the cycle and get me back in the game and I lose that winter slump.
The first few are difficult. I don't want bland food. I don't want to live on greens alone either. That is fine for the summer, but it's not in season and I just came off of a sugar high. No thanks! I was excited to see this recipe in the recent Cooking Light magazine. I had everything already at home and oddly enough, I've never tried hoisin sauce with fish. So, I immediately gave it a try. OK, maybe I waited till dinner time, but I've never made a recipe that fast. Usually it sits in a giant binder I have for ages.
This dish combined all the things I love in a meal. It was quick, it was healthy, it was flavorful, and it was easy. What else do you need? If you don't have flounder you can use any other white fish. Feel free to substitute the vegetables for something you like more, although I do encourage trying something new. I always use meals like these to try something new that I've always been afraid of.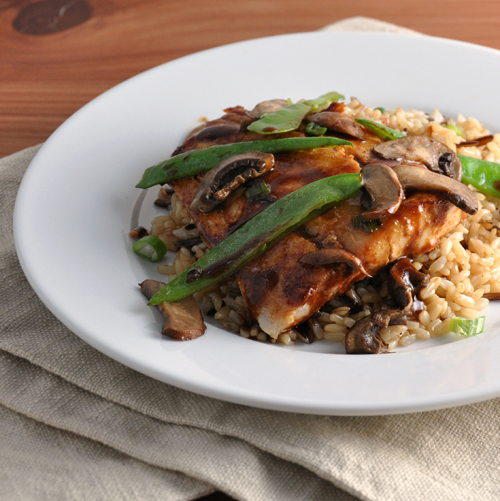 *Tip – Have trouble grating or mincing ginger? Freeze it in an airtight bag and whenever you need it remove it and grate. You wont get that sloppy mess and it will be easier to measure. Plus, the ginger lasts longer!
Hoisin Flounder
Ingredients
1 (3 1/2 oz.) bag boil-in-bag brown rice
2 Tbsp Hoisin sauce
1 Tbsp water
2 tsp low-sodium soy sauce
1 1/2 tsp minced fresh ginger
1 1/2 tsp dark sesame oil
1/2 tsp black pepper
3 Tbsp canola oil, divided
4 (6 oz.) flounder fillets
1/4 tsp kosher salt
1 cup diagonally sliced snow peas
2 green onions, thinly sliced
1 cup sliced shiitake mushroom caps
Prepare rice according to package.
In a small bowl, combine the hoisin sauce, water, soy sauce, ginger, sesame oil, and black pepper. Reserve 4 teaspoons.
Heat a nonstick skillet over medium0high heat. Add 1 tablespoon canola oil and swirl around the pan. Sprinkle the fillets with salt. Add two fillets to the pan and cook for 4 minutes. Flip the fillets and brush each with 1 teaspoon hoisin mixture. Cook for 2 minutes. Remove the fish from the pan and repeat with the other two fillets.
Heat another skillet over high heat. Add 1 tablespoon of canola oil and swirl around the pan. Add snow peas and green onions and saute for 1 minute. Add the mushrooms and saute for an additional 2 minutes.
Pace 1/2 cup rice onto each of the 4 plates and top with 1 fillet and 1/ cup vegetables. Drizzle 1 teaspoon of hoisin mixture over top.
Nutritional Information
Calories 360, Fat 17.9, Saturated fat 2g, Protein 24.7g, Carbohydrate 25g, Fiber 2g, Cholesterol 77mg, Iron 1.2mg, Sodium 462mg, Calcium 52mg.
Source: Cooking Light March 2013