Jalapeno Cheddar Chicken Wonton Cups
09 Thursday May 2013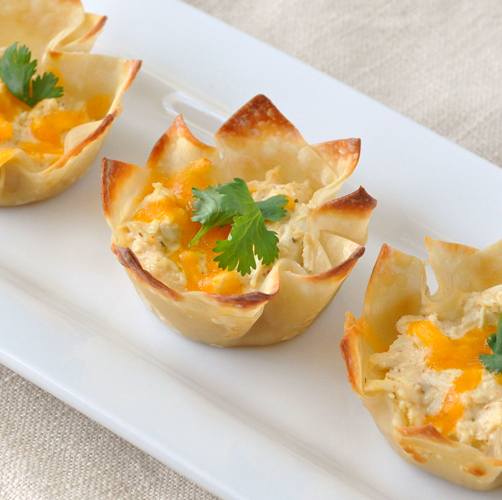 I received free product coupons from Heluva Good! to create a new recipe and partake in their blogger recipe contest. As always, all of the opinions expressed here are my own.
***Winner of Heluva Good! Blogger Recipe Contest!***
We've all been in a rush before to whip a quick appetizer up. Last minute get together at someone's house or your own. Maybe not so last minute, but you procrastinated and now you need something quick! You don't want to be the one that brings the veggie platter or chips and dips, although those are my favorite, they look like you didn't try. I've got a solution for you! Grab that container of dip anyways and turn it into something tasty, cute, and will be sure to impress!
The good folks at Heluva Good! Dip have asked me to come up with a recipe that uses one of their great sour cream dips and only contains five ingredients. My mind started racing. I came up with some good ideas, think scones, chicken dishes, etc. but I wanted something super easy and fun to make and I just love appetizers. Why not combine my love of appetizers, wonton wrappers, and sour cream dips? The end result were these Jalapeno Cheddar Chicken Wonton Cups and I think you'll enjoy them. They take minutes to assemble and you can pop them in the oven and they are ready in minutes. If you don't have time to cook and shred chicken, I always make a big batch and keep some handy in my refrigerator, you can grab a rotisserie chicken at the grocery store or they even sell shredded chicken in the sandwich meat area! Add a little cilantro for garnish and they will look like the perfect little bite for any party!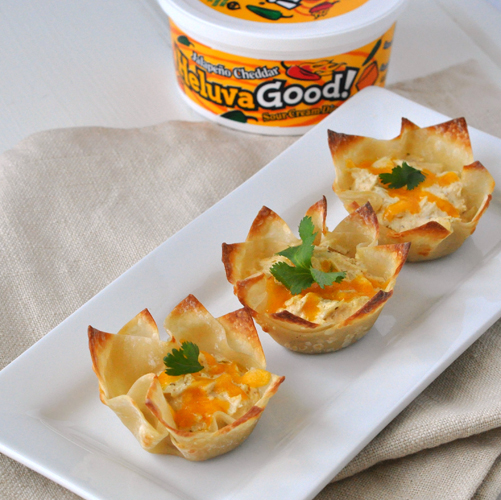 Please vote for these on Heluva Good!'s Facebook page! Thank you!! You must first "like" the page and then you can enter.
Jalapeno Cheddar Chicken Wonton
Ingredients
2 cups shredded chicken
12 oz Heluva Good! Jalapeno Cheddar Dip
48 wonton wrappers
Cooking spray
1/3 cup shredded cheddar cheese
cilantro for garnish
Pre-heat oven to 350 F. Lightly spray muffin tin cups with cooking spray.
Place two wonton wrappers in each muffin tin, one slightly overlapping the other.
In a small bowl, mix the chicken and dip until combined. Evenly distribute the chicken mixture in
to the assembled wonton wrapper cups.
Next, sprinkle a little bit of cheddar cheese over each cup.
Bake for 6 to 7 minutes, or until the wonton wrappers are lightly browned and the cheese has melted.
Yields 24
Source: The Way to His Heart