Lemony Tahini Sauce
03 Friday May 2013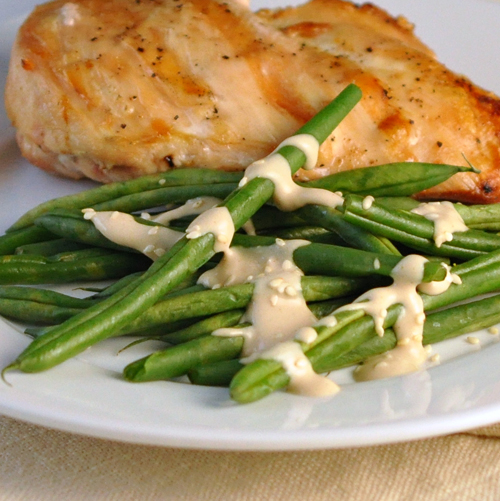 I've had a container of tahini in my refrigerator ever since since I made this wonderful pumpkin spice hummus. I wasn't exactly sure what else to use it with. It just kept getting pushed further and further back into the abyss of the refrigerator. Finally, I started looking for recipes so I could utilize the tahini. Nothing drives me more insane than to have uni-tasker ingredients in my home.
This recipe struck a cord with me because I am always looking for ways to spruce side dishes up. I'm also always looking for a way to make vegetables more enticing for my daughter! The sauce is not overpowering with lemon or the sesame flavor of the tahini. It really blends nicely and creates a wonderful flavor. I found myself pushing my chicken around in the leftover sauce as well! This can be served over vegetables or potatoes and adds a nice touch to your meal.
Lemony Tahini Sauce
Ingredients
 1 medium garlic clove
salt
3 Tbsp tahini
3 Tbsp fresh lemon juice
1 -2 Tbsp water
pinch of ground cumin
2 tsp sesame seeds (optional)
Chop the garlic clove finely and then sprinkle it with salt. Using the flat edge of your knife, press the knife into the garlic and salt, scraping it along your cutting board. You want to achieve a garlic paste. Scoop the garlic paste up and place it into a small bowl.
Add the tahini to the garlic and whisk until combined. Whisk the mixture while you gradually add the lemon juice. The tahini will actually thicken at first, but by the time all of the lemon juice has been added it will become a nice creamy consistency. Add in the water, 1 tablespoon at a time until a nice creamy consistency has been reached. Add the cumin and more salt to taste and stir.
Drizzle the sauce over your side dish and sprinkle the sesame seeds on top.
Yields 6 Tablespoons, enough for 1 to 1 1/4 lb of vegetables
Nutritional Information
Per tablespoon,  Calories 45 ; Fat 4g ; Saturated Fat 0.5g ; Protein 1g ; Monounsaturated Fat  1.5g ; Carbohydrates 2g ; Sodium 25mg ; Cholesterol 0mg ; Fiber 0g.
Source: fine Cooking