Long Island Potato Salad
15 Monday Jul 2013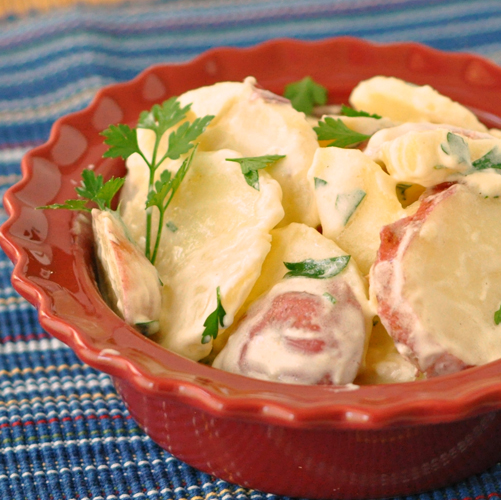 Growing up on Long Island, I remember there was always one thing that was sought after at barbecues, a good potato salad. People judge a deli by how good their potato salad is. There are a few different kinds of potato salad out there, but a good recipe for this local favorite is always in high demand. My sister-in-law worked at a deli so we were lucky enough to get a great recipe from her and it never fails to please! The key to this recipe is using a heavy mayonnaise, like Hellman's and leaving the potatoes in the brine for 24 hours. It takes some forethought, but it is definitely worth it! This makes a lot, but it will go fast at any barbecue or potluck you attend!
Also, please don't forget to vote for my Lobster "Roll" Cups on Smart Balance's Facebook page!
Long Island Potato Salad
Ingredients
5lb red potatoes
4 cups water
1 cup white vinegar
2 cups granulated sugar
1/2 cup canola oil
1 Tbsp white pepper
1 Tbsp dry mustard
1/2 cup chopped onions
1/4 cup chopped parsley
1 cup mayonnaise, Hellman's preferred
Clean potatoes and put them in a large pot. Cover with water and bring to a boil. Once a boil has been reach, reduce to a simmer and cook until just fork tender. Make sure not to overcook! Remove the potatoes and place in an ice bath and chill in the refrigerator. Once the potatoes have cooled off, slice the potatoes. You can choose to rub the skins off or leave them on, your preference.
Place the potatoes in a non-reactive bowl that can be refrigerated and add the chopped onions, set aside.
In a medium pot, combine the water, vinegar, sugar, oil, white pepper, and dry mustard. Bring to a boil.
Pour the hot brine over the potatoes and allow to chill for 24 hours.
Drain brine and add parsley and mayonnaise and gently mix. Serve cold.
Source: The Way to His Heart