Lox Rangoons
18 Wednesday Jan 2012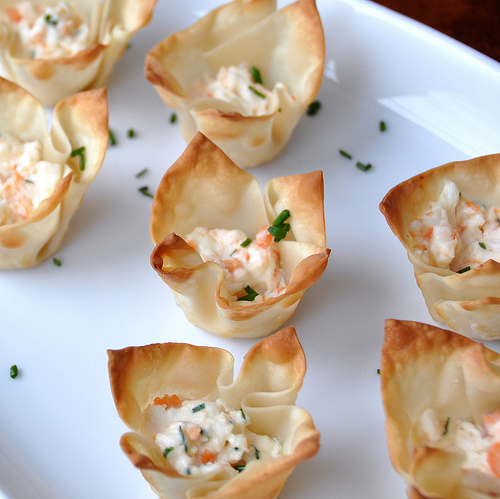 My favorite appetizer is, and probably always will be, the crab rangoon. I judge most Asian restaurants on their crab rangoons. You can read more about my love of them here, Crab Rangoons! I was sitting at my laptop one day, trying to think of some new ideas for appetizers. I wanted to branch out for my own taste buds, but I also wanted to show you all some fresh ideas. It was a few days before New Year's Eve and I was thinking about lox and bagels for breakfast on New Year's Day. Then, my mind started turning and I came up with these, Lox Rangoons! It's the same great concept, but with a little sophistication. No one will be expecting these when you serve them. These were so good, even my 21 month old daughter loved eating them.
This time around, I replaced green onions with chives and I decided to bake them. It's a New Year and salmon is so good for you, I figured let's keep these a little healthier. With ingredients as pretty as these, why fry them in oil and lose those pretty colors?
Lox Rangoons
Ingredients
8 oz cream cheese, softened
3 oz lox, thinly sliced cured Salmon
2 1/2 Tbsp chopped chives
24 wonton wrappers
Pre-heat oven to 350 F. In a medium bowl, mix cream cheese, salmon, and chives together. Spray both sides of the wonton wrappers with cooking spray and place them in your muffin tin. Spoon roughly 1 Tbsp of the salmon mixture into your wonton. Bake for 10 minutes. Remove and serve warm, although they are still pretty tasty at room temperature!
Source: The Way to His Heart