Magnolia Bakery's Vanilla Cake
07 Tuesday Apr 2015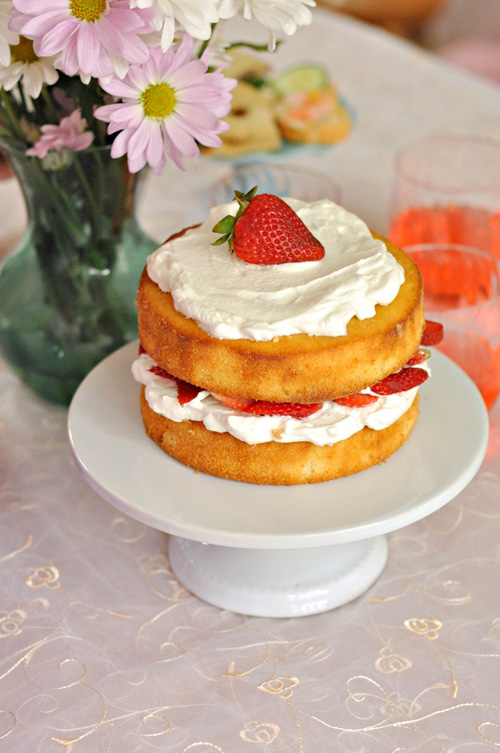 My sweet Caroline has turned five and I'm dealing with all of those emotions as we come to the realization that she is no longer a baby, although always our baby, and will enter Kindergarten soon. I can't believe the time has gone so fast. I feel like I was just announcing her birth to all of you!
This year, was extra busy since we had Easter the day after her birthday. So, I had to prepare fruit popsicles for her classmates on Friday, her birthday cake and a little brunch, and then Easter dessert! Don't forget, we have the big party celebration next week. As always, I baked the cakes a couple of weeks beforehand to lighten the load. This year, I decided to try a new recipe since Caroline wanted a vanilla cake for her birthday and party and I wanted something that would compliment the sweetness of the fondant for her party cake. I was risking how this cake would turn out and how it would handle the freezing, but I decided to take the risk after hearing about this cake's reputation for so long.
This cake has a wonderful texture and is just so sweet. It was lovely with the whipped cream and strawberries Caroline chose. In fact, it was so delicious I decided to use it in my strawberry trifle for Easter dessert! We haven't had it with the fondant yet, but I know it will turn out just right.
This cake was a little tricky for me in that I am not used to such a thick batter. The batter is really heavy so I kept a careful eye on it. I also found that using any kind of cake release product crystallized the bottom of the cake, therefore turning it into wonderful scarps for George and I one morning, but not useful for a good cake! Just go ahead and grease, flour, and line with paper and you'll be all set.
So, if you're looking for a sweet, yet airy cake this is one you have to try. As always, my Caroline has good taste and I shouldn't doubt her when she throws a curve-ball in my baking plans with different ideas. I'm so glad the birthday girl gets the cake she wants, because this cake will go into heavy rotation!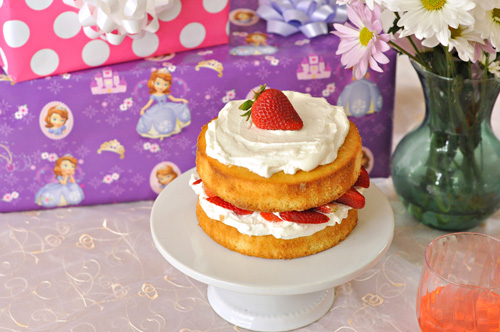 Magnolia Bakery's Vanilla Cake
Ingredients
1 1/2 cups self-rising flour
1 1/4 cups all-purpose flour

1 cup (2 sticks) unsalted butter, softened

2 cups sugar

4 large eggs, at room temperature

1 cup milk

1 tsp vanilla extract
Pre-heat oven to 350 F. Grease and line two 9-inch round pans with parchment or wax paper.
Combine flours and set aside.
In a large bowl, on medium speed of an electric mixer, cream the butter until smooth.
Add the sugar gradually and beat until fluffy, about 3 minutes. Add the eggs, 1 at a time, beating well after each addition.
Continue beating on medium speed and add the dry ingredients in 3 parts, alternating with the milk and vanilla. Allow the ingredients to incorporate, but do not over beat. Scrape bowl and make sure ingredients are well incorporated and divide between the two pans.
Bake for 30 to 40 minutes or until a cake tester placed in the middle comes out clean. Let cool in pans for 10 minutes, then allow to finish cooling on a wire rack.
 Source: More From Magnolia: Recipes from the World-Famous Bakery and Allysa Torey's Home Kitchen