Mom's Macaroni Salad
01 Thursday Aug 2013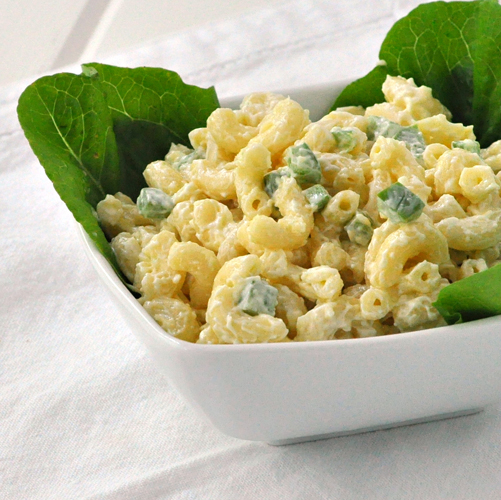 Growing up my mom would also make a few different cold salads in the summer, but the one that I always liked was this macaroni salad. Maybe it was the familiar shape of pasta, the mayonnaise, or the specks of green from the crunchy bell peppers? All I know is, summer wasn't summer unless this was consumed a few times! I haven't made this since moving to Maine because my husband doesn't like mayonnaise and the recipe calls for a lot. Every summer I say I will, but I don't, and every summer I long for it. So, no more of that! While this does make a lot, don't let that stop you. It's so easy to make and there are so many barbecue's and potlucks out there just yearning for another cold salad! This has very simple, but classic flavors so it's sure to please most of the crew! This recipe can definitely be tweaked, as my mom so often does, that it was difficult to get an actual recipe from her! While my mom now adds some celery to give it more crunch, I prefer what I'm used to growing up which is just using the bell pepper. Same as adding the cubanelle pepper, tasty, but I'm going classic here! This salad gets better the colder it gets, so I like to make this the night before serving.
Mom's Macaroni Salad
Ingredients
1 lb box elbow pasta
1 1/2 cups mayonnaise (heavy mayonnaise like Hellman's or Duke's)
1/4 tsp dry mustard
1 large green bell pepper, diced (or 2 large cubanelle peppers)
2 full stalks celery, diced (optional)
1/8 tsp black pepper (optional)
1/4 cup white distilled vinegar
1/4 teaspoon sugar
Bring a large pot of water to a rolling boil, salt the water well and add the pasta. Cook until tender.
While the pasta is cooking, combine the rest of the ingredients, up to the black pepper in a large bowl or covered container. In a small dish, add the vinegar and sugar and stir to combine. Slowly, add some of the vinegar mixture to the mayonnaise until you reach your desired consistency. You are looking for something creamy, but not too liquidy. I save some and set it aside and add more after adding the pasta if needed.
Drain the pasta and rinse with cold water. Make sure that all of the water is removed as the water left in the inside of the elbows will ruin the salad. Mix the pasta into the mayonnaise mixture and chill for 4 hours or up to 24 hours.
Source: The Way to His Heart