Nanaimo Bars
11 Monday Feb 2013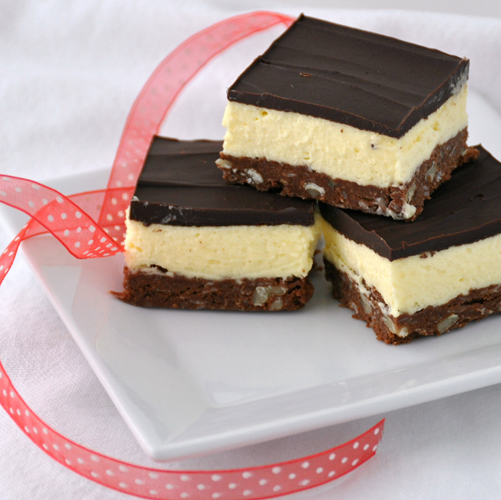 I love dessert any way I can take it, but sometimes it's nice to find something that is a little different. Not your typical cookies, cupcake, or cake. When I happened upon these, looking for a different Valentine's Day treat,  I knew I had to give them a try. Without even knowing what the ingredients are, they just look like the perfect, delectable little bite.While they have more sophistication than the typical graham cracker and pudding bar, these are still easy to make, no-bake, and were created by a homemaker who know what she was doing! Mabel Jenkins created these wonderful treats and named them after Nanaimo in Vancouver BC and I'm so glad she did. I made the whole batch, thinking I would freeze half, but these are going faster than a batch of cookies! So, make them for someone special for Valentine's Day, or because there is a special occasion, or because it's Friday.
These are freezer friendly, if you have good will power. Just wrap them up nicely and they should be fine for a few months, that is if they last that long! You can also easily half the recipe and use a smaller pan.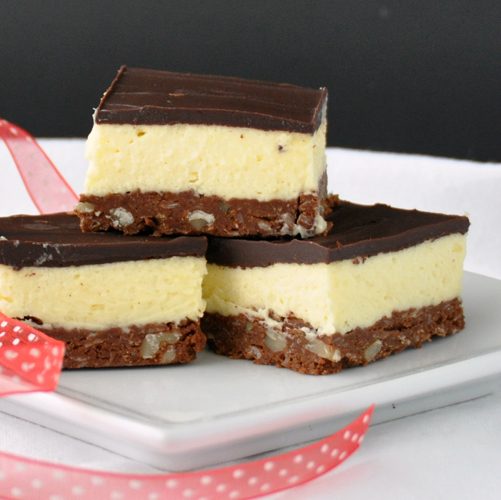 Nanaimo Bars
Ingredients
Bottom Layer
1/2 cup unsalted butter, at room temperature
1/4 cup sugar
1 tsp vanilla extract
2 cups graham cracker crumbs
1 cup sweetened shredded coconut
1/2 cup finely chopped walnuts
4 oz. bittersweet chocolate, melted and cooled slightly
Middle Layer
1/4 cup unsalted butter, at room temperature
1 cup confectioners' sugar, sifted
1 (3.4oz) pkg. instant vanilla pudding
2 cups heavy cream or whipped cream
Top Layer
6 oz. bittersweet chocolate, finely chopped
2 Tbsp unsalted butter
Line the bottom and sides of a 9″ by 13″ pan with foil. Lightly grease with cooking spray.
To prepare the bottom layer, cream the butter, sugar, and vanilla in a large bowl with a mixer on medium-high speed. Add the graham cracker crumbs, coconut, and walnuts and mix well. Add the chocolate and mix thoroughly.
Spread the mixture in to the pan, pressing down to form a solid layer. Put the pan in the freezer while you prepare the middle layer.
To prepare the middle layer, cream together the butter, confectioners' sugar, and instant pudding in a large bowl with a mixer on medium-high speed. Blend until a smooth consistency has been reached. Mixing on high speed, add the cream slowly and continue to mix until it is smooth and fluffy, about 2 to 3 minutes.
Remove the pan from the freezer and spread the filling over the crumb layer, being careful so that the crumbs don't get mixed in to the filling. Refrigerate until set, about 2 hours.
Once the filling has set, prepare the top layer. In the top of a double boiler, melt the chocolate and butter, stir until smooth. Let the chocolate cool for a few minutes and then pour it over the custard layer, spreading to the corners. Put the pan in the refrigerator and chill for 5 minutes.
Remove the pan from the refrigerator and lightly score the chocolate surface into 24 pieces. This will make it much easier to slice later! Refrigerate until fully set, about 1 hour.
Lift the foil from the pan to remove the bars. Cut along the score lines and serve chilled or at room temperature.
Nutritional Information
Per bar: 290 calories, 24 g carb, 2 g protein, 23 g fat, 45 mg cholesterol, 110 mg sodium, 1 g fiber.
Source: Hannaford Fresh, January/ February 2013