One-pot Cheesy Pasta Bake
07 Tuesday Feb 2017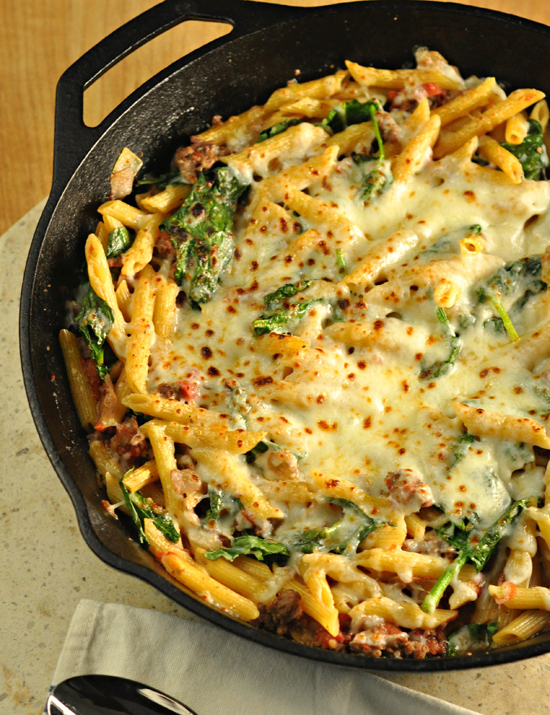 Whenever I ask my family, "What do you guys want for dinner?" I get the usual replies. From my daughter it's, "macaroni and cheese and can it be from a box?" From my son, it's "pizza!" From my husband, "whatever." Not helpful! I usually try to make something new each week that will hopefully become the new favorite. What I've been doing lately is showing them two or three recipes and having them pick. They are always pasta based. Always. I love pasta too, bu every night and I'm going to blow up like a balloon. Since I can't fight them, they get one or two a week but I try to make them healthier and try to throw some veggies in there as well.
While I was making this for the first time, my husband looked over at how much spinach I had set aside and cringed. So, I put some spinach back into the refrigerator to appease him. While eating it, both he and my six year old daughter exclaimed that it could actually use a little more spinach. I love when they surprise me like this! I think it's because it was topped with cheese, but whatever works!
While you wont get leftovers from these portion, this served my family of four happily with my husband going in for seconds. It's so easy and there's only one pot to clean up. Perfect for a weeknight meal that tastes like a Sunday supper!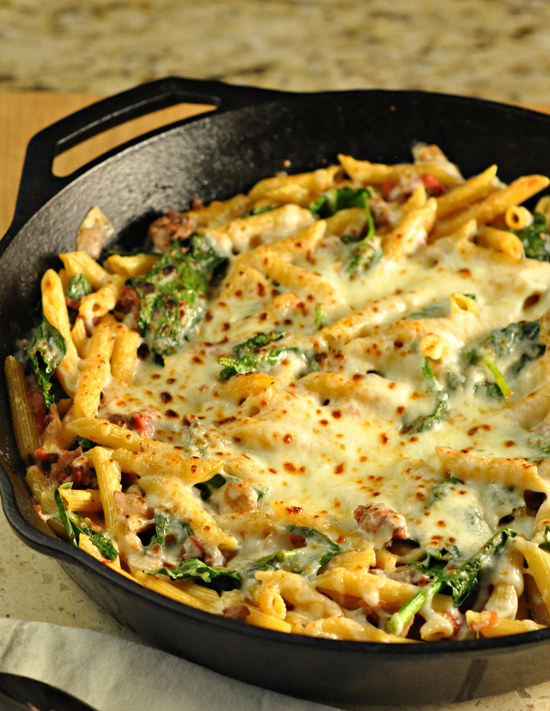 One-pot Cheesy Pasta Bake
Ingredients
1 Tbsp olive oil
1 cup chopped onion
8 oz. 90% lean ground beef
3/4 tsp. dried oregano
1 1/4 cups unsalted chicken stock
1/2 tsp. salt
1/2 tsp. black pepper
1 1/2 cups unsalted crushed tomatoes or tomato sauce
8 oz. uncooked whole-grain penne pasta
5 oz. fresh baby spinach
4 oz. preshredded part-skim mozzarella cheese (about 1 cup)
Preheat broiler to high.
Heat oil in a large ovenproof skillet over medium-high. Add onion and saute for 2 minutes. Add beef and oregano and cook for 3 minutes, stirring to crumble.
Add stock, salt, pepper, tomatoes, and pasta and bring to a boil. Cover, reduce heat, and simmer to 12 to 13 minutes or until pasta is done. Stir in spinach.
Sprinkle cheese over pasta mixture. Place skillet in oven and broil for 2 minutes or until cheese melts and begins to brown.
Source: Cooking Light September 2016
Save
Save
Save
Save