Oven Fries with Herbs and Pecorino
06 Monday Jan 2014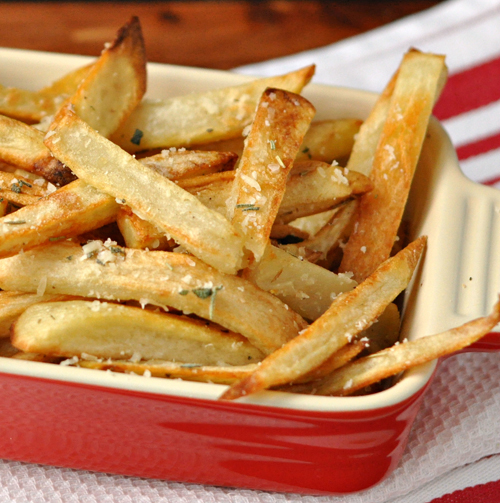 Finding simple, tasty sides has become difficult in our house as my three year old daughter has decided that she is going to start digging her heels in and become picky. Sometimes it's just out of spite too. "We don't like mashed potatoes this week? Oh! You NEVER liked mashed potatoes? Good to know kid." French fries are on the approved list, but we can only have so many. They are great with certain meals, but not everything. We needed something a little more "grown up" and palate friendly. Enter these french fries. She can still nibble on them and enjoys the cheese, while we can have them with roast chicken and not feel like we're at a fast food restaurant. These fries are great by themselves or you can choose to dip them in ketchup if you desire. Although, my kid doesn't like ketchup, or any condiment for that matter besides honey and lemon. What is wrong with her and will this end?

Oven Fries with Herbs and Pecorino
Ingredients
2 large baking potatoes, cut into 4-by-1/2-inch sticks
1/4 cup extra-virgin olive oil
1 large garlic clove, minced
1 tsp minced sage
1 tsp minced rosemary
1/4 cup freshly grated Pecorino Romano cheese
salt and freshly ground pepper
Pre-heat oven to 425 F.
In a large bowl, toss the potatoes with the olive oil until evenly coated. Spread the potatoes on a rimmed baking sheet in a single layer and bake in the upper third of the oven, turning once or twice with a spatula, until they are golden and crispy, about 30 minutes.
Sprinkle the minced garlic and herbs over the fries and toss well. Toast for about 5 minutes longer, until the herbs are fragrant and the garlic is lightly browned.
Transfer the fries to a large bowl and toss with the grated cheese. Season with salt and pepper and serve.
Yields about 4 servings.
Source: Food & Wine