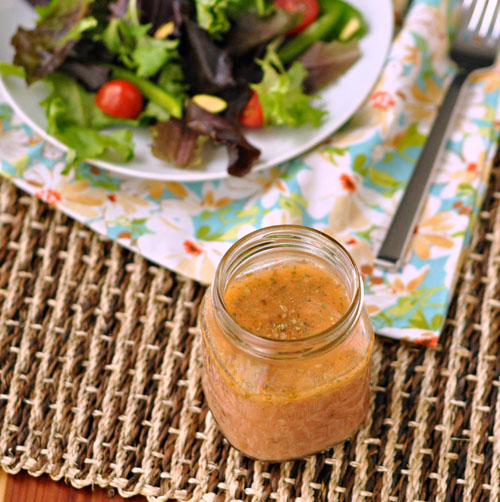 Our spring has not been that wonderful here in Maine. It's been filled mostly with cold, rainy days. I know summer is coming though and we'll most likely go from cold to blazing hot in a blink of an eye. I'm sure I'll complain about the heat, but I am looking forward to days of fresh produce from our garden, eating outside, and enjoying meals from the grill. One of my daughter's favorite things to do is eat lunch outside on the deck. She loves having a picnic and usually our spring days are filled with lots of picnics. Not this spring though. We've only done it once, sadly. Anytime it is nice out though we head outside and start shifting from our heavy, cold weather meals to light, fresh meals. We've craving the sun and warmth just like the plants outside. I whipped up this dressing last week when it was warm and it felt so nice to have a fresh salad with this on it. Of course the next day it was back to being cold, but I had that memory and I continued to eat my salads with this dressing to spite Mother Nature.
This is a great alternative to your standard Italian dressings you may be making or buying. You can't taste the "lightness," it takes just like any other Italian dressing, but you also aren't getting those fake ingredients from the bottle "light' dressings. You also probably have all, if not most, of these ingredients on hand anyways! So, dress you garden salad, pasta salad, or marinate your chicken in it this summer and know that it's light, fresh, and a little healthier for you!
Light Italian Dressing
Ingredients
1 medium tomato, halved
1/4 cup water
1 Tbsp red wine vinegar
1 Tbsp fresh lemon juice
2 tsp dijon mustard
Pinch of sugar
2 Tbsp extra-virgin olive oil
1/2 small clove garlic, minced
1/8 tsp dried oregano
1/8 tsp dried basil
1/4 tsp salt
Freshly ground pepper to taste
Rub the cut sides of the tomato along the coarse holes of a grater into a bowl; discard skins.
Whisk in remaining ingredients and pepper to taste.
Store in an airtight container for up to 1 week. Shake well before using.
Yields 1 cup
Nutritional Information
Per serving (2 tablespoons): 38 Calories, 4g Fat, 0mg Cholesterol, 92mg Sodium, 1g Carbohydrate, 0g Fiber, 0g Protein
Source: Food Network Magazine May 2011