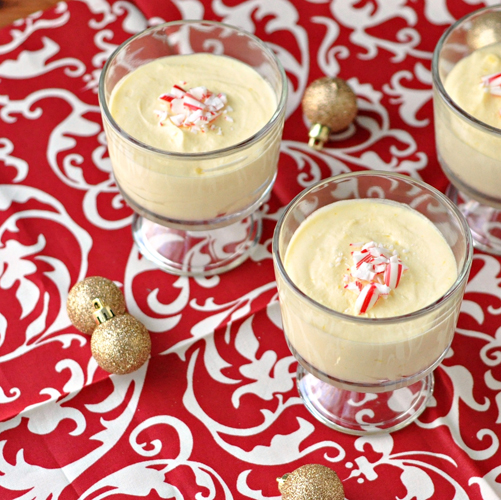 We're in the thick of the holiday season here and I've promised myself, and family, to take it easy in the kitchen. At least for now, but I do love whipping up all sorts of goodies and I'll deal with the repercussions come January!
What I love about this mousse is that it is so easy to make, yet so elegant. Who is going to pass up chocolate mousse? Using white chocolate and crushed candy canes makes it a perfect holiday dessert whether you're entertaining or gathered around the kitchen island after dinner which was the case at my house last night. Chocolate and peppermint are one of my all-time favorite flavor combinations. This recipe is always well received in my house and I know we haven't seen the last of it this season.
To get the most flavor, use a higher quality white chocolate that contains cocoa butter. Really though, I've used your run of the mill white chocolate and we're still happy campers. This may be frozen.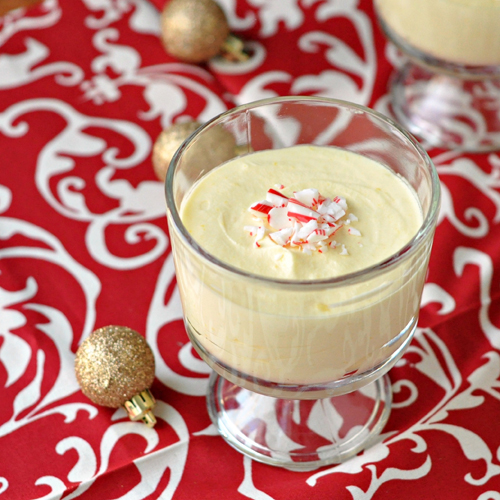 White Chocolate Peppermint Mousse
Ingredients
1 (4oz.) bar white chocolate, chopped
4 egg yolks
1/4 cup sugar
1/4 tsp pure peppermint extract
1 1/4 cup chilled heavy cream
2 Tbsp chopped or crushed peppermint candies
Melt white chocolate in a double boiler, about 3 minutes. Watch closely and stir often so that the chocolate does not seize. Set aside to cool slightly.
In a separate bowl, combine egg yolks and sugar, and heat in a double boiler. Whisk constantly until egg yolks feel hot to the touch and sugar has melted, about 3 minutes.
Fold egg mixture into white chocolate. Add peppermint extract and fold to combine. Let cool about 10 minutes.
Using an electric mixture on medium-high speed, beat ream in a large bowl until stiff peaks form, about 3 to 5 minutes. Be careful not to over beat. Fold whipped cream into white chocolate mixture, mixing thoroughly.
Scoop mousse into a large resealable bag. Snip one corner of the bag and pipe mousse into 6 cups or small bowls. Alternatively, use a large spoon to scoop mousse into bowls and smooth surface. Refrigerate until chilled, at least 2 hours and up to overnight. Just before serving, sprinkle with peppermint candies. Serve chilled.
Source: Hannaford Fresh, November/December 2014