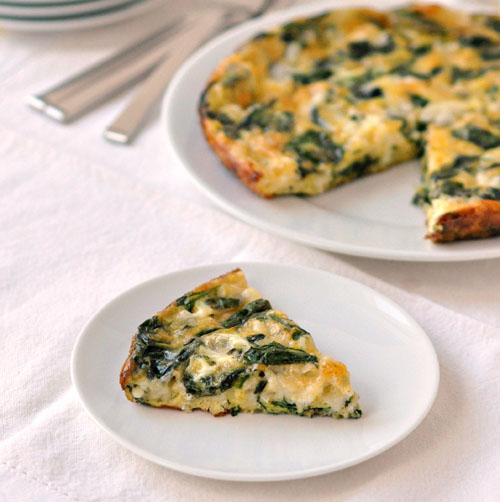 I associated each season with some staple ingredients and meals. For spring, I always love using eggs, lemon, and anything green. It's that rebirth of green outside and the good things to come. Light and airy foods with fresh ingredients that differ so much from the hardy meals of winter. I love making quiches, egg bakes, and frittatas in spring because there are usually a fair share of social gatherings that they are perfect for; Easter, Mother's Day, Bridal showers, etc.
This egg bake is a favorite because it's a great way to get some nutrients in while still enjoying something a little decadent and cheesy! You can use any cheese you like, but I enjoy the havarti for it's buttery taste and melt factor.
Spinach and Havarti Egg Bake
Ingredients
2 Tbsp Smart Balance Original Buttery Spread
1 small shallot, finely diced
5 oz fresh baby spinach
5 large eggs
3 oz havarti cheese, shredded
1/8 tsp paprika
salt and pepper to taste
Smart Balance cooking spray
Pre-heat oven to 350F. Spray a 9-inch pie dish with cooking spray.
In a large saute pan, heat butter on medium-low and add shallots. Stir and cook until translucent and fragrant, about 1 minute. Add spinach and let wilt, stirring occasionally for about 2 to 3 minutes. Remove from heat and set aside.
In a large bowl, whisk eggs, cheese, paprika, salt, and pepper until well combined. Add the spinach and shallots and stir until combined. Pour into prepared dish and cook for 27 to 30 minutes, or until lightly brown and the eggs have set. Remove from oven and let rest for several minutes before serving.
Serves 8
Nutritional Information
Per serving: 116 Calories, 9g Fat, 126mg Cholesterol, 138mg Sodium, 1g Carbohydrates, 6g Protein
Source: The Way to His Heart