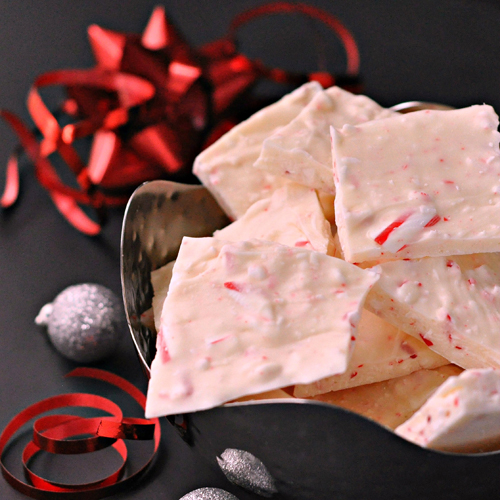 I don't typically "re-do" posts for better pictures, but this recipe is such a favorite and requested by all each and every year, that I felt a better picture was needed to do the recipe justice and bring it back into the forefront since I originally posted this back in 2009. Granted, it's still not amazing, but this stuff just doesn't last long in my house! As I said way back when, I first made peppermint bark a many years ago when I first met my husband. I put it out at a party and no one would touch it. Finally, a cousin ate some and now it's a requested favorite during the holidays. My husband , who doesn't like white chocolate, even requests it for his July birthday! This recipe is so easy and I prefer it to others that combine chocolate with white chocolate. It makes it so easy to make, it stands apart from all of the other chocolates that are already present this time of year, and it just looks prettier when you prepare it with just white chocolate. This is one of the staples in my candy and cookie tins that we hand out for the holidays. Give it a try, I'm pretty sure you'll like it too!
Since we make this recipe several times in the month of December, we've gotten it down to a science. My daughter crushes the candy canes, I melted the chocolate, and then she helps smooth out the mixture. I will say that I don't typically cover the entire baking sheet, just smoothing out until I reach a thickness I prefer. Some like a thick bite, but I prefer it to be a little thinner.
Peppermint Bark
2 pounds white chocolate, chopped into half-inch pieces (or white choc. chips will work)
12 large candy canes
1/2 tsp peppermint extract
Line an 11 x 17 inch cookie sheet with parchment paper. In the top of a double boiler, melt white chocolate, stirring often.
Place candy canes into a plastic bag and crushed with the flat side of a meat tenderizer. Stir pieces of candy cane and peppermint extract into the melted chocolate. Remove from heat and pour mixture onto prepared baking sheet, spreading evenly. Refrigerate until firm, about 25 to 30 minutes, and break into pieces and serve. Best if stored in an airtight container in the refrigerator, but it is totally fine left in cookie tins, etc. for gifts.
Makes 2.5 pounds