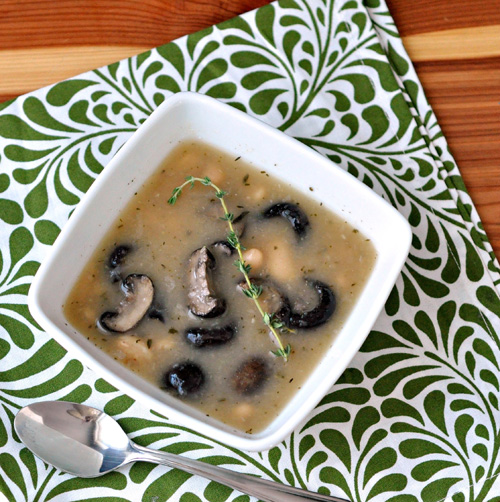 This month is our major decompression month. We are relaxing from the past few months of holidays, birthdays, and other things that have made this past fall quite hectic. We're also gearing up for a vacation, which will be the first time flying as a family of four, so I've been busy trying to keep my sanity while trying to think of the many ways to make it go as smoothly as possible!
My husband and I also decided to do a little challenge, seeing who could lose a percentage of weight first. A little friendly competition and seeing each other's results on MyFitnessPal always gives us motivation. The big thing about trying to eat healthier in the winter, I find, is that you crave comfort foods that keep you warm and fill your belly with goodness so you can forget about just how darn cold it is outside. Holy cow this winter is frigid too!
I love so many things about this soup. By roasting the vegetables you get that amazing flavor, but it also warms up your kitchen a bit. Bonus! It's relatively quick to make, it has amazing aromatics, and it's good for you! Yes, it is low carb, can be vegetarian, and is gluten free. It's also very filling. It's also a no fuss soup, no real kitchen finesse required so my daughter did a lot of the prep work.
While this wasn't the way to his heart, the husband doesn't do many soups, it was for me since it filled me up for a few days with all of the leftovers and was low calorie.
White Bean and Roasted Mushroom Soup
Ingredients
16 oz mushrooms, halved or quartered
1 large sweet onion, quartered
3 garlic cloves, slightly crushed
1-2 Tbsp olive oil
1 1/2 tsp salt, divided
1 1/2 tsp freshly ground black pepper, divided
8-10 fresh sage leaves
8-10 stems + 1 Tbsp fresh thyme, divided
48 oz chicken broth (substitute with vegetable broth for vegetarian option)
3  15oz cans cannellini beans
Additional salt and pepper for seasoning
Pre-heat oven to 450 F.
Toss mushrooms, garlic, and onion in olive oil, 1 teaspoon salt, and 1 teaspoon pepper. Spread on baking sheet. Add sage and stems of thyme. Roast in 450 F oven for 25 minutes, tossing halfway through.
While the vegetables are roasting, add broth, beans, remaining salt and pepper, and thyme leaves to a large stock pot over medium heat and simmer.
When vegetables are done roasting, let cool slightly. Separate mushrooms from other roasted vegetables. Retrieve 2 cups of the white beans and 1 cup of broth from the stock pot. Add to a blender along with the roasted onions, garlic, and herbs. Cover and blend until smooth.
Add pureed bean mixture back to stock pot, whisking in until smooth. Add roasted mushrooms to soup. Salt and pepper to taste.
Warm over low heat until ready to serve.
Serves 8
Slightly adapted from she wears many hats