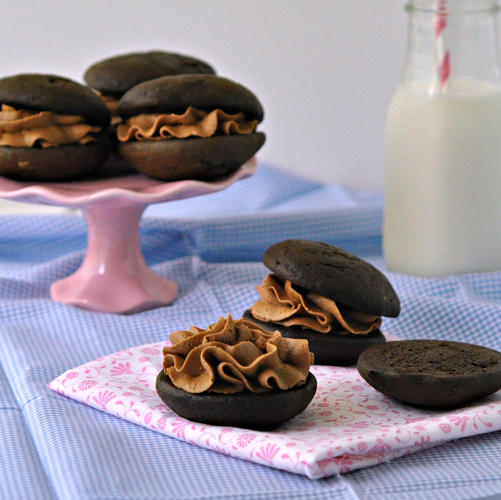 When Smart Balance contacted me and informed me they had a new product in development and asked if I would create a recipe with it I was excited. That product is there Dark Chocolate Peanut Butter. Hmm, how can you top peanut butter? Add some dark chocolate to it! What's not to love? I knew I wanted to create something that would was decadent as the Smart Balance Dark Chocolate Peanut Butter.
Whoopie Pies are a classic Maine dessert. Yes, there is some argument to which state can lay claim to it, but coming from someone who has lived up and down the east coast, I only heard of them after I moved to Maine. I decided to put a decadent twist on this classic dessert. Pairing the classic chocolate cake with a dark chocolate peanut butter filling that is simply divine.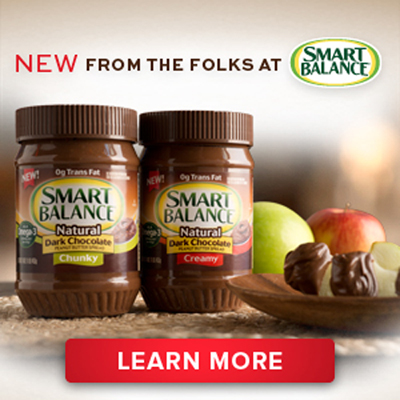 Looking for Smart Balance's new Dark Chocolate Peanut Butter Spread in your area? Click here to find it. Not sold near you yet? Check out Smart Balance on Facebook and stay on top of the buzz!
Dark Chocolate Peanut Butter Whoopie Pies
Ingredients
For the cake:
5 Tbsp cocoa powder
2 cups all-purpose flour
1 1/4 tsp baking soda
1 tsp salt
1 cup milk
1 tsp vanilla extract
6 Tbsp Smart Balance Blended Butter Stick
1 cup granulated sugar
1 large egg
For the filling:
1 cup Smart Balance Dark Chocolate Peanut Butter
1/2 cup  (1 stick ) Smart Balance Blended Butter Stick, room temperature
1 cup confectioner's sugar, sifted
1/2 tsp salt
To prepare the cakes:
Pre-heat oven to 350 F. Line cookie sheets with a silpat or spray lightly with cooking spray.
In a medium bowl, whisk together the cocoa, flour, baking soda, and salt. Set aside.
In a small bowl or your measuring cup, combine the milk and vanilla extract and set aside.
In the bowl of a stand mixer, cream the butter and sugar on medium-high speed until pale and fluffy, about 2 to 3 minutes. Add the egg and beat until well incorporated. With your mixer on low, begin to slowly add the flour mixture and milk mixture in batches. Begin and end with the flour, scrap the side of the bowl as needed, mixing until smooth.
Using a 2 tablespoon scoop, scoop the batter and place it on the prepared cookie sheets, about 2 inches apart. Bake for 7 to 9 minutes or until the cake bounces back when touched in the center. Remove from the cookie sheet immediately and cool on a wire rack.
To prepare the filling:
Beat together the peanut butter, butter, confectioners' sugar, and salt on medium-low speed until smooth. Turn the speed up to high and beat until lightened in color and texture, about 1 minute. Spread roughly 2 tablespoons of filling on the bottom, flat half of one cake and sandwich with another cake half.
Store in an air-tight container or wrap individually in plastic wrap at room temperature for up to 4 days.
Recipe notes: Using room temperature ingredients will ensure that the cakes spread and puff up to the intended size.
Makes about 15 2" whoopie pies.
Source: The Way to His Heart