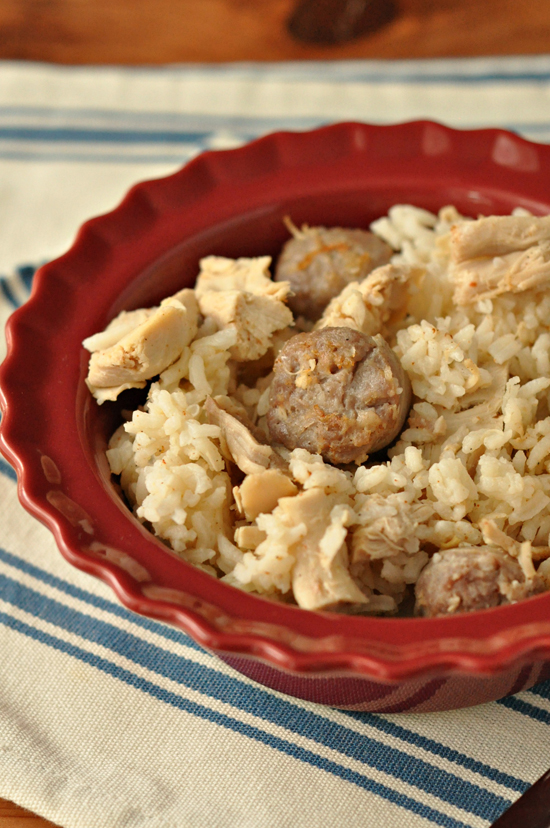 It's the beginning of a new year and if you're like me, you're ready for a holiday detox. I've eaten so much. Between holiday dinners, parties, lots and lots of candies and cookies, and not to mention all of the times we are out. I need some clean eating. I'm just not entirely ready for that yet. You see, I'm also freezing. We've been having a very mild winter so far here in Maine until last week and my body will just never adapt to winters here. So, I wanted something warm and comforting. Something to put some meat on your bones. Granted, I don't need help in that department. So what's a girl to do when I'm up north and cold? Not a chili or a stew, but I looked back to South Carolina and a local favorite recipe.
Chicken Pilau, pronounced "perlo," is a Georgetown County meal that is made with chicken, sausage and the ever present southern component, rice. It is very similar to it's northern neighbor's, Horry County, Chicken Bog. I also did love that name. I'll be posting that on here soon as well. Living in both counties, these recipes were in almost every local family's repertoire. If you ate at a friend's house for dinner, you were bound to be offered Chicken Pilau or Chicken Bog. I remember the first time I encountered it and I couldn't get over the name "bog" and couldn't seem to enjoy it. But once I got over being a high schooler, which helps in life in so many ways, I really enjoyed this simple dish. In the end, it's a wonderful mix of chicken, sausage and rice and has just the right amount of flavor. I honestly find that the leftovers are better than the first night. The rice really absorbs the flavors. Plus, leftover rice is always good!  While this may not be one of the nationally known, traditional Southern recipes you've heard about, it's no secret to coastal South Carolina and should be given a chance in your kitchen. It's become a quick favorite in my house as I've revisited this old recipe and shared it with my family.
Now, back to those resolutions. I've decided that I would eat healthier and get back on the wagon, but I am also going to cook some meals that I've been wanting to make and enjoy them. While this recipe isn't "bad" others are but I am indulging. I am going to quit snacking and enjoy food. Only make something I've really wanted to try if it's not in the "healthy" zone. I'm going to try and say, "good bye" to the quick craving fixes. That way, it's a win win. I'll still get to eat some indulgent food, but I'll get back into the kitchen making new recipes or old recipes I haven't made in years. I'm hoping this is a win win for you all as well. I've been neglecting this blog and I'm hoping that as my family finds their rhythm I can get back to posting. I've found that the cooking isn't the problem, but taking pictures and publishing them. So, I hope you all don't mind if they aren't' perfect, but I'm tired of not sharing some great meals with you all just because they aren't the best pictures!
So, any resolutions for you all? Any anti-resolution folks out there? Any new goals for your kitchen or life in general? Share! I want to get this blog and other social media platforms going again. I miss the conversations! Happy New Year!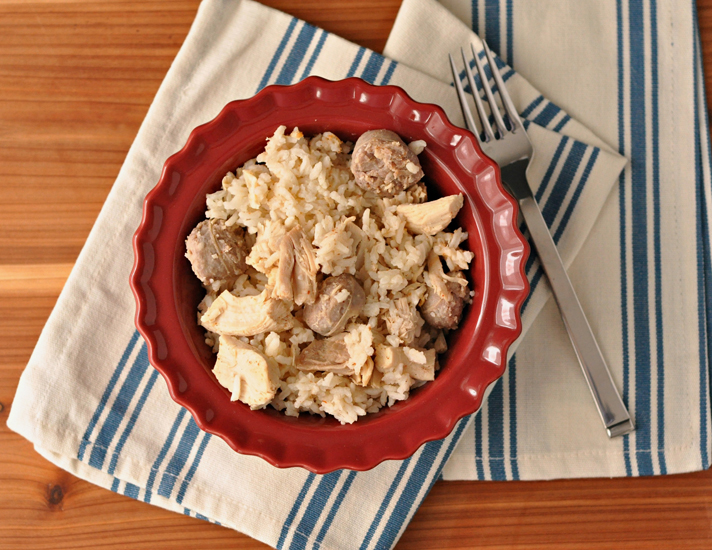 Chicken Pilau "Perlo"
Ingredients
5lb chicken
4 cups water
2 celery stalks
1 tsp onion powder
3/4 tsp red pepper flakes
1 tsp paprika
3 tsp salt, divided
1 tsp freshly ground black pepper
1 bay leaf
2 cups uncooked long grained rice
1 lb smoked sausage
Place chicken, after making sure you've removed the giblets, into a large pot or Dutch oven. Add water, celery, onion powder, red pepper flakes, paprika, 2 teaspoons of salt, black pepper, and bay leaf. Bring to a slow boil over medium heat. Once the water begins to boil, reduce the heat down to low, cover, and allow to simmer for 1 hour.
Remove chicken from Dutch oven and remove skin and pick meat from bones. Cut the chicken into small pieces and set aside.
Carefully, skim the surface of the liquid and remove the fat. Strain the liquid and reserve 4 cups. Set aside.
Slice sausage into 1″ pieces. Add the sausage to the Dutch oven and cook over medium heat for 2 minutes. This just allows the sausage a chance to get slightly crispy. You can skip this part and add everything in all at once if you'd like. Add the reserved 4 cups of liquid, chicken, 1 teaspoon of salt, and rice and bring to a boil. Cover and reduce heat to low and cook for 20 minutes.  Some stir their pilau a few times, but I set it and forget it. This insures the rice gets cooked to perfection!
Serve and enjoy!
Serves 6 to 8
The Way to His Heart