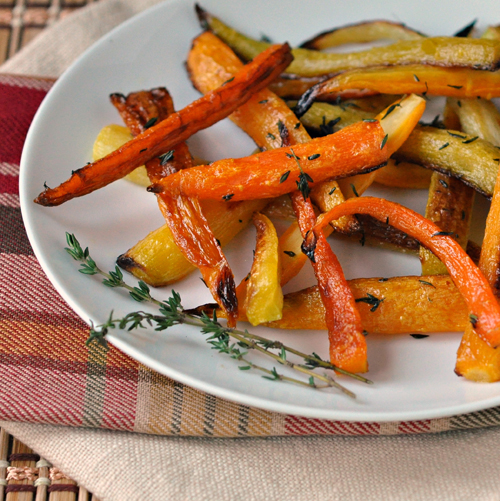 I am always looking to breathe new air into side dishes. Side dishes always seem to be an after thought to the main entree, but there is no reason they shouldn't be delicious and compliment your meal. These carrots are deliciously easy. Roasting the carrots really brings out their sweetness and using small carrots allows for a smaller bit, rather than that chewy bite that thicker carrots lend. These carrots take just a few minutes to prepare and the oven does the rest, leaving you time to finish the rest of your meal, entertain guests, or ask your child to wash their hands for the third time! The great thing about these are they are light and a healthier option, perfect for holidays when things become laden down with calorie rich ingredients.
Roasted Carrots
Ingredients
2 lbs small carrots, cut in half lengthwise
1 1/2 Tbsp olive oil
1/2 tsp kosher salt
5 thyme sprigs
1/4 cup loosely packed chopped fresh dill or parsley
Pre-heat oven to 400 F.
Combine the first 4 ingredients in a large baking sheet; toss to coat. Bake for 35 to 40 minutes or until tender, turning carrots after 20 minutes. Discard thyme sprigs.
Place carrots on a serving platter; garish with dill or parsley.
Serves 6
Nutritional Information
Servings size, about 5 carrot slices.
Calories 92, Fat 3.7g, Protein 1.4g, Carbohydrates 14.6g, Fiber 4.3g, Cholesterol 0mg, Iron 0.5mg, Sodium 264mg, Calcium 52mg.