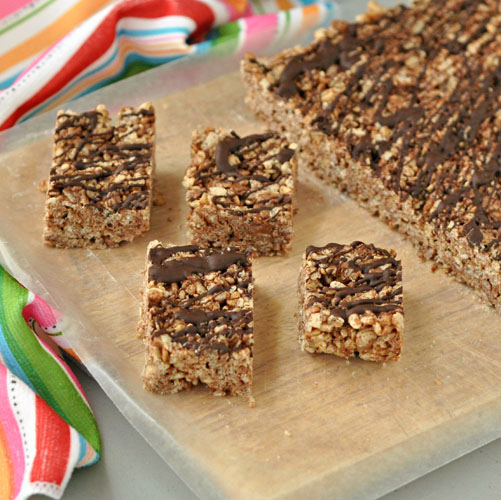 I was late to the Rice Krispie treat game. I don't think I ever had my first one until college. We weren't fans of the cereal at home so we never had it around and if we wanted a treat there were cookies to be made. Now, because my daughter loves them and I can get them super cheap with my crazy couponing tactics, rice cereal is a mainstay in my house.
The other day I was cleaning out my pantry and I had some marshmallows that needed to be used. Rough life here, I know. So, I grabbed some rice cereal and those marshmallows and went to work. I love these double chocolate bars because they add that little bit of fun and curb that chocolate craving I so often get. You feel like you are getting so much more but it's really just a matter of stirring in some cocoa powder and later drizzling some melted chocolate on top. Very easy and perfect if you are in a pinch for a quick snack for home, a playdate, the office, or school!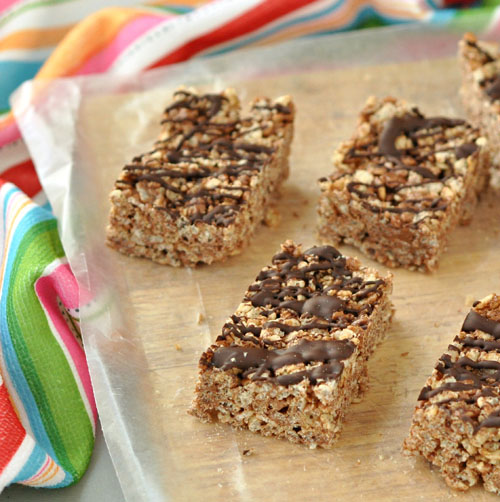 Double Chocolate Chewy Crispy Bars

Ingredients
2 Tbsp butter
10 oz marshmallows
1/4 cup unsweetened cocoa powder
6 cups rice cereal
4 oz chopped bittersweet chocolate
Cooking spray
Lightly spray 13 x 9-inch pan with cooking spray.
Melt butter and marshmallows over medium-low heat. Stir in cocoa powder into melted marshmallows; cook 3 minutes. Add cereal and toss well to combine. Press cereal mixture into prepared pan.
Heat bittersweet chocolate in microwave on high 45 seconds or until melted, stirring every 15 seconds. Drizzle over cereal mixture.
Chill 10 minutes before slicing.
Serves 20
Nutritional Information
Per serving: 117 Calories, 3.9g Fat, 66mg Sodium
Source: Cooking Light October 2013