Tags
chicken, Chicken Tenders, Chicken Wings, Chili Sauce, cilantro, Game Day Food, garlic, Hot Sauce, lime, Sriracha, Tailgating
Share it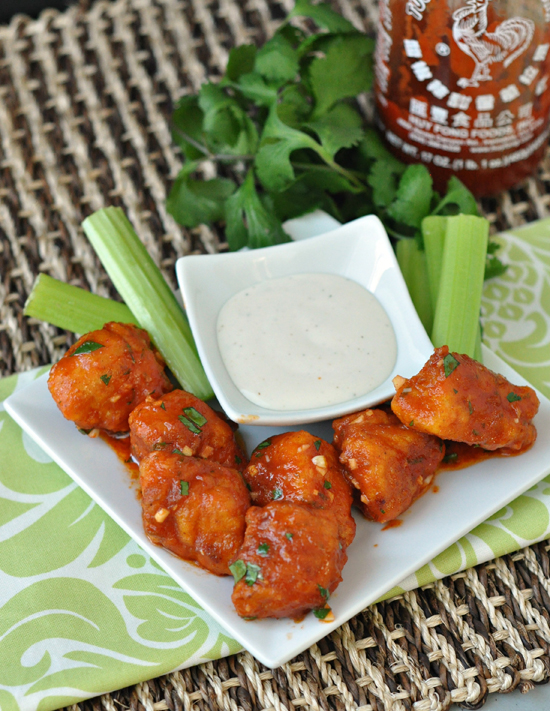 This past weekend that big game that most everyone watches was on. While our team wasn't playing in the Super Bowl, we still decided to make some yummy food because it was an excuse to snack on tasty appetizers and snacks that we wouldn't otherwise do. Even though it was just my husband and I, and the little guy who refused to go to sleep, I'm glad we opted to make a few fun foods because the game was just okay and most of the commercials were lackluster.
When I told my husband I was thinking of making some chicken tenders, because we like to go right for the meat and not deal with the bones, I asked him to pick a sauce. I knew what I wanted wouldn't be his favorite, to be posted on the blog soon. I should have known he'd find something with Sriracha sauce in it. The guy loves sriracha sauce. I even got him one of those little Sriracha 2 Go containers for Christmas, well Santa did. Sssh.
Anyways, this sauce and these boneless wings did not disappoint. I'm a known wimp so I could merely take a small bite drenched with ranch dressing. They definitely pack some heat. But before my mouth went on fire, I could definitely taste the fresh flavors of the lime and cilantro which is rare in a "hot" wing sauce. My husband loved the wings and the sauce and also noted that these were a bit different. Double coating the tenders also gave a great crunch that complimented the saucy tenders. Usually, they just end up soggy, not with these! These will definitely be made again when it's time for a big game or to make some food for the guys.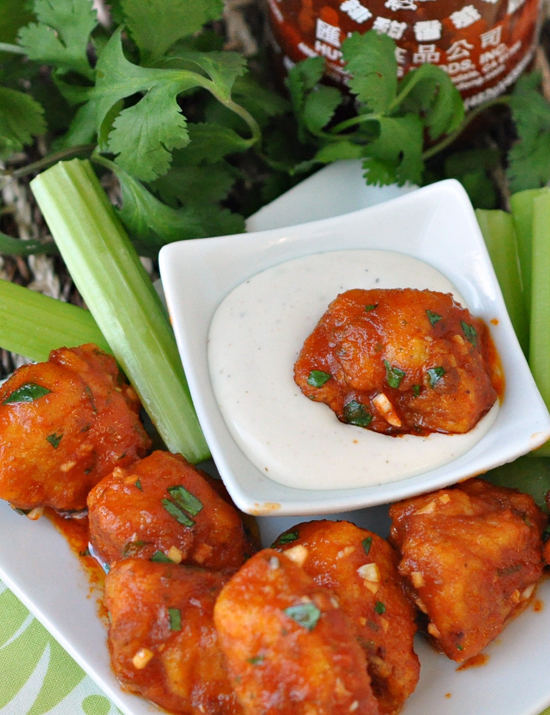 Sriracha Boneless Wings
Ingredients
For the chicken batter:
3 boneless skinless chicken breasts, cut into 1″ chunks
Oil for frying
1 cup all purpose flour
2 tsp salt
1/2 tsp ground black pepper
1/4 tsp cayenne pepper
1/4 tsp garlic powder
1/2 tsp paprika
1 egg
1 cup milk
For the sauce:
1/2 cup Sriracha chili sauce
6 Tbsp unsalted butter
1/4 cup chopped cilantro
finely grated zest of 1 lime
4 garlic cloves, minced
In a large bowl, combine flour, salt, black pepper, cayenne pepper, garlic powder, and paprika. In a small bowl whisk together the egg and milk. Dip each piece of chicken first in the egg mixture, and then roll in the flour mixture. Repeat so that each piece of chicken is double coated. Refrigerate the breaded chicken for 20 minutes or longer for a crispier coating.
Heat oil in a large, deep skillet to 375 F. Fry the chicken in the hot oil in batches until the outside is nicely browned and fully cooked, 165 F., about 5 minutes per batch. Drain on paper towels.
While the chicken is frying, melt the butter in a medium saucepan over low heat. Add the garlic and stir in the sriracha sauce. Remove from heat. Stir in the lime zest and cilantro.
Toss the chicken pieces with the sauce and serve immediately.
Serves 6
Source: Hot Sauce Daily