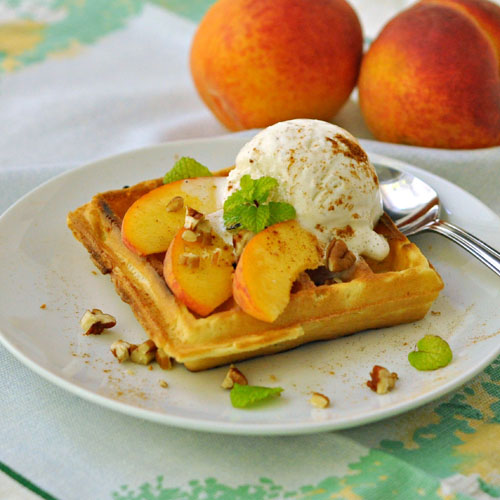 This is one of those treats that can be served for breakfast, brunch, dessert, or just because. You don't really need the exact measurements, it's more the concept that I love. The cinnamon and peaches are just divine and the ice cream getting all melty on the waffle is just pure deliciousness. Nevermind that it isn't that bad for you, especially if you make whole-grain waffles and you've got yourself a wonderful treat! If you like peaches, you're going to love this. Now go, try it!
Peaches & Cream Waffle
Ingredients
1 Belgian waffle
1/4 vanilla ice cream
2/3 cup peach slices
Dash of cinnamon
1 1/2 Tbsp chopped pecans,  toasted
1 Tbsp fresh mint leaves
Prepare waffle. Add rest of the ingredients and enjoy!
Source: Cooking Light May 2014