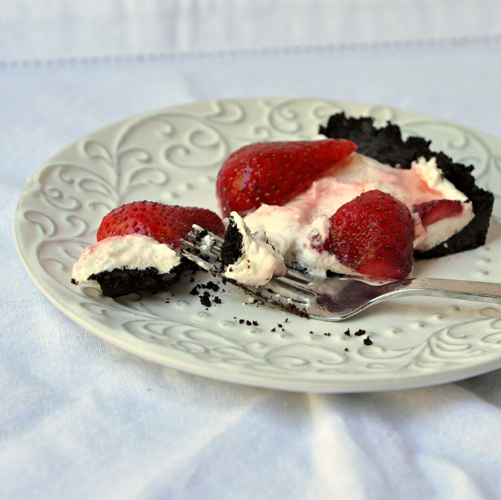 While I need no excuse to make a strawberry dessert in this house, I felt like I owed it to my husband to make this the other night. You see, his birthday dessert that always features strawberries, whipped cream, and chocolate cake was somewhat of a fail due to humidity. While I do plan on making that up to him, I decided to whip this together to enjoy after a long week.
We're all looking for great desserts right now that don't require turning on that oven. Add some wonderful ripe strawberries and a recipe that is quick and easy to boot, and you've got yourself a great summer dessert! With just a few steps, you can be sitting back and enjoying this delicious pie that everyone in my household loves. Sssh, no one realized it used cream cheese either!
As I mentioned, this is a quick recipe so don't pull any more shortcuts! Make your own crust, it will be so much better than a store bought and it doesn't take long at all. You'll be glad you did! Besides, you get to take a shortcut with the whipped cream! If you can, do yourself a favor and add the raspberry liqueur. Our liquor stores up here offer mini bottles which are great for times when you only need a little bit. After adding the whipped cream and cream cheese filling, I let it cool in the refrigerator while I prepared the strawberries. I feel like this gave it enough time to firm up slightly so the strawberries didn't smush the layer. There were a few comments on the recipe regarding this, but I think this solved that problem nicely. Also, this softens up quickly, so do not remove it from the refrigerator until you are ready to serve!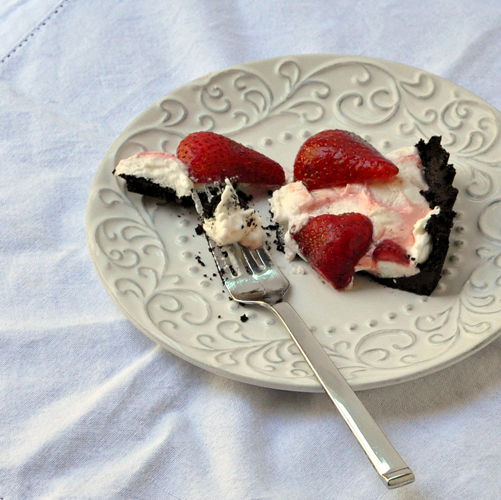 No-Bake Fresh Strawberry Pie
Ingredients
25 chocolate wafers (such as Nabisco's Famous Chocolate Wafers)
3 oz. bittersweet chocolate, finely chopped
2 tsp canola oil
Cooking spray
6 oz. 1/3-less-fat cream cheese, softened
1/3 cup powdered sugar
3/4 tsp vanilla extract
2 cups frozen fat-free whipped topping, thawed
2 Tbsp seedless strawberry fruit spread
1 Tbsp Chambord
1/2 tsp fresh lemon juice
1 lb. small strawberries, hulled and cut in half
Place chocolate wafers in a food processor and process until finely ground. Place the chopped chocolate in a small microwave-safe bowl. Microwave on HIGH for 45 seconds or until the chocolate melts, stirring every 15 seconds. Add the melted chocolate and oil to the food processor, process until well combined.  Gently press the mixture into the bottom and up the sides of a 9-inch pie plate or removable-bottom tart pan coated with cooking spray. Place in the freezer 15 minutes or until set.
Place the cream cheese, sugar, and vanilla into a medium bowl. Beat with a mixer at medium speed until smooth. Fold in whipped topping. Carefully spread over bottom of the crust. Place the fruit spread in a lawrge microwave-safe bowl; microwave on HIGH for 10 seconds or until softened. Add Chambord and juice and stir with a whisk until smooth. Add berry halves and toss to combine. Arrange the berry halves over the pie. Chill for 30 minutes before serving.
Nutritional Information
Serves 8
Per serving: Calories 294, Fat 11.5g, Sat. Fat 5.5g, Protein 4.3g, Carbohydrate 41.5g, Fiber 1.8g, Cholesterol 19mg, Sodium 225mg, Calcium 34mg
Source: Cooking Light, May 2012