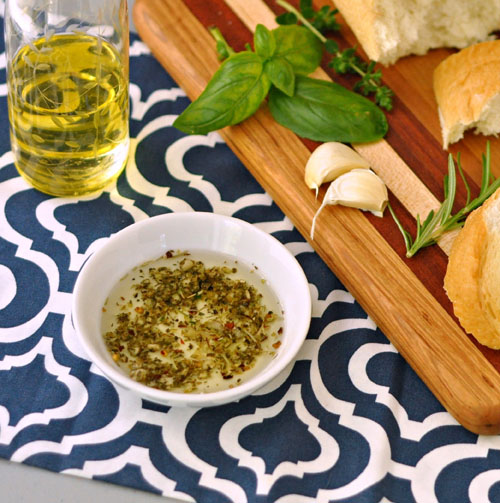 Have I mentioned that I love bread? I can ruin any good dinner by diving right into the bread basket. I'm a carb fiend! Give me a delicious butter or spread to smear on top of it and I'm in heaven! I'm also a huge fan of dips, if you haven't figured that out by some of my recipes. So, give me some bread and something to dip it in and I'm in heaven. This one is delicious and so easy. If you've been to Carrabba's you already know how tasty it is. It's easy enough to treat yourself on a weeknight while you prepare dinner or serve it up as an easy appetizer for guests. Who doesn't love easy entertaining? Make sure you make extra though if you're like me because you *may* eat a lot before guests even arrive!
I adapted this recipe slightly, by adding more oil and less garlic. It makes the dip go further and doesn't make you a social pariah with garlic breath! You can also use all fresh herbs with this, just use more when you are using fresh herbs. Enjoy!
Herb & Oil Dip ~ Carrabba's Copycat
Ingredients
1/4 tsp oregano
1/4 tsp basil
1/4 tsp rosemary
1/4 tsp kosher salt
freshly ground black pepper
1 pinch red pepper flakes
1 clove fresh garlic, minced
1/2 cup extra virgin olive oil
Combine herbs and garlic in a small dish, until herbs are moistened. Pour olive oil onto mixture and serve with fresh bread.
Slightly adapted from My Baking Addiction