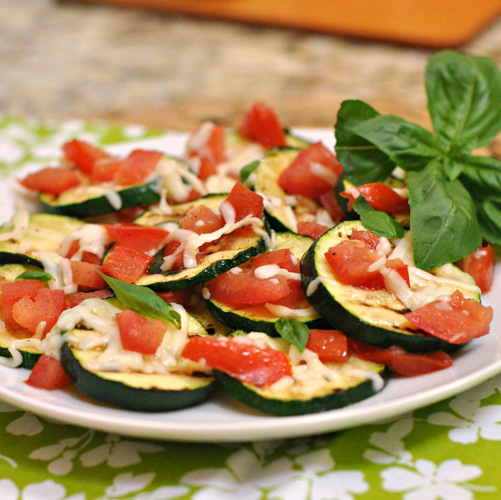 My garden is starting to produce and nothing makes me happier. I love being able to go out there and grab a few items and whip something up. Since I have an abundance of basil I wanted to incorporate that as well. I've been using it left and right lately in order to use it up before the Japanese Beetles destroy it.
This dish is awesome since it uses up one of those vegetables that everyone is always looking to find new recipes for, zucchini. I think zucchini recipes are ones I am always asked for so I thought I'd share this with you. It's easy and familiar and oh so healthy, without losing any flavor factor. Enjoy!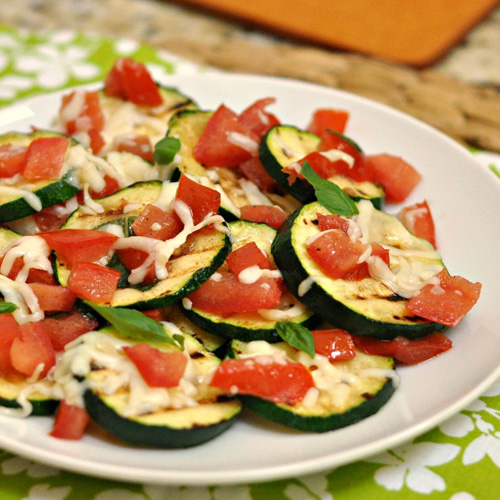 Caprese Zucchini
Ingredients

2 medium zucchini, sliced 1/4″ thick
1/2 cup diced seeded tomato
2 Tbsp chopped fresh basil
2 tsp olive oil
1 tsp red vine vinegar
1/4 tsp kosher salt
1/4 tsp freshly ground black pepper
1/4 cup shredded part-skim mozzarella cheese
Grill zucchini 2 minutes on each side.
Preheat broiler.
Combine tomato, basil, olive oil, vinegar, salt, and pepper in a bowl. Arrange the grilled zucchini on a foil-lined baking sheet. Top evenly with tomato mixture and mozzarella cheese. Broil for 2 minutes or until cheese melts.
Source: Cooking Light June 2014