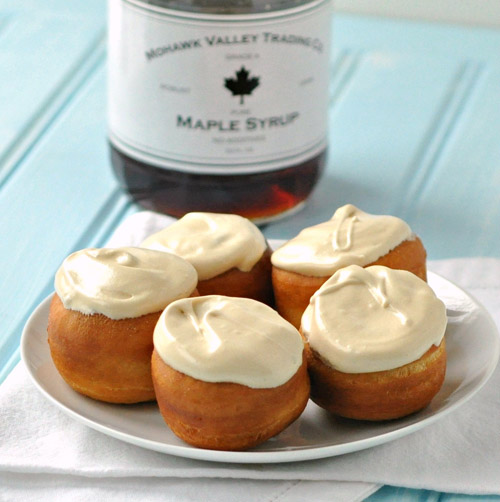 When Mohawk Valley Trading Co. offered to send a sample of their maple syrup in return for a review I quickly accepted. We go through a lot of maple syrup in our house. Most goes to drizzling over waffles and pancakes, but a lot goes to baked goods and making vegetables taste even better. What I wasn't expecting was that their maple syrup tastes so much better than anything I've tasted before. I've participated in Sugar House tours and we go to our Maine Maple Syrup Sunday events here, but this maple syrup was different. It was sweet and robust and I found myself sticking my finger in the measuring cup to get those last few drips that didn't make it into the mixing bowl. I think we'll be making extra pancakes the next few weeks just so we can eat more maple syrup!
I asked my husband what he would like to see me make with the maple syrup, pulling out a bunch of different vegetable ideas, and he suggested doughnuts. Mmmm doughnuts. The vegetable recipes were quickly shoved back into the drawer! I wanted to find something that was similar to what he remembers growing up and this recipe was the closet thing to it. The original recipe calls for filling the doughnuts and while we did that as well, my husband preferred the frosted doughnuts since that was what his memories were. You can't fool those taste bud memories!
These doughnuts were the perfect thing to highlight Mohawk Valley Trading Co.'s maple syrup. The doughnut is light and fluffy and once bitten into it, you'll notice a hollow inside that is just right for filling. The frosting is rich, while not heavy with flavor. It has a light, sweetness to it that really showcases the maple syrup. While making doughnuts is a bit of a labor of love, homemade are so worth it! To make sure you get them prepared in time for the morning, go through the first two proofs and then let sit overnight.
Now, on to the great part! What is better than maple frost doughnuts? Well, Mohawk Valley Trading Co. is generously giving away one 32oz glass jar of their Grade A Robust, Dark, Pure Maple Syrup! That's a total value of $45 including shipping and handling. Use the Rafflecopter below to have several chances to win. Now, on to those doughnuts…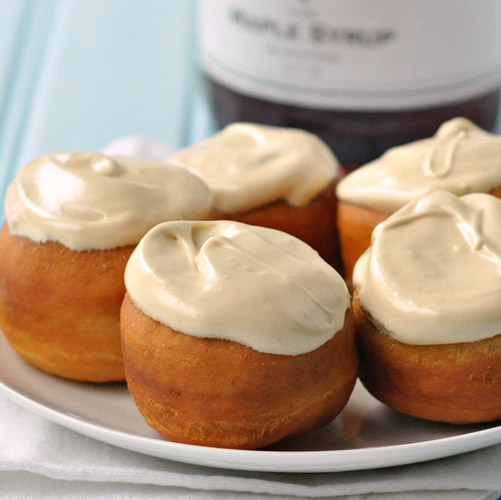 Mohawk Valley Trading Co. provided me with their Grade A Maple Syrup to sample and are sponsoring this giveaway, but as always the opinions expressed here are solely my own. This giveaway is for residents of the contingent United States and will end on March 13th, 12:00 am EST. Physical address required for shipping; no PO boxes. The Mohawk Valley Trading Company will ship the prize to the winner within 30 days of contest end. You must be 18 years or older to enter.
Maple Meringue Frosted Doughnuts
Ingredients
For the Doughnuts:
2 tsp active dry yeast
1/2 cup whole milk, heated to 110F
1 to 1 1/4 cup bread flour, divided
1/4 cup whole wheat flour
1/2 tsp vanilla extract
1 large egg
1 Tbsp granulated sugar
1/4 tsp salt
2 Tbsp unsalted butter
canola oil
For the Maple Meringue Frosting:
1 cup maple syrup, Grade A or B
2 large egg whites
1/4 tsp cream of tartar
pinch of kosher salt
For the Doughnuts: In a medium bowl, dissolve 1 teaspoon of the yeast into 1/4 cup of the milk. Add 1/4 cup of the flour and stir to create a smooth paste. Cover with plastic wrap and let rest in a warm spot for 30 minutes.
Then, combine the remaining milk and yeast in the bowl of your stand mixer. Add the rested flour mixture, vanilla extract, and egg and stir until smooth. Add the whole wheat flour plus 1/4 cup of the bread flour, sugar, and salt and stir on medium-high until the dough starts to come together. Add the butter and continue to stir, adding flour about 1/8 cup at a time, until the dough starts to form into a ball. Attach your dough hook and knead in the remaining flour a little at a time until the dough is somewhat smooth and only slightly sticky. Cover the bowl with plastic wrap and let rest in a warm place for 30 minutes. Push down the dough and let recover and then refrigerate for 1 hour or up to 12 hours.
Line a baking sheet with a towel and dust with flour. Roll out the dough on a flour dusted surface until you have a thickness of 1/2-inch. Use a 2-inch biscuit cutter and cut out the dough and place on the dusted towel, about 1-inch apart. Cover with plastic wrap and let rise for 30 to 45 minutes or until doubled in size. If you let them chill for longer, they may need longer to rise. Keep an eye on them to avoid over-proofing and check every 5 minutes. To test, use your fingertip and gently press down on the center of the doughnut. If it rises quickly, it needs more time. If it doesn't rise, it has over-proofed and you can re-roll the dough and try again. If it rises slowly, it's just right and ready for frying!
Just before the doughnuts have finished proofing, fill a heavy pot with oil about 2-inches high. Heat until the oil reaches 365F. Carefully, place the doughnuts into the put and fry for about 1 to 2 minutes on each side or until golden brown. Be careful not to overcrowd the pot as this will drop the temperature down. Remove with a slotted spoon and place on a wire rack with paper towels underneath. Allow the doughnuts to cool before frosting.
For the Maple Meringue Frosting: In a small pot, add maple syrup and heat to 235F, using a candy thermometer. Be careful not to overheat! When the syrup reaches 220F, add the egg whites, cream of tartar, and salt to your stand mixer bowl. Stir until frothy and then turn increase the speed to medium until stiff peaks are achieved.When the syrup has come to temperature, slowly pour into the egg whites, with the mixer still at medium speed.  Allow to mix until the meringue is thick and shiny, about 2 minutes. Frost donuts as desired.
Source: Food52, Lara Ferroni