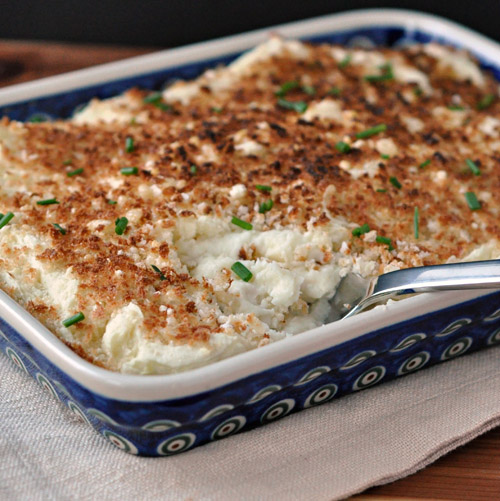 Both my husband and I are big fans of mashed potatoes, but my daughter has recently decided she doesn't like them. I've been thinking of ways to get her to like them, while still satisfying the adults at the table. Seriously, is she my kid? I LOVE mashed potatoes! I didn't want to go to far from our comfort zone, but I needed the right amount cheese/flavor combo that would get her interested. This recipe is great because while it offers the cheese and crunch factor of the crumb topping, it isn't horrible for you. My husband and I enjoyed it, my daughter refused to try it! Apparently, next time I make this I can't use the term "potato" at all. *sigh* You can't win them all, but this dish will definitely go on the menu again. It's perfect when you want something a bit different than the usual, but still a nice, simple comfort dish. You can even assemble this dish a day ahead and bake shortly before serving.
Mashed Potato Casserole
Ingredients
1 1/2 pounds Yukon gold potatoes, peeled and cut into 1/2-inch-thick slices
1 1/2 pound baking potatoes, peeled and cut into 1/2-inch-thick slices
5 garlic cloves, thinly sliced
1 1/2 tsp kosher salt, divided
6 oz 1/3-less-fat cream cheese, softened (about 3/4 cup)
Cooking spray
2 oz Parmigiano-Reggiano cheese, grated (about 1/2 cup)
1/2 cup panko breadcrumbs
2 Tbsp thinly sliced chives
Pre-heat oven to 350F.
Place potatoes, garlic, and 1/2 teaspoon salt in a large saucepan, and cover with water. Bring to a boil. Reduce heat; simmer 15 minutes or until tender. Drain in a colander over a bowl, reserving 1/2 cup cooking liquid.
Press potato mixture in batches through a ricer into a large bowl. Stir in reserved 1/2 cup cooking liquid, remaining 3/4 teaspoon salt, and cream cheese.
Spoon potato mixture into a broiler-safe 11 x 7 -inch glass or ceramic baking dish coated with cooking spray. Bake for 20 minutes or until thoroughly heated.
Pre-heat broiler.
Combine Parmigiano-Reggiano and panko; sprinkle evenly over top of potatoes. Broil 4 minutes or until golden brown. Sprinkle with chives.
Serves 8 (about 2/3 cup)
Nutritional Information
Calories 243, Fat 6.5g, Protein 8.3g, Carbohydrate 37.9g, Fiber 2.6g, Cholesterol 20mg, Iron 1.2mg, Sodium 361mg
Source: Cooking Light, October 2013