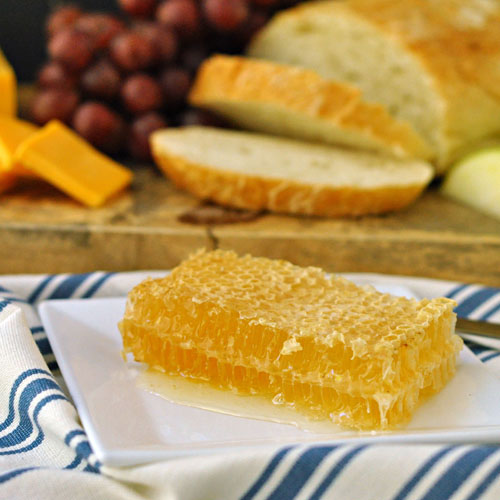 How many of you enjoy honey? Have you ever tried raw honey? Lets go one step further. How many of you have tried raw comb honey? Maybe I'm in the minority here, but I've never tried comb honey. I know the process of honey production, but I never really given honey any more thought than buying the squeeze bottle in the store. That was until Mohawk Valley Trading Co. sent me samples of their raw honey. After that, I became a purest and wont ever buy that squeeze bottle again! So, it was to much surprise when Mohawk Valley Trading Co. also offered their Comb Honey to me.
When I received the comb honey, we all looked at it and admired it. I used it as a teaching lesson for my daughter, explaining the hexagonal-shaped beeswax cells and how the bees make honey and beekeepers harvest the honey. It was a teachable moment for me as well as I learned that it is the rawest honey available and contains all of the pollen, enzymes, propolis, vitamins, amino acids, antioxidants, minerals, and aromatics that the honey had in the hive. If you are planning to use honey for its health-benefits, it must be raw honey. Heating honey (pasteurization) destroys the all of the pollen, enzymes, propolis, vitamins, amino acids, antioxidants, and aromatics.
So, besides the huge health benefits of using comb honey the big question for a food enthusiast like me was does the honey comb deliver a different taste? The answer is yes, and no. The honey tastes just as good as raw honey that is extracted from the comb, but I felt like there was a more delicate taste. You can get more raw and natural than this. There is also something about having the comb in front of you as you squeeze some of the honey out and eat it however you like it. It's a whole sensory experience. My daughter, who refuses all condiments besides lemon and honey, loved the experience as well. She was caught on more than one occasion munching on the comb.
My other big questions upon receiving the comb honey? What do I do with it so I really can reap the culinary benefits? You can use the comb honey however you'd like. Enjoy the comb honey with toast, serve it was some wonderful crackers or bread and cheese. I even found some recipes out there for chocolate dipped comb honey, I can't wait to try this out!
If you're like me and have never tried comb honey before, I strongly suggest you give it a try the next time you purchase honey. If not for the health benefits, than for giving yourself a special treat come breakfast or snack time!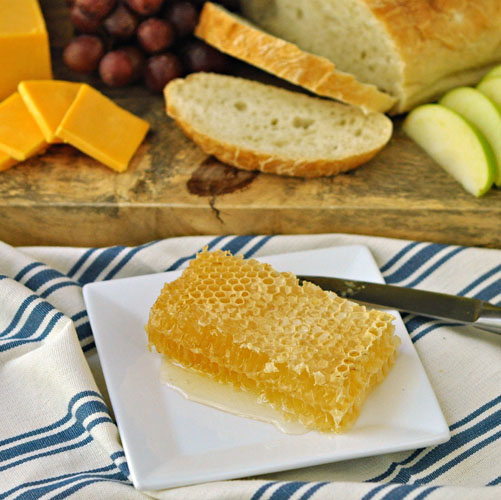 Mohawk Valley Trading Co. sent me a sample of their raw comb honey, but as always the opinions expressed here are solely my own.