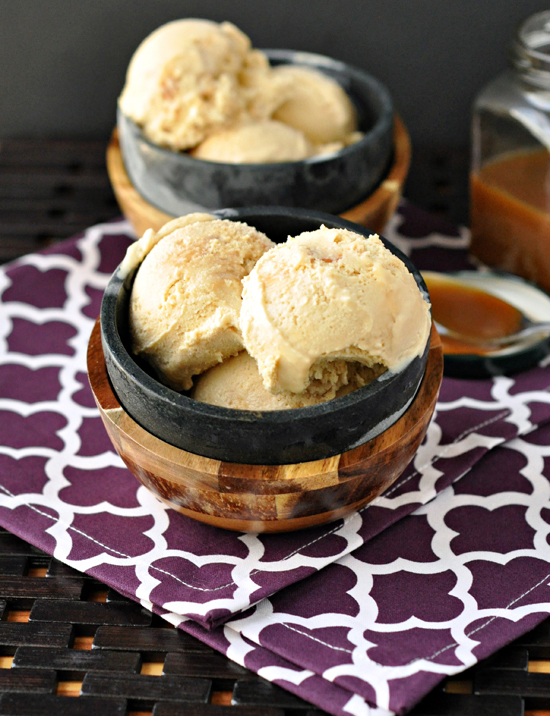 It's a happy Monday morning around these parts today. I'm sure there will be some grumbling as we make our way to the bus stop etc., but I am beyond happy to be sharing this gelato recipe with you, these great dishes I received from Uncommon Goods, and the great giveaway they are hosting to help you pick out some great gifts for everyone for the holidays I'm not sure which I'm the happiest about!
Let's start with the recipe. I made this one night when we were having dinner guests. Typically, I don't try out new recipes for guests but I had a hunch this would be good and I had enough time in advance to switch it up if it wasn't good. We were going with an Italian theme so this Vanilla Caramel Gelato sounded like a great choice and I wasn't disappointed. We went through the entire batch that night. I decided I wanted to make another immediately to share with you all, and then that batch was eaten as well. It's so easy and so good that making a third batch to photograph for you all was my pleasure! For those that don't know the difference between gelato and ice cream, gelato contains less fat and less air. The flavors are also more intense. Typically, a home ice cream maker can not make a good gelato but this recipe seems to adapt for that because it was dense and warmed up to a nice consistency.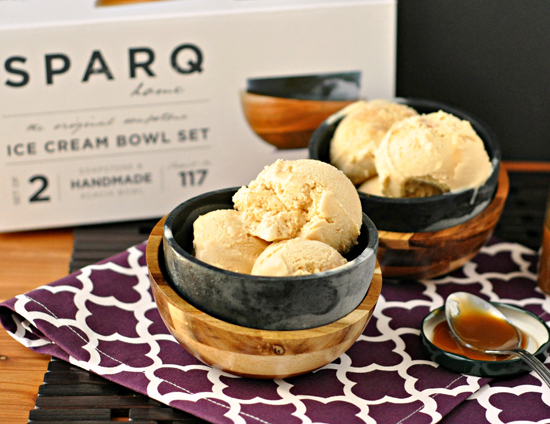 Now that you have an amazing gelato recipe, why not go ahead and grab these awesome bowls to serve it in! I am in love with these bowls on so many levels. The soapstone inner bowl is kept in the freezer, just waiting to be put to work. Like a frosty mug, but better. Scoop your ice cream or gelato and put it in and then grab the outer Acacia wood bowls to keep your hands from freezing. I know that is what I've always dreamed of when I am enjoying my ice cream. Plus, it doesn't melt right away, which for an ice cream eater is a plus but for a food photographer taking a picture is a blessing. These pictures here took me twenty minutes (kids and pets like when I work since it requires food!) and as you can see the ice cream didn't melt at all! Bonus, bake the dishes and keep your warm dips gooey and warm! Woohoo! Bigger bonus, I think they are gorgeous looking. Absolutely stunning. These are more than a great vessel to keep foods cold and hot, but a conversation piece.
Now, a little more about Uncommon Goods. I've heard about the company in the past as a few of my friends have mentioned it and always recommend it for great gift ideas. I've never really checked it out before but when Uncommon Goods reached out to me and asked if I'd be interested in reviewing any of their items I grabbed at the chance. When my husband came home he showed me a list of items he had bookmarked from the site. Sorry buddy, I spent the whole day browsing and had a long list myself! I'll be back for sure, if Santa doesn't already bring me what I want. Psst, I really love those Soup & Crackers bowls with the space on the side for crackers. Brilliant! They have some great gifts ideas that will please everyone for the upcoming holidays. You can check out some great gifts for the guy in your life here or make your wife happy and check out some of these great gift ideas.
Besides the great items they sell, what I loved about Uncommon Goods is that half of what they sell is handmade. Most are made in the United States and the gifts are created in harmony with the environment and without harm to animals or people. They are really a great company to work with and for from what I can tell. They have also donated over one million dollars to some great not-for-profit organizations. I love a company that I can get behind and have the same views. We have a lot of power on how we choose to spend our money and I am choosy with where mine goes.
So, you have a great recipe and I've gone on about these bowls. Let's get to the great part for you all. Uncommon Goods has generously offered to give one lucky reader a $25 gift certificate. Keep it for yourself, give it to a friend, use it towards a great gift as the holidays are nearing. The choice is yours.
All you have to do is enter is comment below on which Uncommon Goods item you would want the most. Maybe you can buy it for yourself or casually leave your computer open for someone to read it

***The Giveaway is now over and the winner is Brittany K! ***

You can earn extra entries by:
Leaving a separate comment stating that you follow me on Instagram
Leaving a separate comment stating that you follow me on Facebook
Leave a separate comment stating that you subscribe to the blog via email (you can do this by scrolling down the side bar on the right hand side)
Leaving a separate comment stating that you follow Uncommon Goods on Facebook
Uncommon Goods provided me with these products and are sponsoring this giveaway, but as always the opinions expressed here are solely my own. This giveaway is for residents of the contingent United States and will end on November 2nd, 12:00pm EST. The winner will be chosen by a random number generator. Winners will need to respond within 48 hours or forfeit the prize. Good luck!
Vanilla Caramel Gelato
Ingredients
For the Gelato:
4 large egg yolks
1/2 cup sugar
1 cup whole milk
1 cup heavy whipping cream
2 to 3 tablespoons pure vanilla extract
For the Caramel Sauce:
1 cup sugar
6 Tbsp butter
1/2 cup whipping cream
Combine yolks and sugar in a medium bowl and whisk for 2 minutes, or until thickened; set aside.
In a medium saucepan, combine milk and cream and set over medium heat. Cook until the mixture begins to bubble on the sides; remove from heat.
Slowly, whisk the milk mixture into the egg yolk mixture. Whisk until combined.
Pour the entire mixture back into the saucepan and cook over medium heat, stirring constantly, until it reaches 170 F. About 5 to 7 minutes, or until it leaves a coating on the back of a spoon.
Remove from heat and stir in vanilla.
Cover the bowl with plastic wrap and refrigerate for 4 hours.
Prepare the caramel sauce.
Have all of your ingredients nearby as making caramel is a quick process and it gets very hot very fast!
Heat sugar on moderately high heat in a heavy-bottomed 2-quart or 3-quart saucepan. As the sugar begins to melt, stir vigorously with a whisk or wooden spoon. As soon as the sugar comes to a boil, stop stirring. You can swirl
the pan a bit if you want, from this point on.
As soon as all of the sugar crystals have melted (the liquid sugar should be dark amber in color), immediately add the butter to the pan. Whisk until the butter has melted.
Once the butter has melted, take the pan off the heat. Count to three, then slowly add the cream to the pan and continue to whisk to incorporate. Note than when you add the butter and the cream, the mixture will foam up considerably. This is why you must use a pan that is at least 2-quarts (preferably 3-quarts) big.
Whisk until caramel sauce is smooth. Let cool in the pan for a couple minutes, then pour into a glass mason jar and let sit to cool to room temperature. (Remember to use pot holders when handling the jar filled with hot caramel
sauce.)
Store in the refrigerator for up to 2 weeks. Warm before serving. This makes about 1 cup of caramel sauce, whereas the gelato recipe calls for roughly 2 ounces so enjoy the rest with other treats!
Back to the gelato.
Pour the custard into your ice cream maker and freeze according to the manufacturer's instructions.
In the last 3 minutes of freezing, and while the ice cream is still churning, pour about 2 ounces of the caramel sauce into the ice cream machine. You can use less or more (always go with more ;)).
When finished, transfer gelato to an airtight container and freeze for 5 hours.
When serving, let sit out for about 5 minutes to soften up a bit like gelato and not ice cream.
Yields 4 cups.
Recipe adapted from Diethood. Caramel sauce from Simply Recipes.