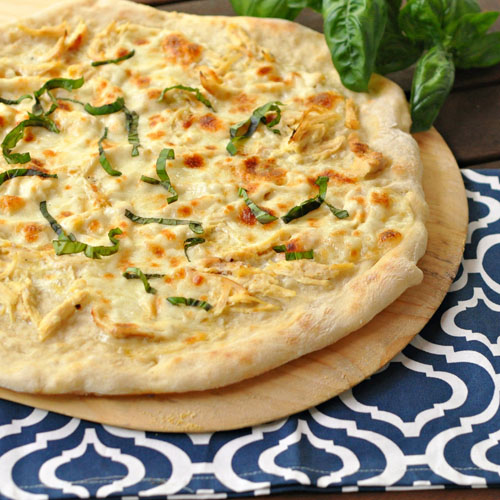 We make pizza in my house about once a week, often playing around with different toppings and sauces. Pizza is a great way for everyone to get something that they like. For my non-sauce loving daughter, it's simply dough and cheese. Occasionally, she'll throw some peas or carrots on there as a joke. My husband loves the meatier pizzas and I love mushroom or spinach. When it was time to create my last recipe for Smart Balance as part of the Battle of the Blogger's contest I won a year ago, I decided on pizza. It's something we love and most everyone does as well and it's quick and easy as everyone gets back into the Fall grind. I've made this combination before, usually opting for a thicker sauce that also yields a lot more calories and fat, so I lightened it up and we were really happy with the end result, so much that we haven't gone back to the heavier version since!
This is an easy recipe to whip up if you have your kitchen stocked with lots of frozen shredded chicken and pizza dough just ready to go. No need for take-out or processed frozen pizzas. Make a gourmet pizza in your house any night of the week in less than half an hour!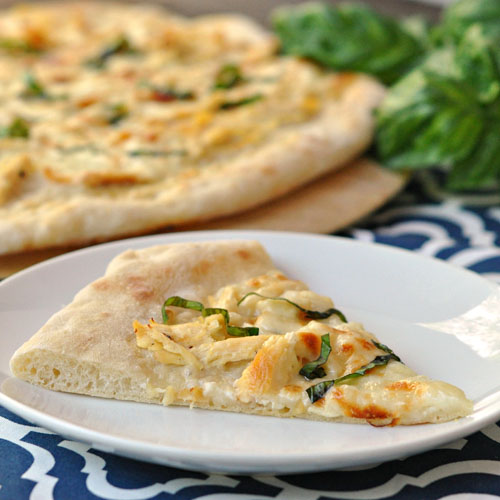 Chicken & Garlic White Pizza
Ingredients
3 Tbsp Smart Balance Original Spread
3 cloves garlic, finely minced
1/2 cup 1% milk
1 Tbsp flour
Pizza dough (store bought or can use my recipe http://www.thewaytohisheartblog.com/pizza-dough/)
1 cup shredded chicken
5 oz fresh part-skim mozzarella, sliced
2 or 3 basil leaves
corn meal for dusting
Pre-heat oven to 450F. Place pizza stone in oven to heat.
In a small saucepan, simmer butter and garlic until melted and aromatic. Stir in milk to combine. Turn heat to medium, bring just to a boil and whisk in flour until combined. Remove from heat and allow to thicken.
Roll out pizza dough to desired thickness. Sprinkle corn meal on pizza peel. Carefully, transfer dough onto pizza peel. Spread garlic butter sauce onto dough. Top with chicken and cheese. Cook for 10 to 12 minutes or until golden brown. Tear basil leaves and place on top of pizza.
Serves 8
Nutritional Information
Per serving: 238 Calories, 9g Fat, 27mg Cholesterol, 353mg Sodium, 27g Carbohydrates, 1g Fiber, 14g Protein
The Way to His Heart