Every year, as Christmas approaches, I say, "This year I'm going to take it easy, not do as much and simply relax. Make only our favorites and not go bananas trying new recipes." Every year I go bananas. That's half the fun of it though, right? Cookies and other treats are obviously the most fun to make and you can share with loved ones, colleagues, the postman, etc. to get them out of your house quickly before you eat them all.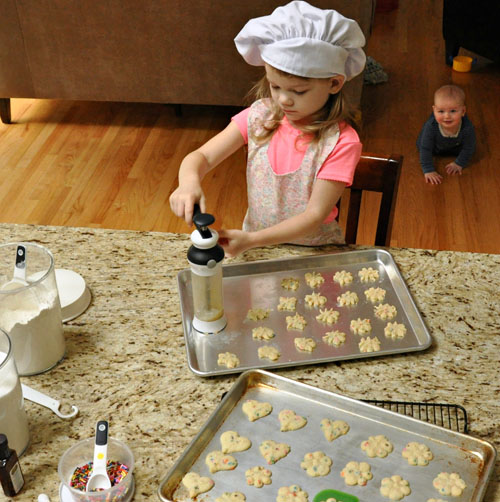 We love making all sorts of cookies and have our favorites. Making simple butter cookies with fun sprinkles is always a must and they often find themselves waiting for Santa on Christmas Eve. My sous chef loves adorning anything with sprinkles, so we really bling them out. She, like me, also loves gadgets. I try to stay away from uni-taskers, but a cookie press is kind of needed when you do spritz cookies. You could cut a million tiny cookies out with a cookie cutter, but I'm not going there. I don't even really enjoy making normal sized cookies with cookie cutters. Over the past couple of years I've really enjoyed using my OXO Good Grips Cookie Press. It had a ton of great reviews on Amazon and it has definitely lived up to its reputation. I received another OXO Cookie Press as part of a fundraising campaign and knew I wanted to save it for one lucky reader. So, here ya go. Simply enter to win below using the widget. When the contest is over my aim is to get it out to you as soon as possible so hopefully this will be putting this tool to good use and having fun this holiday season. Good luck and Happy Holidays!
This prize is provided by The Way to His Heart, because I want cookie decorating to be more fun and less work this holiday season! This giveaway is for residents of the contingent United States and will end on December 12th, 12:00 pm EST. Physical address required for shipping; no PO boxes. You must be 18 years or older to enter.