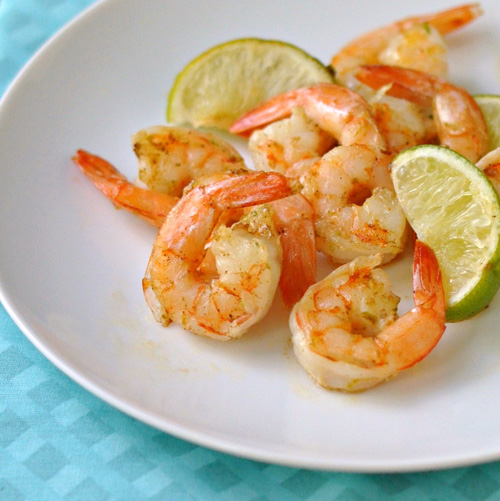 I'm on a seafood kick now that it's summer. While I eat it often during the winter, the summer really brings out that craving for it. That's the wonderful part of living on the coast of Maine. What I really love about seafood is that it is so quick to prepare. I can whip something up while the little one is napping and eat an awesome lunch before we wakes up. Granted, I always save him some as well because he's a big eater and knows when someone has eaten something and hasn't shared. I'm telling you, he knows!
These shrimp pack just enough of a kick, but aren't too spicy. I've said it before, I'm not into foods that are extra spicy and super hot. Since my husband doesn't eat seafood, I'm making these just for me so I make them to my liking. The lime gives the flavor a nice bright pop to compliment the chipotle. These can be cooked on the grill or sauteed in a pan. Use on top of a salad, as an appetizer, or as a main dish. Heck, throw them on top of a nice steak and you have a little surf and turf!
Chipotle Lime-Glazed Shrimp
Ingredients
1 lb large shrimp, peeled and deveined
2 tsp minced garlic
2 tsp lime zest
1/4 tsp kosher salt
1/4 tsp chipotle chile powder
1/4 tsp freshly ground black pepper
Cooking spray
2 Tbsp fresh lime juice
2 Tbsp unsalted butter
Combine shrimp, garlic,zest, salt, chile powder, and pepper in a medium bowl, tossing to coat shrimp.
Heat a large skillet over medium heat. Coat pan with cooking spray. Add shrimp to pan; sauté 3 minutes. Stir in lime juice and butter; cook 1 minute, tossing to coat. Remove from pan.
Source: Cooking Light, December 2013