Tags
Butterscotch, chocolate, coffe, Compost, cookies, graham cracker, Milk Bar, Momofuku, oats, potato chips, Pretzels
Share it
We haven't done much in the way of baking new things this summer. My idea of a quiet summer hanging around the house with the kids has not been realized. The only days we don't have something planed we are using as re-coop days. Two weeks ago I decided to get into the kitchen and create. While a few were created on the spot, these cookies were made with purpose. Ever since I had heard of them I knew I just had to have them. I also had a good opportunity to send most to work with my husband so my willpower wouldn't be tested too much!
The beauty of these cookies is that they were created by using bits of this and that around the kitchen. Kind of a "everything but the kitchen sink" idea, hence the name "Compost Cookies." My daughter thinks the name sounds disgusting so she calls them "the most amazing, super-duper cookies ever." So, feel free to call them that as well because they are! The flavors in these cookies don't compete, not get lost. Some how it's a perfect balance. I love the slight coffee flavor, and the saltiness and then the butterscotch with the chocolate and chips. Oh my! I love a good cookie dough, but this was the most amazing dough ever. I could have eaten the whole batch without even baking them. Yeah, yeah salmonella, but I'm a daredevil that way.
Whether you want divine cookies for yourself or want to make something to impress, go ahead and make up a batch of these. While you're at it, go ahead and make up a few batches since you'll have ingredients to spare and they freeze nicely!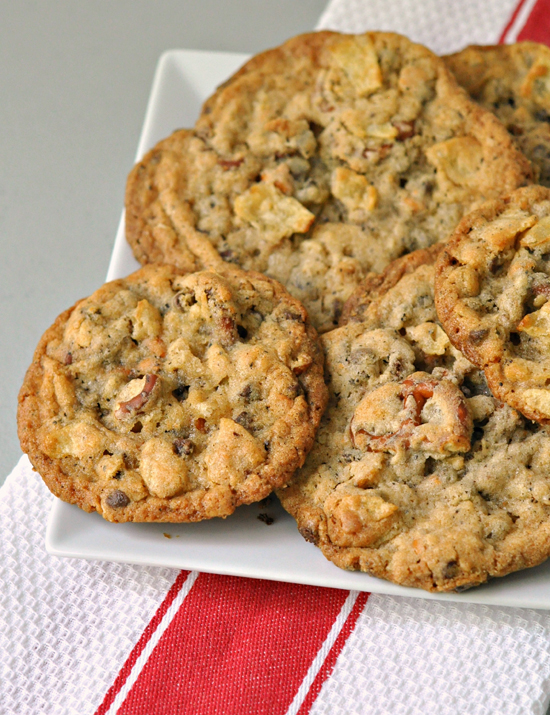 Compost Cookies
Ingredients
For the graham crust:
10 t0 12 graham crackers (enough to make 1 1/2 cups)
1/4 cup milk powder
2 Tbsp granulated sugar
3/4 tsp salt
4 Tbsp unsalted butter, melted
1/4 cup heavy cream
For the cookies:
16 Tbsp (2 sticks) unsalted butter, room temperature
1 cup granulated sugar
2/3 cup light brown sugar, tightly packed
2 Tbsp glucose (can substitute with 1 tablespoon corn syrup)
1 large egg
1/2 tsp vanilla extract
1 1/3 cup all-purpose flour
1/2 tsp baking powder
1/4 tsp baking soda
1 tsp salt
3/4 cup mini chocolate chips
1/2 cup mini butterscotch chips
1/4 recipe graham crust (recipe below)
1/3 cup old-fashioned oats
2 1/2 tsp ground coffee (NOT instant coffee)
2 cups potato chips (kettle chips work best)
1 cup mini pretzels
To make the graham crust:
In a food processor, process graham crackers. Transfer to a medium bowl and add milk powder, sugar, and salt.
In a small bowl, mix melted butter and heavy cream. Add to graham cracker mixture and mix until combined. Use 1/4 of the recipe for the cookies and refrigerate rest for later (a pie or some more cookies).
In the bowl of a stand mixer, using the paddle attachment, cream the butter, sugars, and glucose together on medium speed for 2 to 3 minutes. Then, add the egg and vanilla and continue to beat for 7 to 8 minutes.
Reducing the speed to low, add the flour, baking powder, baking soda, and salt and mix until just combined. Then add the chocolate chips, butterscotch chips, graham crust, oats, and coffee. Mix until just combined.
Line a baking sheet with parchment paper or a silicone mat and scoop out cookie dough using a cookie scoop or 1/3 measuring cup. Gently flatten the tops of each mound. Cover the baking sheet with plastic wrap and refrigerate for at least 1 hour or up to 1 week.
Pre-heat oven to 375 F.
Place cookies 4-inches apart and bake for 18 minutes. Cookies should be slightly brown at the edges but have yellow centers. Store in an airtight container for up to 5 days or freeze for 1 month.
Leave cookies to cool on baking sheet.
Makes about 15 to 20 cookies.
Source: Momofuku Milk Bar