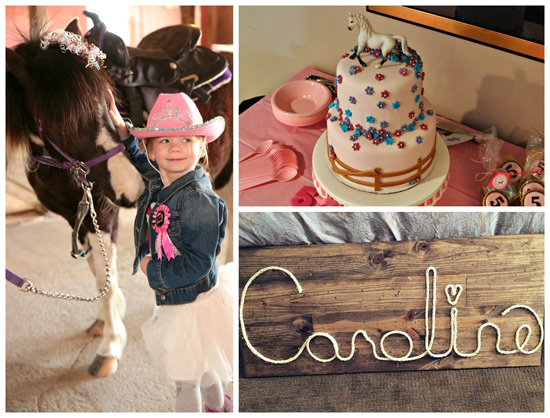 Caroline turned the big "5" this year and we decided that we would host the party somewhere outside of the house this year. It's a big occasion and we wanted to celebrate this milestone birthday. Also, we really liked the idea of not having to clean the house twice and have a ton of kids inside this year as well!
I was looking forward to actually having a break from all of the decor I usually do and realized that I would only need to bring a cake and some ice cream. Maybe even a few snacks. No big menu items for me this year! Things would be easy. Ha! Well, they were easy compared to the usual parties I host for her and I definitely took some sort cuts, but as always I have a tendency to go further than needed. Most of it came together pretty easily since we had a lot of things already and I worked smarter this year. I'm learning!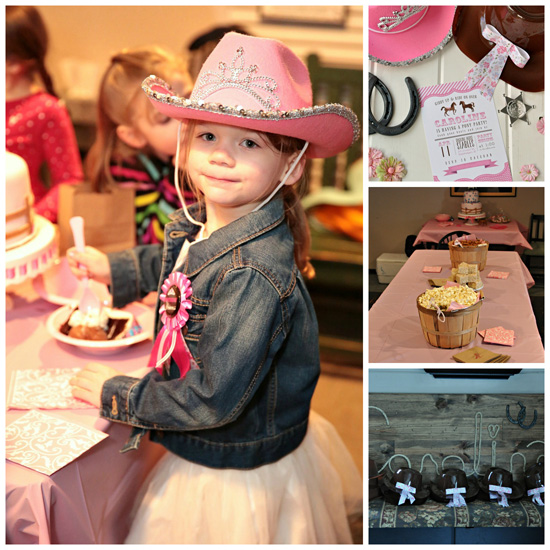 We hosted a Pony Party this year and invited everyone to the stables not too far from our house. We love the venue because they have pony rides and a play area for kids while they are waiting their turn. The kids loved the pony and even little George and his buddy took a turn on Sassy on the pony. It was one of the first nice days here in Maine so the kids also had a lot of fun playing outside on the swingsets.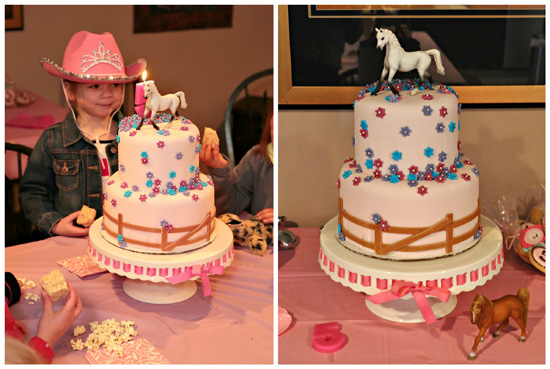 Afterwards, it was time for cake and ice cream. While we were getting everything ready the kids dove into the snacks. We sang Happy Birthday and quickly dished out cake and ice cream to everyone. We had so much fun this party and I can't wait to host another party there as well. George, want a cowboy party? Every year I say I am going to go smaller for birthdays but every year I see that smile on her face and know that I'll do whatever it takes for her and her friends to have an awesome time, fill their bellies with yummy food, and go away with smiles.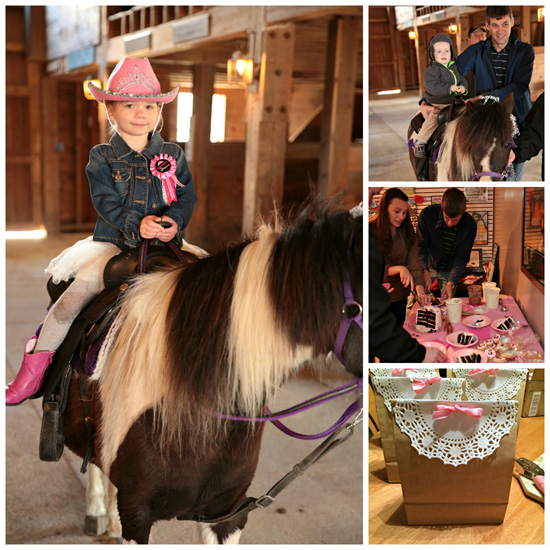 *I believe I have listed everything here, but if you see anything I've forgotten to note or have a question, leave a comment. The party may have ended, but I love talking parties and ideas!
Recipes
Favor Cookies ~ Sugar Cookies and 10 Second Royal Magical Icing
Salted Brown Butter Rice Krispie Treats
Popcorn ~ Good 'ole stovetop popcorn!
Ice Cream ~ Vanilla Bean, East Mint Chocolate Chip, Ben's Chocolate Ice Cream
Cake ~ Magnolia Bakery's Vanilla Cake, Hershey's Perfectly Chocolate Cake, Easy Vanilla Buttercream, Marshmallow Fondant
Sources
Invitations & Favor Tags ~ Little Paw Prints
Favor Bags ~ Bags ribbon, and craft dollies from Michaels
Caroline rope sign ~ Pinterest, made my husband (Picture in house is unfinished, we added some horseshoes to the top)
Snack bags ~ lunch bags cut smaller with wavy scissors with horse stamp
Birthday Ribbon ~ Party City with embellishments made by me
Cowboy hats ~ hats from Party City with embellishments made by my mother and I