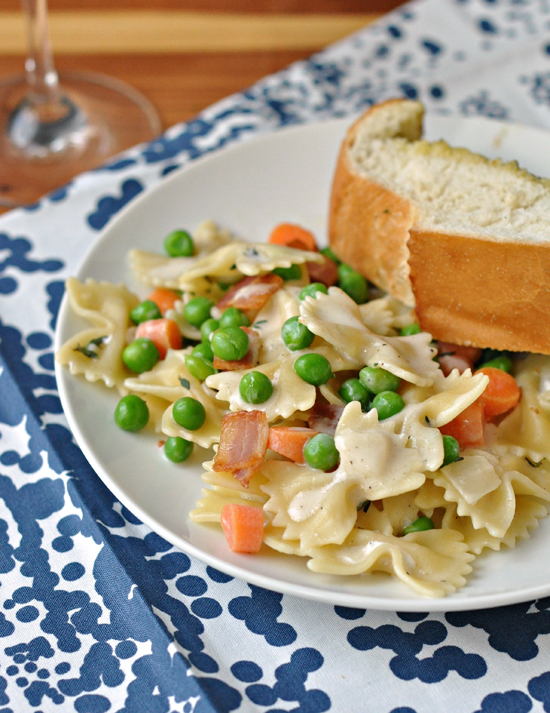 Now that the kids are older, well at least one of them is, I'm starting to add more visible vegetables in the dinner. Partly because I want her to get used to seeing and tasting the vegetables in a more normal fashion and partly because I am tired of hiding things. That's mostly the reason. I want to eat like a grown up and it's also much easier for prep. I love quick pasta dishes like these that have simple ingredients that my family enjoys. If I try to give them more cauliflower or kale I'm going to be shot so when a dish that involves carrots and peas as the vegetables, I'm safe. Toss in some bacon, pasta, and some cream cheese and I'm a winner!
This dish whips up nice and quick. To make it even quicker you can buy your veggies prechopped or prep earlier in the day or the night before. It's a perfect weeknight meal when you want more from your meal but you don't want to put that much effort into it! With the thyme and the bright colors, it's a very spring/summery meal. Colorful dishes always get eaten quicker by the kids.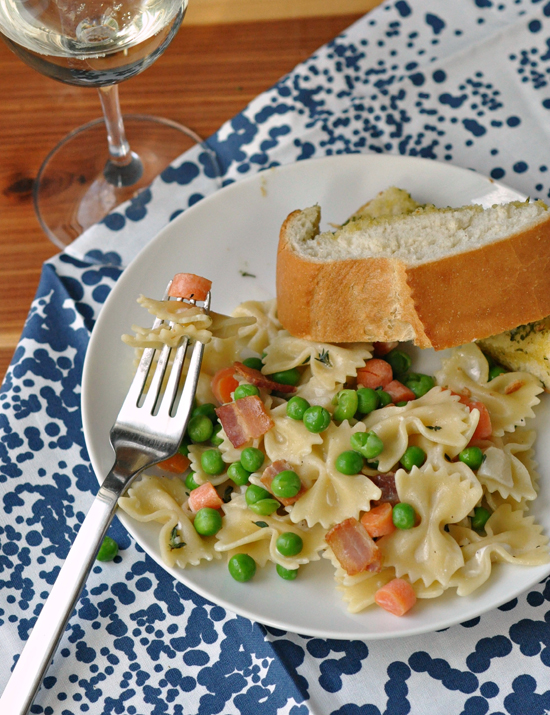 Mini Bow Ties with Bacon and Peas
Ingredients
8 oz. uncooked mini farfalle (bowtie pasta)
3 center-cut bacon slices, chopped
1/2 cup prechopped onion
2 medium carrots, peeled and diced
1 cup unsalted chicken stock
1 cup frozen green peas
1 Tbsp chopped fresh thyme
5/8 tsp kosher salt
1/2 tsp freshly ground black pepper
3 oz. 1/3-less-fat cream cheese
Cook pasta according to directions on package, omitting salt and fat. Drain pasta, reserving 1/4 cup cooking liquid; set aside.
Heat a large nonstick skillet over medium-high heat. Add bacon and cook for 4 minutes, stirring frequently. Remove bacon and set aside.
Add onion and carrot to pan with drippings and cook 5 minutes. Add stock and bring to a boil. Add peas and cook for 2 minutes.
Remove pan from heat. Stir in reserved 1/4 cup cooking liquid, bacon, thyme, salt, pepper, and cream cheese. Add pasta to pan; toss to coat. Serve immediately.
Source: Cooking Light Magazine May 2016