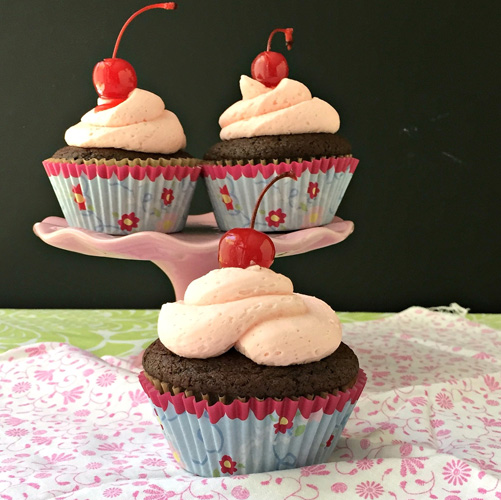 When I asked my husband what kind of dessert he wanted for Father's day his reply was "anything." He prefers I not do anything too elaborate because that usually turns into a time consuming project that he'd prefer not to get dragged into. I wanted to do something fun and not do the same old same old so I prodded him some more. Right after I made the Mint Chocolate Chip Frosting he decided and told me to make frosting that tasted like cherry ice cream. Alright, I thought, that shouldn't be too difficult and I haven't made anything like that before. I was excited to play around with the cherry frosting, getting it just right. My daughter was an eager taste tester and after just a little bit, we hit jackpot.
Both my husband and my father-in-law, and everyone else who enjoyed them, loved these cupcakes. The frosting has that perfect hint of cherry without being too overwhelming and it is just the right sweetness for me. I like my frosting to taste like I am indulging in something sweet, but not hurt the teeth! This frosting would be perfect for a vanilla or yellow cake, but I thought pairing it with chocolate would make it much more indulgent for the guys. So, from now on, don't throw out that maraschino cherry juice. It can go to good use. Granted, I never do because it also makes a great ice cream topping as well!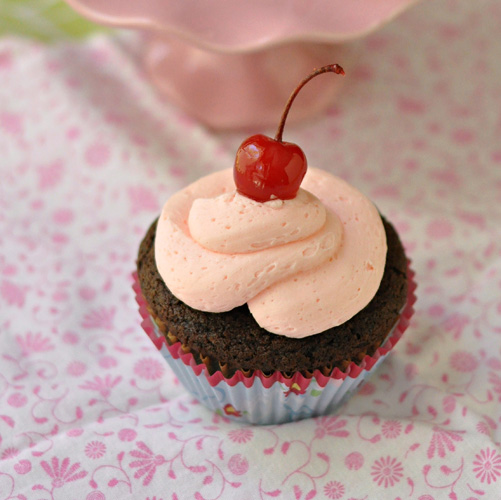 Maraschino Cherry Frosting
Ingredients
1/2 cup unsalted butter (1 stick)
1 1/2 cups powdered sugar
2 Tbsp + 1 tsp maraschino cherry juice
1 Tbsp heavy cream
1/8 tsp almond extract
Maraschino cherries for garnish
In the bowl of stand-mixer, beat butter on medium speed for 30 to 60 seconds or until smooth. Add sugar, cherry juice, cream, and almond extract and beat on high speed for about 3 minutes.
Yields enough frosting for 6 cupcakes. Recipe can easily be doubled.
Source: The Way to His Heart