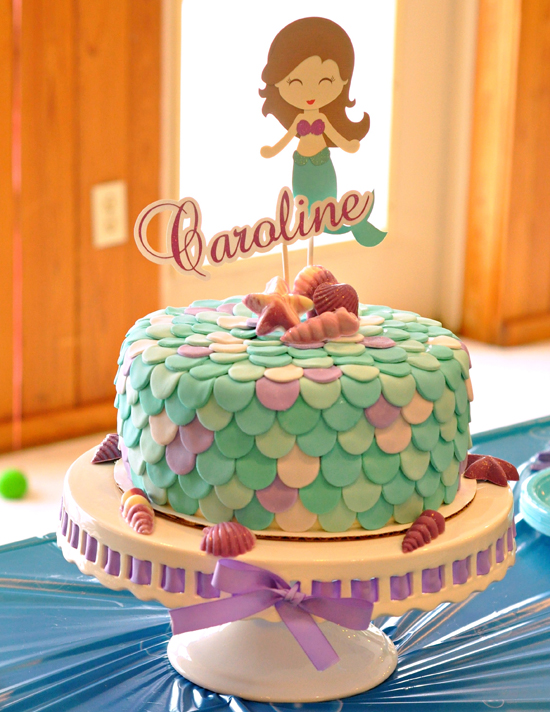 Caroline turned six this year. Six!?! I still can't wrap my head around it. I feel like only yesterday I was pipping that little 3D duck cake for her first birthday and helping her slowly unwrap her first presents. She's grown into a wonderful, kind and funny young girl and I couldn't be prouder of her. This year we went back and forth on where to have her party and what kind of theme she wanted. We decided on a mermaid theme because she has loved mermaids (and fairies) for the longest time. I've been surprised actually that this party hasn't happened sooner.
So, with our mermaid theme we needed to decide on a location. My husband and I liked the ease of having it out of the house so we started looking around and I found a resort around here that rents their pool out in the winter fr birthday parties. Swimming for the mermaids? Perfect! We kept it small since the only lifeguard on duty was dad and it went swimmingly well. Our little guy, George, had lots of fun splashing around with the girls, as he was the only boy allowed.
After the swimming we headed upstairs for a light lunch and some cake. Since we didn't have it at home and there was a slight drive to the location I really had to reign in my decor and food designs which was actually lovely. I've learned through the years and a lot of my projects have become easy for me, but it was nice trying a few new things this time around and keeping things simple.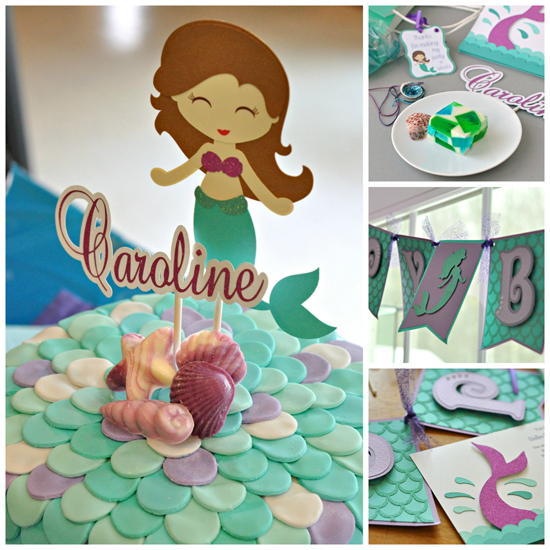 So, to set the stage I had these incredible invitations made by Rachael's Craft Shack. These invitations were beautiful and the craftsmanship was amazing. I joked that Caroline may have had nicer invitations than my wedding invitations! I printed the map of the resort on card stock and cut that out with a short note regarding some details on the back and off they went to our guests.
For the favor bags, we decided to keep it simple but sincere. During our February Florida vacation we found a bunch of small shells that had perfectly round holes that would make adorable necklaces for the girls. We added some glitter and a gemstone and voila! I made some of this beautiful and easy Sea Glass Rock Candy as well. Add some ribbon and a adorable favor tag and the favor bags were completed!
For the menu I wanted to keep things simple. Feed the kids with foods I knew they would enjoy, would fill their bellies after some swimming, but also realizing that all they really cared about was getting to the cake. I made some cute sandwiches, some adorable cookies, and a few snacks and called it good.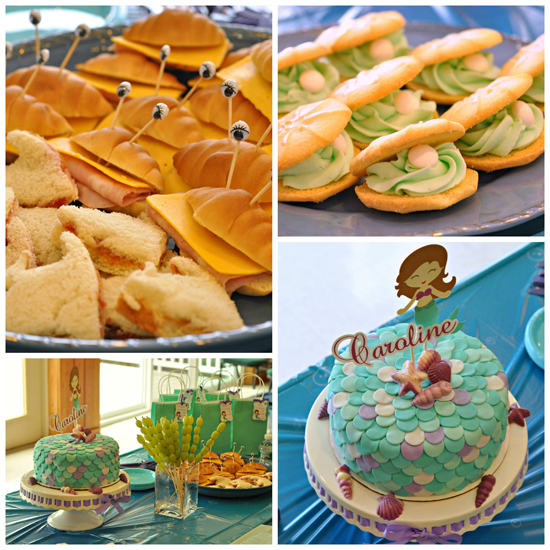 The main attraction was the cake of course! This cake was a lot of fun to make and I think it came out so nice. Caroline wanted a three tier cake after last year's two tier but I told her no way! We traveled with that last year and I gained a few gray hairs because of it! She was very happy with how the cake turned out in the end and that's all that really mattered. It was probably one of my most fun cakes to make since it was relatively easy and I could have fun with a few embellishments, but it was a lot less stressful compared to others. I added some purple edible glitter to the darker purple scales but it doesn't show up in pictures very well. I made some chocolate shells to adorn the cake and then it was topped with an absolutely adorably cake topper by Rachael's Craft Shack. Caroline loves this cake topper, which is actually two pieces, and has it in a plant in her room now.
The party was a success and lots of fun. The mermaid theme really has endless possibilities. There was so much I could have done, but we loved the results and how everything came together.
One last detail was saved for her classmates at school on her actual birthday. We brought in some Sea Glass Jello for the kids. The girls who were at the party loved it since they received the Sea Glass Rock Candy as well and the boys thought it was supposed to be Mine Craft so they thought it was cool as well. I've listed recipes and sources below and if you have any questions or want to chat kids parties or mermaid themes, leave a comment below! If there is interest, I believe I have enough pictures to do a tutorial on the cake process as well.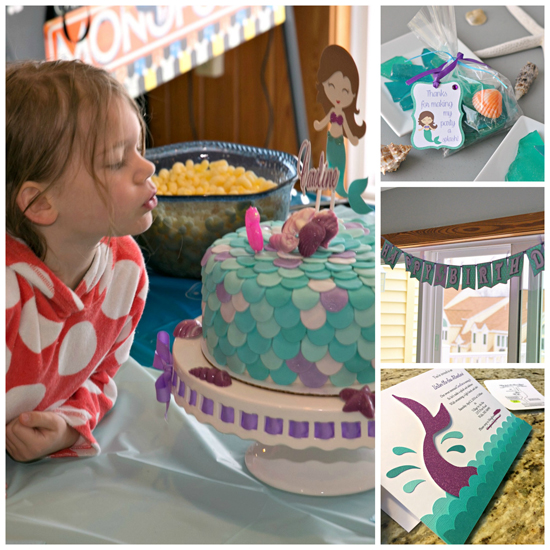 Menu
Peanut Butter & Jelly Fish Sandwiches
Ham & Cheese Hermit Crab Croissants
Seaweed Grapes
Shell Cookies ~ Shortbread cookies with raspberry buttercream and white M&M's
Pirate Booty
Goldfish
Cheese sticks
Watermelon
Veggie Platter with Ranch Dressing
Mermaid Cake ~ Three layer Chocolate cake with vanilla buttercream frosting covered in marshmallow fondant
Favor Bags
Shell necklaces ~ Shells we found on vacation with some glitter and jewels attached
Invitations, Happy Birthday banner, Favor Tags, and Cake Topper made by the incredibly talented Rachael's Craft Shack
Classroom Treat