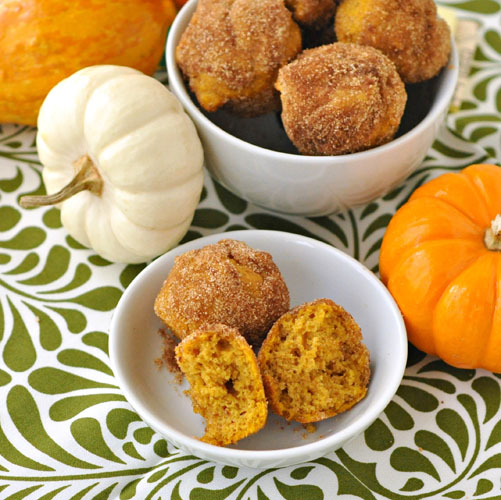 Last week the weather here was unusually warm, which meant I pushed my thoughts of pumpkin recipes from my mind. Alas, along with the start of a new work week it has gotten cold and I believe it is here to stay now. So, I grabbed a recipe that was at the top of my list and whipped up a batch of these yesterday morning. I usually don't share a recipe that I try right out of the gate, but these are pretty tasty and easy to make. Well, I will admit that I totally botched one step, but I blame that on the cold that is going through my house right now! In just 20 minutes, we had a tasty morning snack that was hearty from the pumpkin, yet deliciously sweet.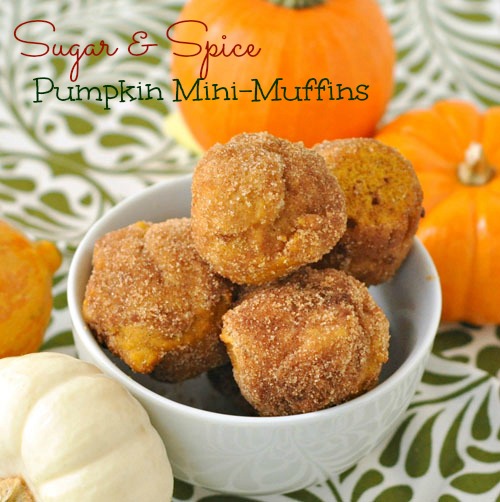 Sugar & Spice Pumpkin Mini-Muffins
Ingredients
For the Muffins:
1 3/4 cups all-purpose flour
2 tsp baking powder
1/2 tsp salt
1/2 tsp cinnamon
1/2 tsp nutmeg
1/2 tsp allspice
1/8 tsp ground cloves
1/3 cup canola oil
1/2 cup light brown sugar
1 large egg
1 tsp vanilla extract
3/4 cup canned plain pumpkin (not pumpkin pie filling)
1/2 cup milk
For the Coating:
4 Tbsp unsalted butter, melted
2/3 cup granulated sugar
2 Tbsp cinnamon
Pre-heat oven to 350 F. Lightly spray a 24-cup mini muffin pan with cooking spray.
In a medium bowl, combine the first 7 ingredients, up to ground cloves. In a large bowl, whisk oil and then remaining 5 ingredients until smooth. Add the dry ingredients to the wet ingredients and mix until just combined.
Divide batter evenly into mini muffin cups. Bake for 10 to 12 minutes or until a toothpick inserted into the center comes out clean.
While the muffins bake, melt butter in a small bowl. In another small bowl, combine sugar and cinnamon. Remove the muffins from the oven and all to cool for 2 minutes. After the muffins have cooled, remove from the tin and dip each muffin into the butter and then roll in the cinnamon sugar until coated.
As seen on two peas & their pod , originally from The Craving Chronicles