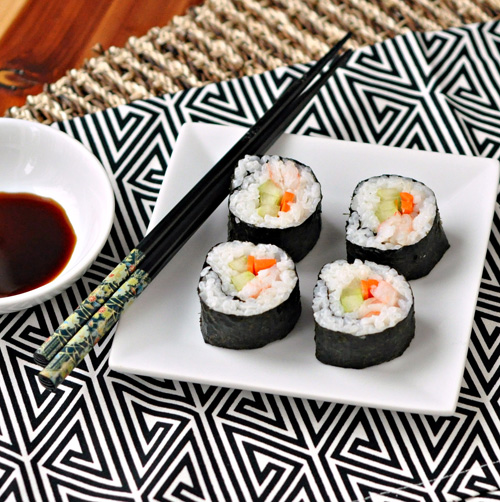 Back in college I tried sushi and fell in love. While I don't eat anything too adventurous, I've grown to eat more and more. The problem is between marrying someone who dislikes seafood, being pregnant twice, and having kids that can't or wont eat it, my opportunities to eat sushi have dwindled. I've thought about making it at home, but I always figured it would be too much of a hassle to prepare for just myself. So, I leave it for a special treat that I get maybe once every couple of years. Kind of sad, huh?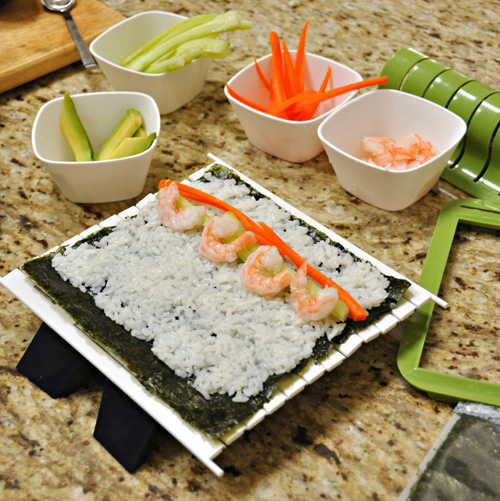 Well, SushiQuik contacted me and asked if I'd like to try their very easy SushiQuik kit. I jumped at the chance. The kit looked pretty painless and it was time I gave making sushi at home a go. The first time I prepared some I got everything I figured my daughter would also eat. She loves cucumbers, carrots, and shrimp and I added some avocado in there as well. I prepared the first roll and it was pretty easy and the results were good. My roll was tight, but not perfect. The second time I let my four year old daughter give it a go. She did everything from spreading the rice and placing the ingredients. I helped roll the mat and the cutting. Her rolls came out perfect! It's so easy a kid can do it, and sometimes even better than an adult. Don't worry, I went back and did another and mine was perfect as well.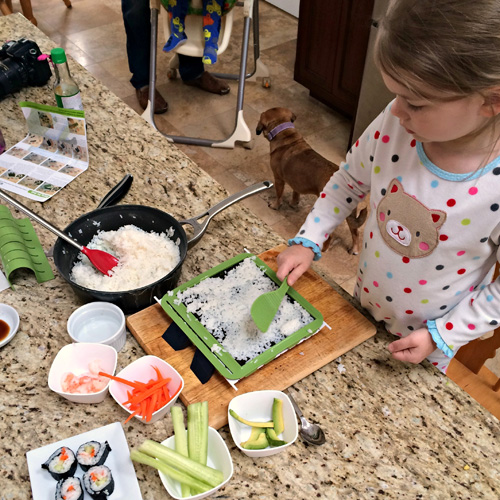 We will definitely be making more sushi in our future and wont be saving it for special occasions. I love the idea of being able to whip some up at a moments notice and playing around with different ingredients. While my daughter couldn't get behind the nori, even after I told her she may become a mermaid if she ate seaweed, I know that the more exposure she has to it the chances are that I can have someone who will eventually eat sushi with me! Plus, she had so much fun making it that soon I'll have her preparing it while I do the cleaning!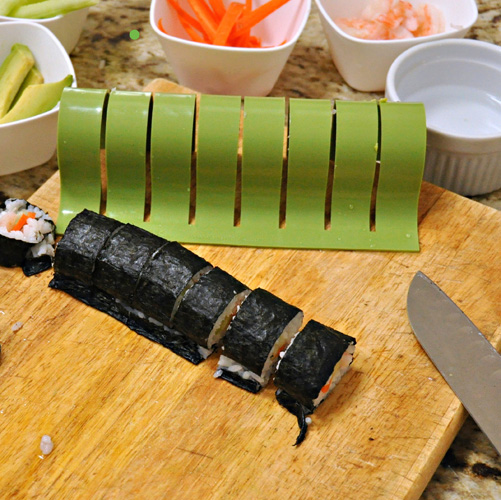 Making sushi is pretty east, just use ingredients that you already like. As I mentioned, we went simple with matchstick sliced cucumbers, carrots, avocado, and cooked shrimp. I skipped the wasbi and pickled ginger since I don't care for it anyways. Then, pour a little soy sauce in a dish, dip, and enjoy! Below is a very easy recipe for sushi rice. It made enough to make 5 rolls, with a little extra.
SushiQuik provided the SushiQuik kit for my use, but as always the opinions expressed here are solely my own.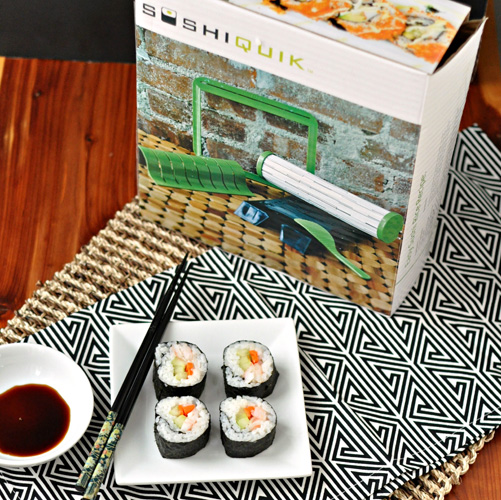 Easy Sushi Rice
Ingredients
2 cups sushi rice
3 cups water
1/2 cup rice vinegar
1 Tbsp vegetable oil
1/4 cup granulated sugar
1 tsp salt
Rinse rice in a strainer until the water runs clear.
Add rice and water into a medium saucepan and bring to a boil. Reduce to a simmer, cover, and cook for 20 minutes. Rice should be tender and the water should be absorbed. Cool until cool enough to handle.
Meanwhile, in a small saucepan, combine he rice vinegar, oil, sugar, and salt. Cook over medium heat until the sugar dissolves. Cool, then stir into the cooked rice. When you pour this in to the rice it will seem very wet. Keep stirring and the rice will dry as it cools.
Source: SushiQuik