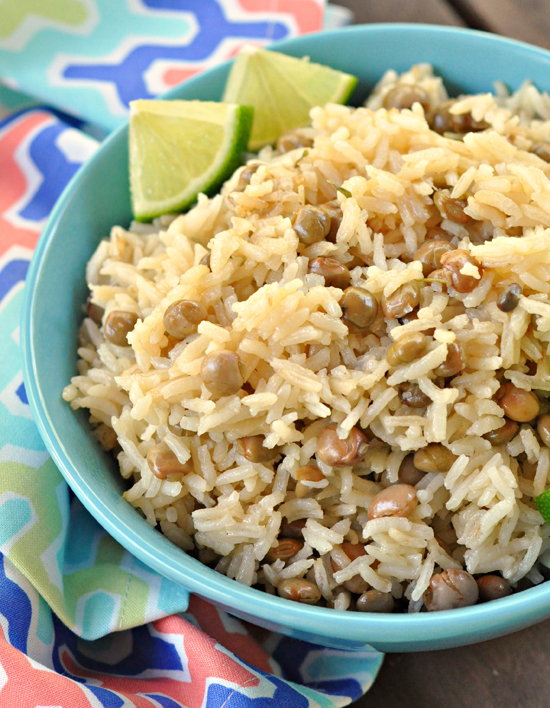 When my husband and I honeymooned in Jamaica what we loved the most was trying the local dishes. Having food and drinks being served to us 24/7 was pretty great too! We found ourselves chatting with the locals and staff at the resort. Bringing home spices and recipes and ideas to recreate our own. What I can't believe is I still have a long list of things I have yet to make almost eight years later. What's worse is the ones I have recreated I haven't really shared with you guys. So, that's going to change!
While this dish isn't from Jamaica it is from the Caribbean. All Caribbean islands have their own take on rice and beans, but we like Barbados version the most. This is a very easy recipe that uses very inexpensive ingredients but brings a lot of flavor. The freshness of the lime really brings everything together. While you can have this at anytime, we love serving this with a spicy smoked meat, jerk, or pernil.
Rice & Pigeon Peas
Ingredients
3 oz salt pork
1 small yellow onion, finely chopped
2 cups long-grain white rice
1 15oz. can pigeon peas, rinsed and drained
3 1/2 cups water
3 sprigs fresh thyme
1 lime, cut into wedges
In a large saucepan, bring a couple of inches of water to a boil. Add salt pork and blanch for 1 minute. This removes some of the saltiness. Drain and rinse under cold water.
Return the salt pork to empty pan and heat over medium heat until the fat begins to render, about 10 minutes. There should be about 2 tablespoons of melted fat. Add onion and saute until translucent, about 5 minutes.
Stir in rice and cook about 2 minutes.
Stir in pigeon peas, water, and thyme sprigs and bring to a simmer. Cook, uncovered, over medium to medium-high heat until almost all the liquid is absorbed, or until the liquid level is just below the rice, about 10 to 15 minutes.
Stir the rice well, then reduce heat to low, cover, and cook (without stirring) for 20  minutes, until water is absorbed. Fluff the rice with a fork and transfer to a serving bowl. Serve with lime wedges on the side.
*If you'd like to make this a vegetarian dish, that's easy, simply omit the salt pork and use 1 tablespoon of vegetable oil and 1/4 teaspoon of smoked salt.
Serves 8
Source: Hannaford Fresh Magazine, July-August 2012