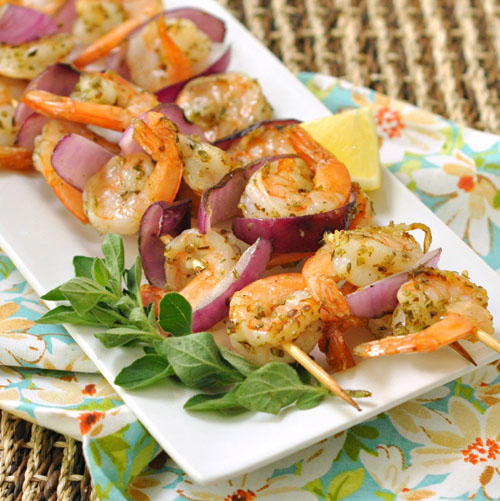 I've basically lived my entire life on the coast and have grown up eating seafood. For me, summer and seafood go hand in hand. Seafood is so easy and quick to cook, you have more time to enjoy the beautiful weather rather than manning the grill. These shrimp mix things up a bit, rather than going with a simple grill or something spicy, they are loaded up with oregano. They offer plenty of flavor without the fuss of long marination times. Serve these over orzo or rice pilaf and you've got yourself an easy meal!
Grilled Oregano Shrimp
Ingredients
1/4 cup olive oil
2 tsp dried oregano, crumbled
3/4 tsp salt
3/4 tsp pepper
1 small red onion
24 peeled and deveined large shrimp (about 1 lb.)
Prepare grilled for direct-heat cooking over medium-hot charcoal (medium-high heat for gas)
Stir together oil, oregano, salt and pepper in a bowl.
Cut onion lengthwise into 3/4-inch wedges and separate layers. Toss shrimp and onion with oil mixture, then thread 6 shrimp onto each skewer, alternating with single layers of onion.
Grill shrimp, covered only if using a gas grill, turning once until just cooked through, 3 to 4 minutes total.
Serves 4
Source: Gourmet July 2008