Thank you Stonyfield and Healthy Skoop for sponsoring this post. As always, the opinions expressed here are solely my own.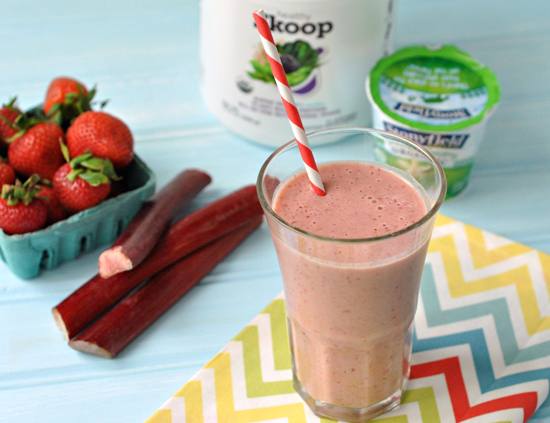 It's rhubarb season! As some of you know, strawberry and rhubarb are our favorite fruit combinations and it's a joyous time when rhubarb is in season. What I can't believe is I haven't made it into a smoothie until now. Why hasn't that happened? Craziness! Besides the amazing flavor play of sweet and sour, rhubarb is oh so good for you. Granted, when you add in pie crust and whipped cream it lessens it, but when you have it in it's most simple form, very good for you! It's high in vitamin B and K, so if you're not into kale like me, then just eat your rhubarb. Among other wonderful attributes, it's also very high in calcium, fiber, and anti-oxidants.
So, this smoothie is already amazing when it comes to taste and the rhubarb really adds in some health benefits but I didn't stop there. Oh no, I went way healthy. Like, your body is going to love this and you should get a medal for eating this good. I didn't use just any yogurt, I used Stonyfield Organic lowfat yogurt so you know it's full of great ingredients and was consciously made. Then I received Healthy Skoop to try and added that into the smoothie. I sampled the vanilla flavor because I knew I'd be pairing it mostly with our fruit and veggie smoothies. By doing this, we actually get more than a serving of vegetables in which is amazing for me because my kids barely eat enough vegetables as it is and because of that I'm lacking a lot of the time as well.The vanilla flavor was great and left no funny after taste or weird texture, it broke down nicely.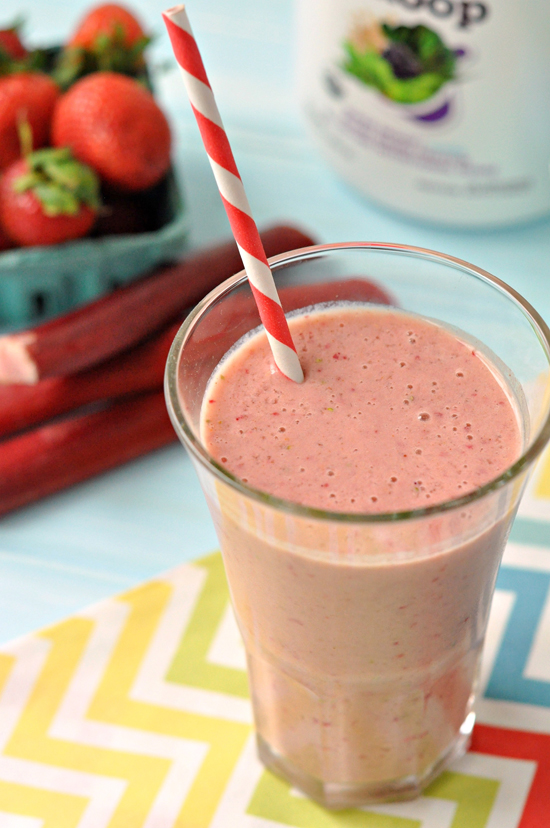 What I loved about Healthy Skoop was that it is a plant-based protein. I try to eat a high protein diet, but that isn't always that healthy either, but I find it gives me the most energy. Now, I can still up my protein with 20 grams per serving, but with healthier alternatives like brown rice, pea, and hemp. Healthy Skoop also contains fiber, probiotics, and omega 3's! So now, I can skip some of those vitamins I'm taking and stop skipping breakfast. It's awful for me to do anyway, but now my tummy is full with deliciousness and all of the nutrients I need to keep me going throughout the day. Healthy Skoop is USDA Organic, Gluten-Free, Soy-Free, Whey-Free, Dairy-Free, Non-GMO, and simply have No Funky Stuff!
Other huge bonuses for me. Healthy Skoop is healthy for kids. That means we can drink the same thing and I know they are getting what they need as well. My daughter gets upset if I don't add in her special powder now too. Another thing I love about this company is that for every serving of Healthy Skoop purchased, they will donate a serving of fresh fruits and veggies to school lunch programs.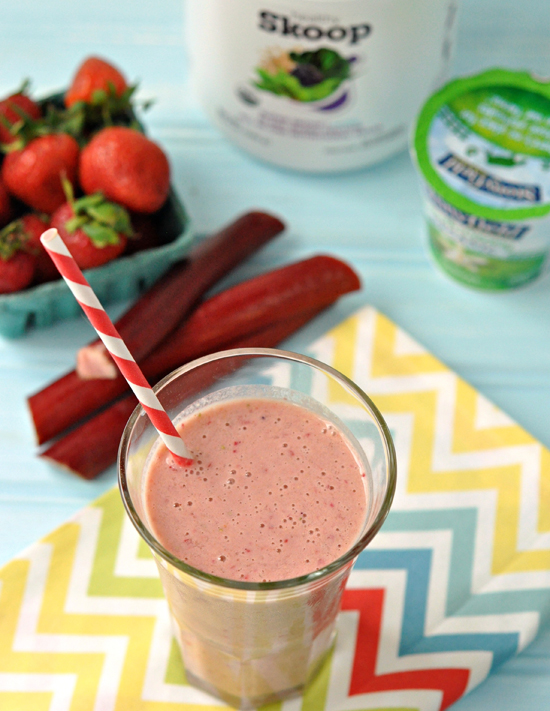 Strawberry Rhubarb Smoothie
Ingredients
1/2 cup sliced rhubarb
1 cup strawberries
6 oz. Stonyfield Organic Lowfat Vanilla yogurt
2 scoops of Healthy Skoop
1 cup ice
Place rhubarb in a small pot of boiling water and cook for 1 minute. Remove and let sit for another 2 minutes. Drain water and add rhubarb to blender.
Add remaining ingredients to blender and blend until smooth.
The Way to His Heart