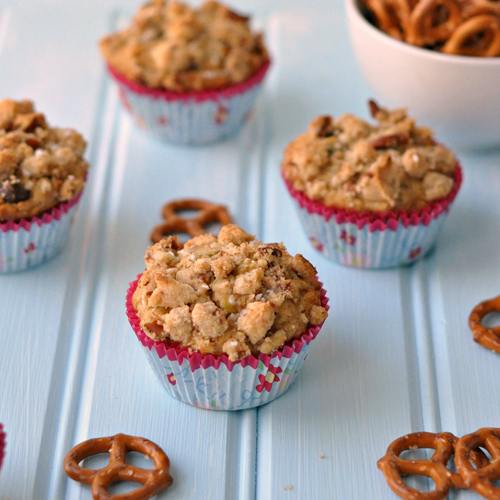 Some people will say that they are more of a "sweet" or "salty" person. I've always said I'm both. I crave salty foods, but immediately after I need a little something sweet. Lately, I've been combining the two and loving the results! Remember, I barely have enough time to eat one thing so this double dose is more efficient. I know, I should simply avoid both and eat a carrot, but that's no fun!
I was afriad these muffins would come out too salty, but they were just right. If you are worried or not a fan salted sweets, like salted caramels, simply leave off the garnish salt. That is truly where you get the salt taste, not from the pretzels themselves. These work well for breakfast, but make a great snack!
Pretzel Muffins with Chocolate Chips
Ingredients
For the Streusel
1/2 cup all-purpose flour
1/3 cup sugar
1/4 cup ground pretzels, into small pieces, not too fine
1/4 cup broken pretzels
1/4 tsp ground cinnamon
6 Tbsp unsalted butter, melted
For the Muffins
1 cup all-purpose flour
1 cup ground pretzels
1/2 cup mini semisweet chocolate chips
1 Tbsp baking powder
1/2 tsp salt
1/4 tsp ground cinnamon
1 cup whole milk
2/3 cup sugar
2 eggs
1/4 cup canola oil
4 Tbsp unsalted butter, melted
1 tsp vanilla extract
Pretzel or other coarse salt for garnish
Pre-heat oven to 400 F. Line a 12-cup muffin pan with liners.
For the streusel, combine flour, sugar, ground and broken pretzels, and cinnamon. Stir butter into the dry mixture, cover, and chill.
For the muffins, whisk flour, pretzels, chocolate chips, baking powder, salt and cinnamon in a medium bowl. In a small bowl, whisk milk and sugar until the sugar dissolves. Add eggs, oil, butter, and vanilla; stir into the flour mixture. Let the batter sit for 2 minutes, then divide among muffins cups.
Squeeze streusel into clumps; top muffins with it and sprinkle with coarse salt. Bake muffins until a toothpick inserted in centers come out clean, 17 to 19 minutes. Let muffins cool in pan for 10 minutes.
Nutritional Information
Per serving: 342 calories, 19g total fat, 58mg cholesterol, 447mg sodium, 41g carbohydrates, 1g fiber, 5g protein.
Source: Cuisine at home, October 2013