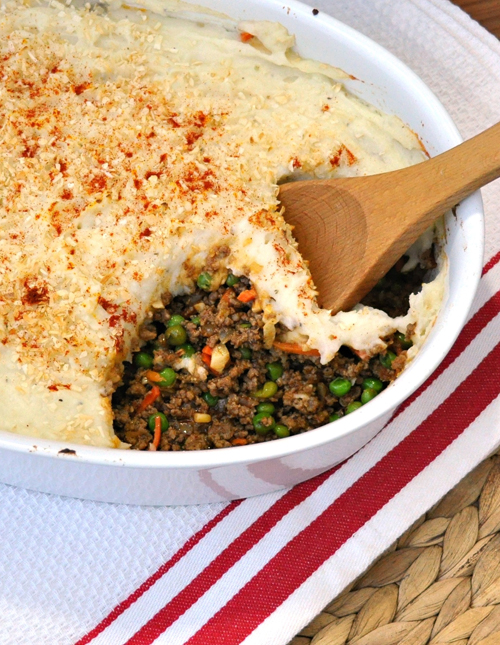 When I first moved in with my husband he told me he liked Shepherd's Pie. I had heard of it before but had no clue what was in it. He has a version, which he loves and is on the blog, that consists of ground beef, corn, and mashed potatoes. I could never wrap my head around it since everything I read online told me there should be some sort of a gravy. My husband is not a gravy guy so he continued to make his own and I used those nights as my seafood nights since he wont eat that.
So, imagine my happiness 10 years later when I found a recipe that had a sauce that added just enough moisture and flavor to the beef without being too saucy. My family, and husband, has been more adventurous so I figured I'd give it a try. It was quick, it is on the healthier side, and who knows, maybe we'd have a new dish. My husband was actually home and helped me make this so he saw every ingredient that went into the dish. Typically, he'll moan a little bit when this happens. Sometimes because he is leery, but mostly to give me a hard time. Carrots? Worcestershire sauce? Dried onion on top of the potatoes? But when it came out and he started eating it I got the head nod and the mumbled, "this is good." My daughter on the other hand wouldn't touch it. She's five so we'll excuse her from all palate indiscretions for now. My son gobbled it up though and then it was my turn. I had a few bites, then a few more, and realized I loved it. I thought this couldn't be true, so I looked up at my husband thinking the fates would be against me and he would have changed his mind. He didn't. He really enjoyed it. We tried to encourage my daughter, telling her Daddy was trying something new and to please like it since we loved it. Nope, not having it, but we'll keep working on her.
So, I hope you enjoy this as well. Of course you can make your own mashed potatoes, and do your own prep work, but having everything done ahead of time makes this an easy meal to make when you get home on a weeknight. You'll have super on the table in about 20 minutes! Enjoy.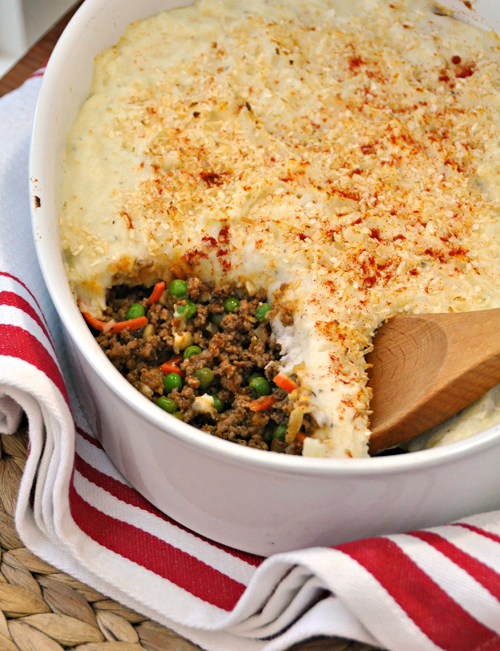 Speedy Shepherd's Pie
Ingredients
1 lb 93% lean ground beef
1 cup matchstick-cut carrots
1 cup prechopped onion
4 garlic cloves, minced
2 Tbsp unsalted tomato paste
1 cup unsalted beef stock, divided
2 tsp cornstartch
2 tsp Worcestershire sauce
1/2 tsp freshly ground black pepper
3/8 tsp kosher salt
1 1/2 cups frozen green peas
1 (24-ounce) package prepared mashed potatoes
2 Tbsp freeze-dried onion
1/2 tsp Hungarian sweet paprika
Preheat oven to 500 F.
Place beef in a large skillet over high heat. Cook for 5 minutes, or until browned, stirring to crumble. Add carrots, onion, and garlic to pan; cook 2 minutes. Stir in tomato pasta; cook for 30 seconds. Combine 1/4 stock and cornstarch in a small bowl, stirring with a whisk to make a slurry. Add slurry, remaining 3/4 cup stock, Worcestershire sauce, pepper, and salt to pan. Stir in peas. Cook for 2 minutes or until slightly thickened.
Place beef mixture in a 2-quart glass or ceramic baking dish. Top evenly with mashed potatoes. Sprinkle freeze-dried onions and paprika over potatoes. Bake at 500 F for 5 minutes.