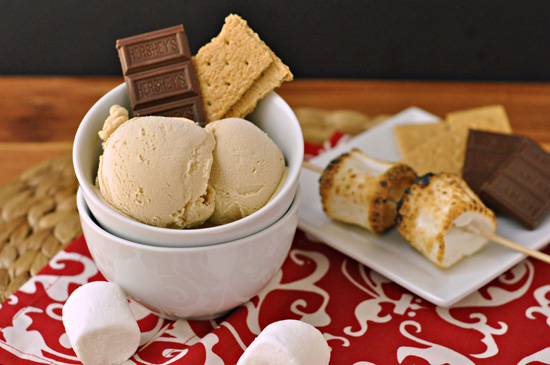 Summer is nearing an end whether I like it or not. Last winter was brutal and I just can't imagine the idea of heading back into that. So, I'm clinging on with everything I have. For as much summer fun as we had this year, I don't feel like we did "enough." Not enough time in the pool, barely any time at the beach, and definitely not enough summer treats it seems. I'm not sure how that is since I feel like all we did was eat ice cream and slather sunscreen on ourselves!
Whether it is just the end of summer mind games or the truth, I don't feel like we had enough S'mores. To enjoy more of that goodness on a regular basis, and not have to depend on my husband to start a fire, I whipped up a batch of this tasty Toasted Marshmallow Ice Cream. Originally, Cooking Light used this ice cream as a base for a delicious S'more ice cream sandwich. I thought the ice cream was great as a stand alone. For some added goodness you cold drizzle some chocolate sauce over your ice cream and top it with some crushed graham crackers. No matter what you do, you'll love this ice cream if you love marshmallows. The taste is spot on. Maybe I'll even make this in February when I am longing for Summer!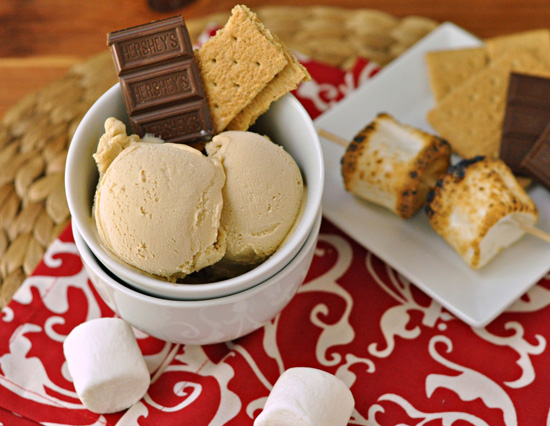 Toasted Marshmallow Ice Cream
Ingredients
7 oz miniature marshmallows (about 4 cups)
Cooking Spray
2 cups half and half
1/4 cup sugar
3 large egg yolks
1 tsp vanilla extract
Preheat broiler to high.
Place marshmallows in a single layer on a baking sheet lined with parchment coated with cooking spray. Broil 30 seconds or until golden brown and toasted. Cool.
Combine half-and-half and granulated sugar in a saucepan over medium-high heat; bring to a simmer, stirring occasionally. Place yolks in a medium bowl; stir with a whisk until smooth. Gradually add hot half-and-half mixture to egg yolks, stirring constantly with a whisk. Return egg mixture to pan; cook over medium heat 6 minutes or until mixture thickens slightly and reaches 160°, stirring constantly. Strain through a fine sieve into a large bowl set over a larger ice water-filled bowl. Let stand until cold, stirring occasionally. Place half-and-half mixture, marshmallows, and vanilla in a blender; process until smooth. Chill mixture 3 hours or overnight.
Pour marshmallow mixture into the freezer can of an ice-cream freezer; freeze according to manufacturer's instructions. Place in a freezer safe container and freeze for 3 hours or until firm.
Source: Cooking Light July 2015