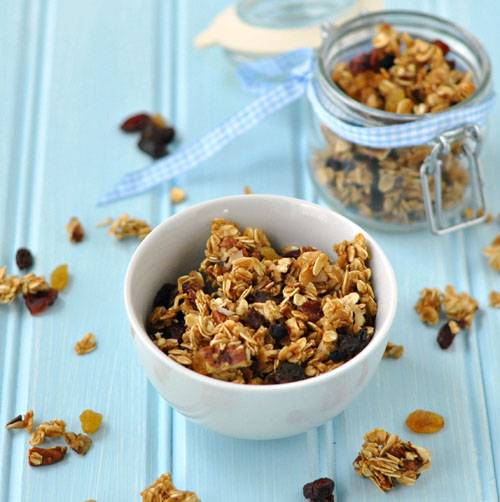 I snack, alot. I need healthier snacks and I need them at the ready. I need snacks that are available and don't require any assembly when I am ready to get my snack on. I have hit that stage of my post-partum where I have to get back on track and eat better and start taking care of myself more. Reclaim what once was mine. I always take great care of myself during pregnancy and bounce right back to pre-pregnancy weight within a week. Before you hate me, don't worry, it comes back real quick!  Once the hectic newborn stage is in full gear I put weight on real quick, grabbing everything and anything to eat. This time around it was worse since it was right in the middle of holiday season. Besides all of the great festive foods, I was also baking a lot and had chocolate morsels and other pantry items at my ready to rummage through. It's over though, time for a healthy snack.
I've never been into granola before that wasn't in a bar form, but it was time to give it a try. I wanted something that had enough sweets in it so I could ween myself from the junk, but also was provided great nutrition and energy for me. This was it! Not only did I love it, but my daughter and husband have been gobbling it down. It only lasted a few days, but thankfully it doesn't take long to make and I can whip up another batch this weekend. Don't worry, I wont stop making yummy baked goods and the such, I just have to throw in a few things right now that are healthy because I am eating all.of.the.food right now!
Crunchy Maple Granola

Ingredients
6 cups Old Fashioned Oats, not quick cooking
3/4 cup slivered almonds
3/4 cup pecan pieces
1/2 cup pure maple syrup, Grade B or A
1/2 tsp salt
2 tsp pure vanilla extract
1 cup dried fruit, such as blueberries, cherries, strawberries, and raisins
Pre-heat convection oven to 275 F. Pour oats and nuts in a large mixing bowl, set aside.
Heat maple syrup and salt in a non-reactive pot until boiling. Immediately remove from heat. Stir in vanilla extract.
Working quickly, pour maple syrup mixture over oats and nuts. Using a rubber spatula, gently stir until oats are thoroughly coated. Pour onto baking sheets lined with a silpat or parchment paper. The granola should not be spread even or patted down. Using your hands, scrunch the granola into large clumps.
Bake for 35 to 40 minutes, rotating 4 times, until golden and crunchy. Remove from oven and let stand 5 minutes. Using a spatula with a sharp edge, carefully turn granola over, making every effort to retain giant pieces and large clumps. Place back in oven for 5 to 7 minutes or until crisp.
Remove from oven and cool completely. Stir in dried fruit. Serve.
Store in an airtight container in a cool, dry place for 5 days.
Yields 6 cups
Adapted from Pure Canada Maple