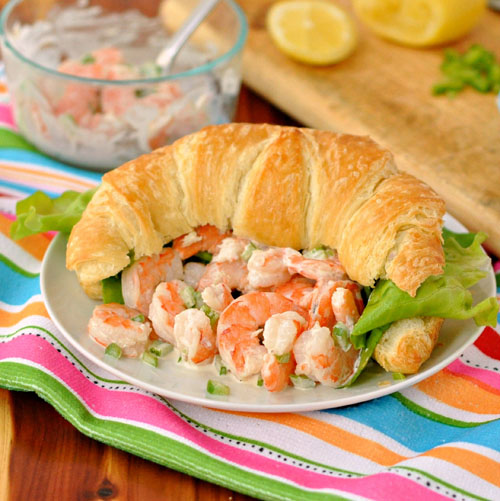 Lunch time has always been my favorite meal of the day. Whether it be a big lunch where I'll only have a snack at dinner time or something light, I just always seem to enjoy lunch. Maybe it's because I don't typically feed the whole family the same thing. We each have something we like. When it comes to preparing my own lunch, I just scan the counter and refrigerator, grab a few items, and start whipping something up. In the summer, I like to incorporate a lot of seafood into my diet, along with fresh produce. Something simple like this Shrimp Salad, can be whipped up in just a few minutes, but feels like a treat rather than slapping some cold cuts on to some bread. The process of preparing it is more fun to me as well, slicing and dicing and enjoying the aromatics of the shallot and lemon. The flavors will become stronger if you let this salad sit, so keep that in mind as you season!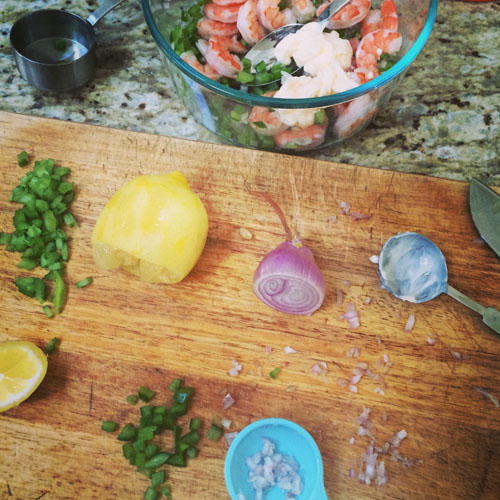 Shrimp Salad
Ingredients
3 lbs  large shrimp, 31/35
3/4 cup diced celery
3/4 cup diced green bell pepper
2 Tbsp finely diced shallot
1 cup Smart Balance mayonnaise
1 Tbsp white vinegar
salt and pepper to taste
1/4 cup fresh lemon juice
In a large pot of water, boil shrimp until cooked. Remove from heat just after they turn pink otherwise you risk over cooking. Rinse shrimp with cold water and place in the refrigerator to chill.
Combine celery, bell pepper, and shallot, in a large bowl. Peel and devein shrimp and add to bowl. Set aside.
In a small bowl, stir mayonnaise and vinegar. Add mayonnaise mixture to diced vegetables and shrimp. Season with salt, pepper, and lemon juice.
Let stand for one hour in refrigerator. Serve over a bed of lettuce or a croissant.
Yields approximately 6 cups
Prep time: 15 minutes
Cook time: 8 minutes
Source: The Way to His Heart