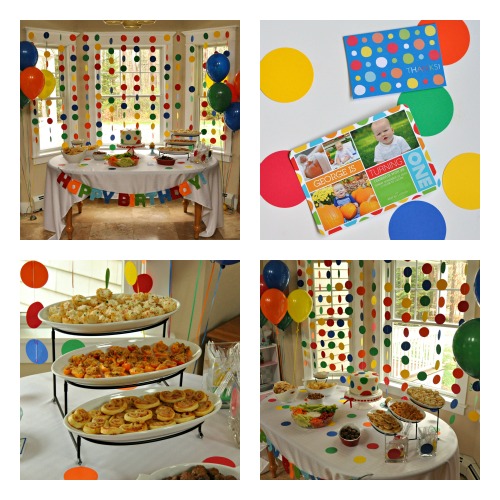 It's been a few days out and I havent' taken down those dots. They add a bit of color to the otherwise drab, leafless trees outside my window!
My little guy turned one this week and over the weekend we had a small party to celebrate the special occasion. When thinking of what "theme" I wanted to do for his party, I knew I didn't want to do anything that we'll no doubt do in the future. No trucks, planes, or dinosaurs here. I wanted it to be fun and cheerful, just like him. I also wanted it to be relatively simple. I wanted to spend more time with my kids before and during the day of the celebration, and not crafting up a storm.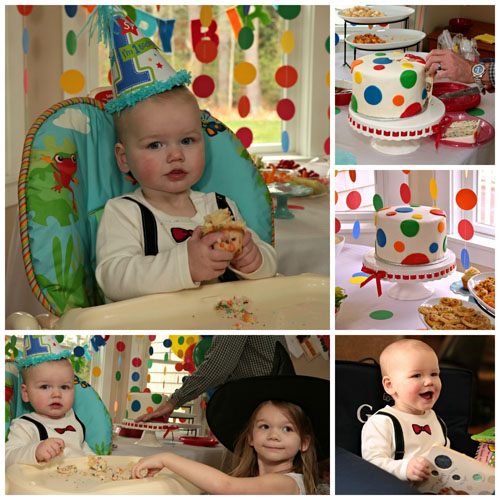 I am so happy with the end results of his party. It was so much fun. The food was simple and I brought back some favorites. The decorations were vibrant, yet not over the top. The cake was a lot of fun to make and I opted for a new recipe that I'll be sharing soon. The most important thing was that I got to enjoy this sweet milestone with my little man. *Sigh* My little man is growing up. This year went by so fast and we adjusted to being a family of four. My kids keeping me on my toes, but for his party and on his birthday, I made sure to slow things down a little and soak in every precious moment.
So, here's my George's birthday party. I hope you enjoy browsing. I have the details below, but if you have any questions, feel free to ask in the comments below. I opted for some heavy, warm appetizers and snacks to keep things easy. Since it's a week out from Thanksgiving, I made sure not to have anything that would also be served at that gathering.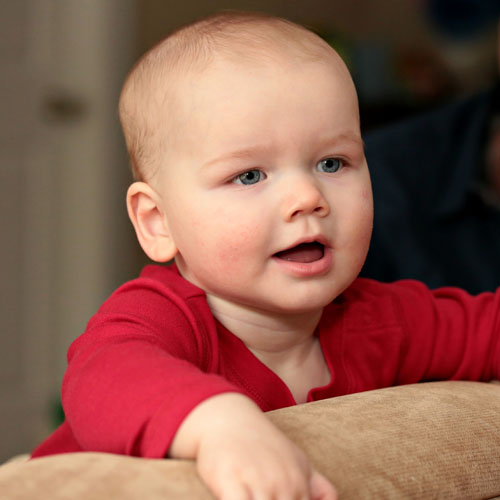 The Food
Black Forest Ham & Gruyere Palmiers
Stuffed Mini Sweet Bell Peppers
Apple Jalapeno Cocktail Meatballs
Queso & Chips
Crudites & Ranch Dressing
Chips & Pan Fried Onion Dip
Ice Cream ~ Vanilla Bean, Mint Chocolate Chip, Chocolate
Cake ~ Funfetti Cake with Vanilla Bean Buttercream and Marshmallow Fondant
Extras
Invitations from Petite Lemon, Thank you cards from Garner Studios
Polka dots made by me with a 3″ hole punch, string, and tacky glue
Happy Birthday sign from Target