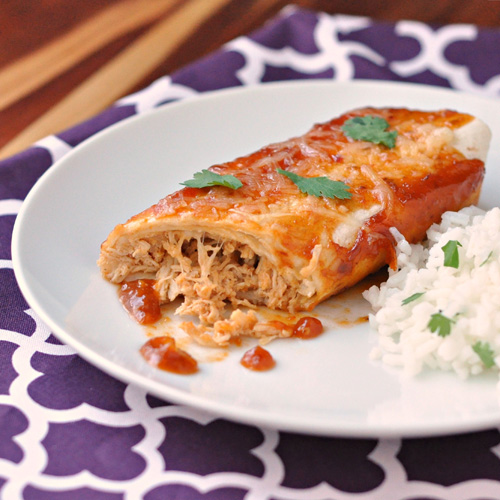 It's been such an overwhelmingly busy winter and dinners have been a sore spot. I know my family could eat the same thing over and over again, but I needed to switch things up a bit while still catering to everyone's likes. I wanted to find something easy to make, that yielded enough for leftovers, and was a treat from our regular menu. This Honey Chipotle Chicken hit the spot.
My husband likes heat, but I'm not too crazy about it. I also don't like to serve the kids anything too hot, but this chicken had the right balance of sweet and spicy. My one year old son gobbled it up and didn't think twice. My almost 5 year old had to be convinced to eat the enchilada, but the chicken itself was fine for her. I always have a serving of sour cream at the ready to cool things down but I didn't need it for these enchiladas. The best part about making the giant batch of chicken in the slow cooker was that we had enough enchiladas to serve for two nights and I tossed the rest of the chicken and sauce in the freezer. I can make enchiladas again, or make some delicious nachos, taco, or sandwiches in the near future. This recipe is a win no matter how you look at it!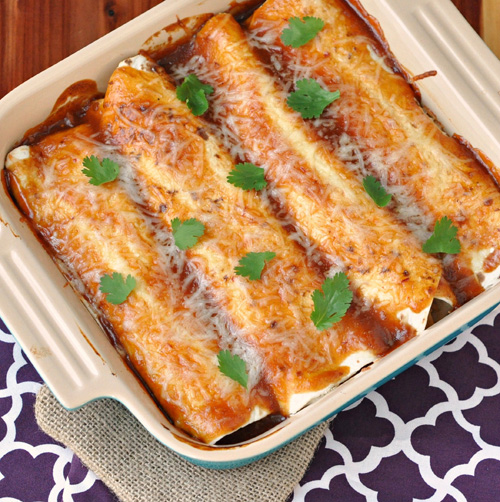 Honey Chipotle Chicken Enchiladas
Ingredients
3lbs boneless, skinless chicken breast
7 oz can chipotles in adobo sauce
3/4 cup honey
1/2 small onion, roughly chopped
3 cloves garlic
Worcestershire sauce
Black pepper
3 Tbsp cornstarch
12 tortillas
4 oz grated Monterrey Jack cheese
Cilantro
Place chicken in a large crockpot.
In a blender, add the chipotles, honey, onion, garlic, Worcestershire sauce, and black pepper. Fill the empty can from the chipotles with water and add to the blender as well. Blend for about 20 seconds until you have a smooth, pourable sauce.
Add the sauce to the crockpot and cook on low for 4 to 5 hours, or until chicken is done.
Remove the chicken and shred. Cover and set aside.
Skim the fat from the top of the sauce in the crock pot. Transfer the remaining liquid into a sauce pan and cook on medium high heat. Remove 1/2 cup of the sauce and whisk with cornstarch. Add the thickened sauce back into the sauce pan and stir. Continue to cook until the sauce boils and has thickened.
Pre-heat oven to 375 F.
Toss about 1/2 cup of the sauce with the chicken to moisten.
Pour 1/2 cup of sauce into the bottom of the a baking dish.
Place chicken and a small amount of cheese into each tortilla and wrap, place each enchilada into the baking dish seam down. Once you've finished with all of the enchiladas, top with 1 1/2 cups of the sauce and remaining cheese.
Bake for 15 minutes, until browned and the cheese has melted.
Top with cilantro and serve warm.
Served with cilantro rice as shown in photo

Yields 12 enchiladas and extra chicken to use for tacos or delicious nachos!
Source: Confections of a Foodie Bride