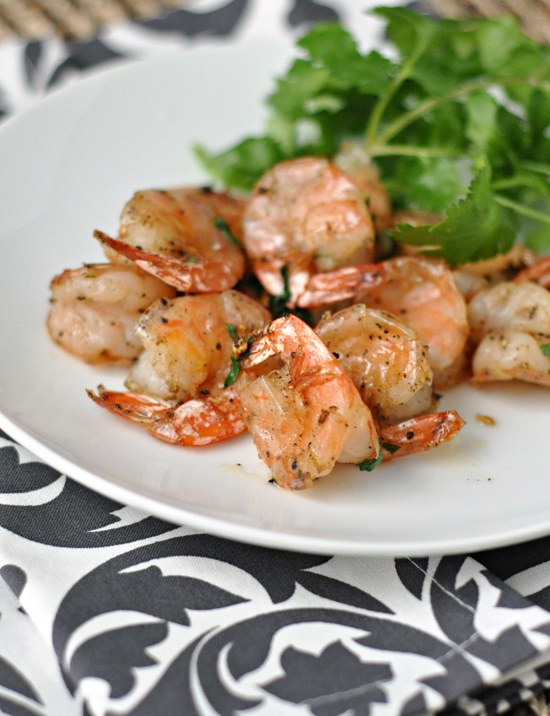 I've been really doing well this winter with keeping my snacking to a minimum and eating better. My biggest hurdle has always been lunches. Between feeding the kids and getting the little guy down for a nap, there just isn't time. So I used to skip it or simply eat the random bits of food that they didn't eat. Make a peanut butter and jelly sandwich, take a spoonful for myself. Cut half an apple for them and I'd eat the other half. These weren't poor food choices, but it often left me hungry later and then the snacking would begin. Enter shrimp, which has always been my little life savor. So quick to cook up and always tasty, I make time for lunch if I know I'm going to eat something super yummy.
I love this recipe for it's flavor and ease, but I also love tossing cilantro into anything I can since it always seems we have an abundance of it! This stir fry method lightens the calories while still keeping the flavors of the original method with deep frying. A flavor lunch, or dinner, ready in minutes and extra tasty to boot! I will note, I'm not a huge fan of cooking shrimp with the peels on because it makes eating a giant pain in the rear, but I've made this a few times both ways and the flavors really just seem to incorporate into the shrimp better with the peels on. So, if you want cook with peels on and before plating if you want to be nice, you can quick remove them!
Salt & Pepper Shrimp
Ingredients
1/2 tsp each black, green, red, and white peppercorns
2 lbs shrimp, shells on
2 tsp salt, divided
2 Tbsp vegetable or peanut oil
4 cloves garlic, chopped
1 cup cilantro, roughly chopped
Crush peppercorns. Put shrimp, half of crushed peppercorns, and 1 teaspoon of salt into a large bowl and toss to coat. Set aside.
Heat a large pot over high heat. Add oil, garlic, remaining crushed peppercorns, and remaining 1 teaspoon salt and cook, stirring constantly, until fragrant, about 1 minutes. Add shrimp and cook, stirring constantly, until pink and cooked through, about 3 to 4 minutes. Add cilantro, turn off heat, and toss to combine. Serve immediately.
Makes 4 to 6 servings.
Source: Sunset magazine