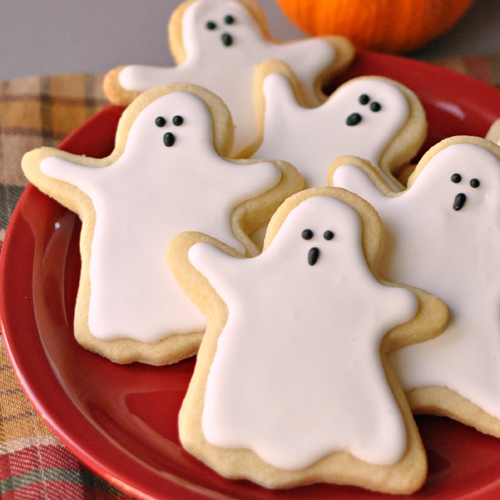 I've been trying to incorporate some of fun in the kitchen with my daughter before the baby's arrival, while stocking my freezer and cleaning out the freezer and pantry. One of my finds was two discs of sugar cookie dough. I had made the dough for Caroline's 3rd birthday and realized it wasn't my go to. I had used a recipe I had bookmarked without even realizing it. Since these were for her party I didn't want to try anything new, so I stuck it in the freezer for the time being. Well, six months have gone by and I'm finally using it! Since I'm not sure how much cookie making we'll be doing this holiday season I thought some friendly ghosts would be fun and I could finally work with this recipe. I knew it had to be good since it's by Dorie Greenspan and I wasn't wrong. I will note though, that while she says the dough can last for 2 months, this dough was still tasty and workable at 6 months post-freezer!
This dough is a really soft dough, which makes for tender cookies. They sat out for a while before I got the energy for decorating and they were still soft and delicious. I found that this dough also holds its shape rather well for how soft it is. While I like my go to Sugar Cookie recipe's taste better, I think this recipe is good if you need to crank out a lot of sugar cookies for an occasion. These are more traditional in flavor as well. You can't really lose with either recipe though!
I decorated these cookies using my favorite 10 Second Royal Icing.
All-Occasion Sugar Cookies
Ingredients
2 cups all-purpose flour
1/2 tsp salt
1/2 tsp baking powder
1 stick plus  2 tablespoons (10 Tbsp) unsalted butter, at room temperature
1 cup sugar
1 large egg
1 large egg yolk
1 tsp pure vanilla extract
In a medium bowl, whisk flour, salt, and baking powder.
In the bowl of your stand mixer, using the paddle attachment, beat butter at medium speed until smooth, about 1 minute. Add sugar and beat for an additional 2 minutes, until the mixture is light and pale. Add the egg and yolk and beat for another  1 to 2 minutes. Add vanilla and beat until combined. Turning the speed to low, steadily add the flour mixture, only until it has been incorporated. Make sure not to over mix the dough.
Turn the dough out onto a counter and divide it in half. If you want to make roll-out cookies, shape each half into a dish and wrap it in plastic. If you are making sliced cookies, shape each into a roll and wrap in plastic. Chill dough for at least 2 hours, but the dough can be refrigerated for up to 3 days or frozen up to 2 months.
Place oven rack in center of the oven and preheat to 350 F. Line baking sheets with a silpat or parchment paper.
For roll out cookies: Work with one dough packet at a time, rolling dough between plastic wrap or wax paper to a thickness of 1/4-inch, lifting the plastic or paper and turning the dough over often so that it rolls evenly. Lift the top sheet of plastic or paper and cut out the cookies. Save scraps for re-rolling. Place cookies on baking sheet, leaving 1 1/2-inches between the cookies. The dough will soften so I put the scraps in the refrigerator to chill for 15 minutes while I am working with the second half of dough.
For sliced cookies: Use a sharp knife and slice the dough into 1/4-inch thick rounds and place on the baking sheets, leaving 1 1/2-inchs between the cookies.
Bake cookies one baking sheet at a time for 9 to 11 minutes, rotating the sheet halfway through. The cookies should feel firm, but they should not turn color. Remove cookies from oven and allow to rest for 1 minutes before transferring them to a wire rack to completely cool.
Cool baking sheets between batches.
Cookies will keep at room temperature in an airtight container for up to 1 week. Wrapped well, they can be frozen for up to 2 months.
Yields about 50 2-inch cookies
Source: Baking: From My Home to Yours, Dorie Greenspan