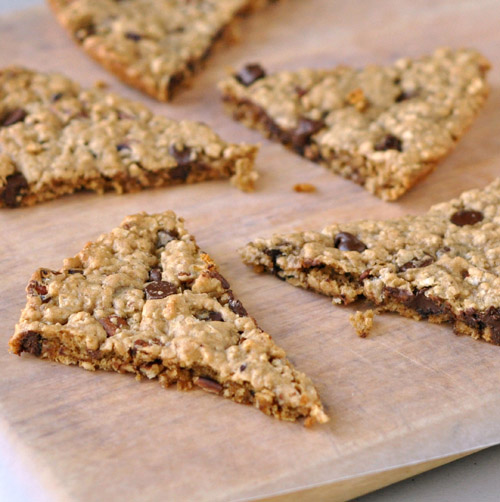 Sometimes you just need chocolate and you need it quick. While cookies are a quick fix, even that can be cumbersome if you don't have a stash ready in the freeze just waiting to be baked. Then you may feel the guilt because you really want something, but you know you shouldn't. Enter these granola cookie wedges. They are so tasty and so quick to make. Actually, they can be very dangerous as well to someone with no will power like myself. The first one I made was finished within an hour. The second batch didn't last too long either. Granted, my family helped me out. But with little effort and the addition of oats and pecans, you get the indulgence you want without suffering the guilt afterwards.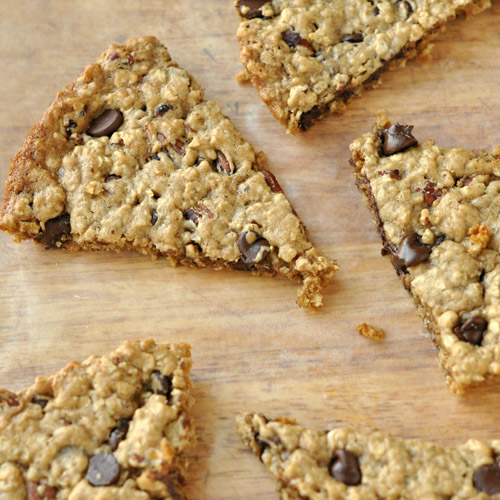 Granola Cookie Wedges
Ingredients
1/3 cup dark brown sugar
2 Tbsp canola oil
1 Tbsp butter, melted
1/2 tsp vanilla extract
1/4 tsp salt
1/4 tsp baking soda
1 large egg white
2.25 oz all-purpose flour (about 1/2 cup)
1/2 cup quick cooking oats
1/4 cup chopped pecans, toasted
2 Tbsp semi-sweet chocolate chips
Cooking Spray
Pre-heat oven to 350F.
Combine the first 7 ingredients in a large bowl; stir until well combined. Weigh or lightly spoon flour into a dry measuring cup; level with a knife. Add flour, oats, nuts, and chocolate chips to sugar mixture; stir until just combined.
Scrape the dough into a 9-inch glass pie plate coated with cooking spray, and spread to edges using a spatula. Bake at 350° for 13 minutes or until set. Cool slightly on a wire rack. Cut into 8 wedges.
Nutritional Information
Per serving: 168 Calories, 8.6g Fat, 2.5g Protein, 20.9g Carbohydrate, 1.3g Fiber, 4mg Cholesterol, 1mg Iron, 136mg, Sodium, 17mg Calcium
Source: Cooking Light, April 2013