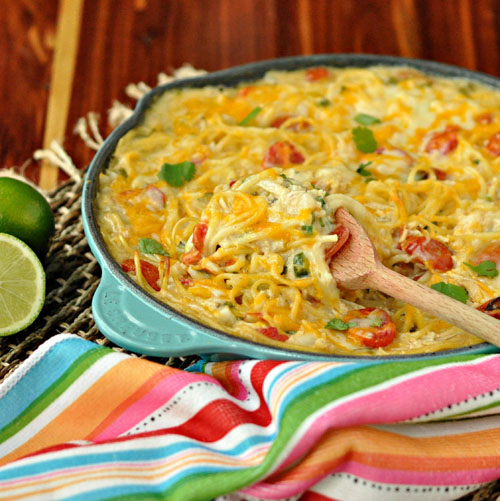 I love finding a new recipe that I know immediately will be a winner. The picture draws me in and then I start examining it further for ingredients that my family loves. Then, I'll scan the ingredient list to make sure there isn't anything my family hates or I see if I can omit the item or substitute. My family loves pasta and spaghetti is their favorite type. Add in some heat and I know my husband will love it.
Apparently, I've been under a rock because I had never heard of Chicken Spaghetti before. Apparently, it's a classic but uses canned soups. Well, canned soups aren't my thing unless it is absolutely necessary so I am glad I found this recipe as it is below since I would have glanced over it otherwise. This meal is great since it provides plenty of flavor, but doesn't deviate too far from my family's comfort zone. It really doesn't contain a lot of heat, just enough for flavoring. I promise, I'm a wimp so I mean it when I say it isn't hot. If you want it hotter, play around with the addition of more jalapeno peppers and cayenne. Just to be safe, before adding everything together to bake, I pulled out the pasta and chicken and served that to my daughter without the flavorings. The joys of having a young child is that they will accept a plate with chicken, pasta, tomatoes, and a lump of shredded cheese!
This was well received and has made it's way into the easy dinner rotation. I hope your family enjoys it as well!
Lone Star Chicken Spaghetti
Ingredients
8 oz spaghetti
2 cups grape tomatoes, halved lengthwise
2 jalapeno peppers, stemmed, seeded, and halved lengthwise
4 cloves garlic
1/2 yellow onion
2 Tbsp unsalted butter
2 Tbsp flour
2 cups whole milk, plus more as needed
2 cups grated cheddar cheese
2 cups grated Monterey Jack cheese
1/2 tsp ground cumin
1/4 tsp cayenne
1/2 cup chopped fresh cilantro, plus more for topping
2 tsp fresh lime juice
salt and freshly ground pepper
4 cups shredded cooked chicken
Lightly grease a 12-inch skillet. Cook spaghetti according to package directions in a pot of boiling salted water. Drain, rinse, and transfer to skillet.
Meanwhile, turn on broiler. Place grape tomatoes and jalapenos on a foil-lined baking sheet, skin side up, along with garlic cloves and onion. Broil 5 to 7 minutes on a rack placed 6 inches away from heat. Remove from oven, let vegetables cool, and dice. Reduce oven to 350F.
Melt butter in a saucepan over medium-low heat. Whisk in flour until well combined and slightly browned, about 30 seconds. Slowly pour in milk and cook, stirring, until sauce thickens to coat spoon, 3 to 5 minutes.
Turn off heat and slowly stir in half the cheeses, about 1/4 cup at a time, until melted into sauce. Stir in diced vegetables, along with cumin, cayenne, cilantro, and lime juice. Add salt and pepper. Pour sauce into cooked spaghetti and stir in shredded chicken. Top with remaining cheese. Bake, uncovered, 20 minutes or until brown and bubbling. Sprinkle with cilantro.
Source: Homesick Texan's Family Table