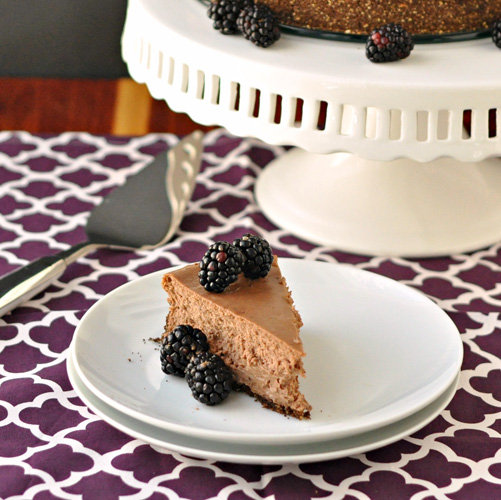 While I've never been one to turn the other way when it comes to decadent desserts, the holidays and decadent desserts go hand in hand. It's one delectable dessert after another. Which, of course, is why most promise to eat healthier and exercise more when the New Year comes. No matter how much moderation I practice, I'll be in that crew too, but here's a delicious dessert that wont be the cause!
While it's definitely not good for you, this decadent and luscious chocolate cheese cake filled with three different chocolates, is a lighter option while definitely not light on taste. Frankly, no one can tell so for those that wont eat healthier options, just keep quiet and for those that seek them out, go ahead and tell them this is good for them. Granted, I really don't think you'll need to convince anyone to try a slice. Who is going to say no to this when placed in front of them?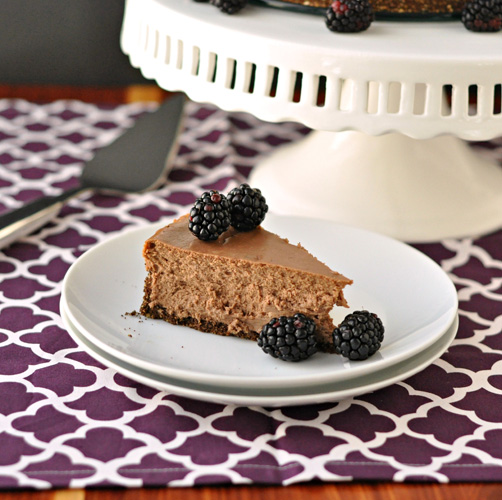 *As with any cheesecake, keep your eye on it. Your eye is the best judge versus the clock. Also, I chose to make this using an adaptation of the water bath method because that's how I do all of my cheesecakes. Simply prepare as shown before, but while the oven is pre-heating place a baking dish with water in it to create some humidity. Then, leave in while you bake your cheesecake.
Triple Chocolate Cheesecake
Ingredients
For the crust:
2/3 cup old-fashioned rolled oats
8 chocolate graham cracker sheets
2 tablespoons dark brown sugar
1/8 teaspoon salt
1 tablespoon butter, melted
1 large egg white
Baking spray with flour
1 cup granulated sugar
1/4 cup unsweetened cocoa
2 tablespoons cake flour
1/4 teaspoon salt
12 ounces fat-free cream cheese, softened
10 ounce 1/3-less-fat cream cheese, softened
4 large eggs, at room temperature
1 teaspoon vanilla extract
1 ounce milk chocolate, melted and cooled
2 cups frozen light whipped topping, thawed and divided
1 cup blackberries
Preheat oven to 350°
To prepare crust, spread oats on a baking sheet. Bake at 350° for 10 minutes or until lightly browned, stirring after 5 minutes. Cool. Combine oats, crackers, brown sugar, and 1/8 teaspoon salt in a food processor; process until finely ground. Add butter and egg white; process until moist. Press mixture into bottom and 1 1/2 inches up sides of a 9-inch springform pan coated with baking spray. Bake at 350° for 22 minutes. Cool completely on a wire rack.
Reduce oven temperature to 325°.
To prepare the filling, sift together granulated sugar, cocoa, flour, and 1/4 teaspoon salt.
Place cheeses in a large bowl; beat with a mixer at medium speed until smooth. Add eggs, 1 at a time, beating well after each addition. Add vanilla and chocolate, beating at low speed just until combined. Sprinkle sugar mixture over top of cheese mixture; beat at low speed until combined. Fold 1 cup whipped topping into mixture. Pour mixture into prepared pan, smoothing top. Bake at 325° for 1 hour or until cheesecake center barely moves when pan is touched. Remove cheesecake from oven; run a knife around outside edge. Cool to room temperature. Cover and chill 8 hours or overnight. Slice cheesecake into 14 slices; top each serving with about 1 tablespoon whipped topping. Divide berries among servings.
Serves 14
Source: Cooking Light, November 2014