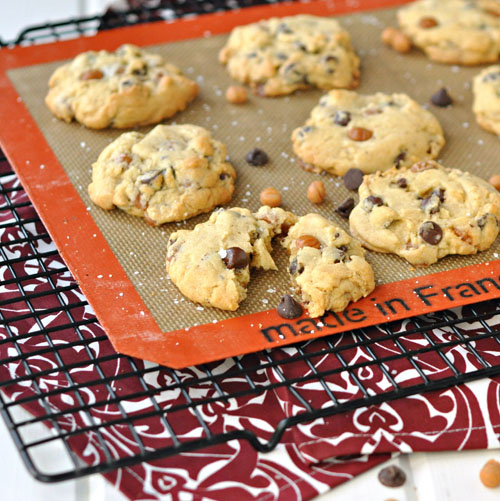 Last week was on of those weeks that couldn't end fast enough. Nothing horrible gone wrong, just in desperate need of the weekend. An easy way to cruise into the weekend with a happy note is cookies! I saw these a few weeks ago and knew that my husband would love them. He's been on a salted caramel kick for about a year. I prepared the dough while my daughter was at pre-school, baked them while she was taking a nap, and we enjoyed them before and after dinner!
These cookies were delicious! I loved the chunkiness of the dough and will probably experiment a bit with this dough as a base in the future. The caramel took the chocolate chips up a notch but I will say they are best when warm or dunked in warm tea or hot cocoa. the caramel gets a bit chewy when it has cooled while can be a little difficult for some to eat. These definitely were a nice treat for the fall though and something different that definitely put us in a happier mode to start our weekend.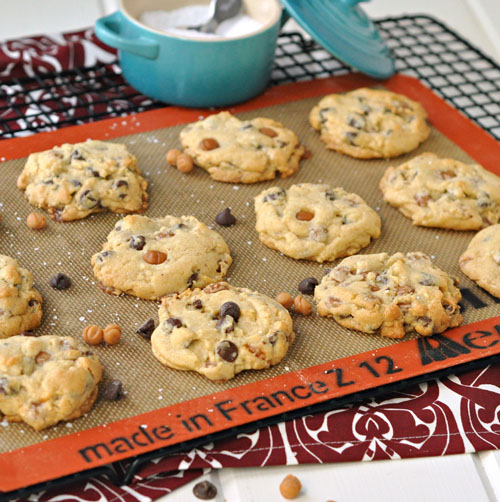 Salted Caramel and Chocolate Chip Cookies
Ingredients
10 Tbsp unsalted butter, softened
3/4 cup light brown sugar
1/4 cup granulated sugar
1 egg
1 1/2 tsp vanilla extract
1/2 tsp salt
1/2 tsp baking soda
3/4 tsp baking powder
1 cup cake flour
3/4 cup bread flour
3/4 cup semi-sweet chocolate chips
3/4 cup caramel bits
Flaked sea salt
In the bowl of a stand mixer, cream butter and sugars together. Add vanilla and egg and mix. Add the rest of the ingredients, up to chocolate chips and mix until combined. Stir in chocolate chips and caramel bits by hand. Place dough in refrigerate and chill for 2 to 4 hours.
Pre-heat oven to 350F. Line baking sheets with parchment paper or a silpat.
Using a medium scoop, scoop the dough and place on baking sheet, about 2 inches apart. Take care that the caramel bits are not on the bottom of the cookies as they will caramelize. Bake for 12 to 14 minutes or until lightly browned at the edges. Sprinkle sea salt on top of cookies while still warm.
Cool cookies on the baking sheet on a wire rack for 5 to 10 minutes, then remove the cookies and finish cooling on the wire rack. If you've got a steady hand you can carefully transfer the silpat or parchment paper to the wire rack and cool that way.
Store cookies in an airtight container.
Makes about 21 cookies.
Source: Baked by Rachel