Parmesan Wonton Crackers
13 Wednesday Mar 2013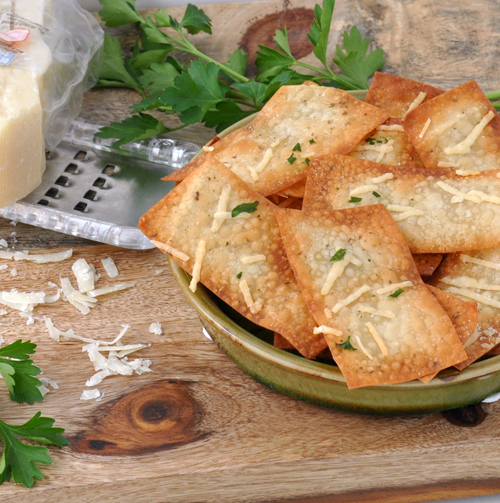 My daughter has become quite the snacker. She takes after both her mother and father. We are always munching on something salty and then needing something sweet afterwards. Okay, maybe that last part was mostly me. So, being that I do like to have snacks that are homemade in the house and with our constant snacking things go fast, I need things that are simple and quick to make. These crackers fit the bill. They include my pantry staples and take just minutes to whip up. They are perfect for a stand alone snack or are great to use as soup crackers.
Parmesan Wonton Crackers
Ingredients
1/2 cup extra virgin olive oil
25 wonton wrappers
1 cup shredded Parmesan cheese
1/2 cup parsley, chopped
salt and pepper to taste
Pre-heat oven to 375 F.
Cut wonton wrappers in half to make rectangles. Arrange wonton wrappers in a single layer on a baking sheet. Brush olive oil on wonton wrappers. Sprinkle cheese, parsley, sat, and pepper.
Bake for 8 to 10 minutes, or until golden brown.
Serve immediately or store in an airtight container for up to four days.
Source: Life as a Strawberry