Pasta Fagioli
11 Friday Jan 2013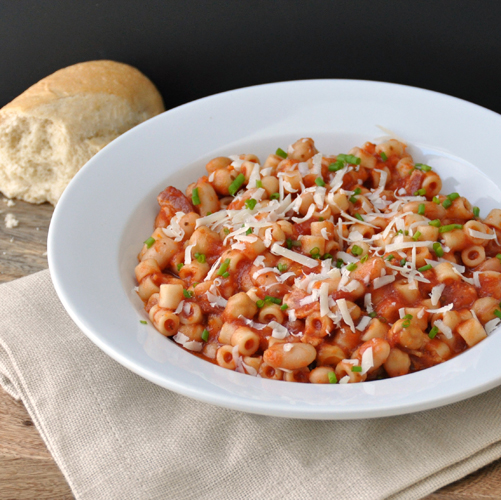 The wonderful thing about blogging and message boards is you become friends with those that you chat with everyday. Since everyone is scattered across this wide world, it's rare when you get the chance to actually meet these folks in person. Even rarer when you can celebrate big occasions. So, what's a blogger to do? Throw a virtual shower!
Amy from Amy's Kitchen Creations is expecting the arrival of her first child, a baby girl, any day now and a few of us on our cooking board wanted to throw a shower for her. Since we are all about cooking and know how difficult adjusting to a newborn can be, we decided everyone would make a dish that could be made ahead, frozen, and prepared very quickly. There are so many other things to worry about and enjoy when a newborn has arrived!
I decided on Pasta Fagioli for Amy because I wanted something that would be filling and nutritious, but could also be reheated in any portion size you wanted. During prep, it's nice and easy because it's made all in one pot. This can be reheated on the stove top or the microwave, in a single serving or how ever many she wanted. Plus, you can eat it in a bowl. A lot of times you are eating on the couch or wherever you get a second and a bowl is handy when balancing a baby with the other arm!
So, whether you are preparing for the arrival of a newborn, want something warm to curl up with that is hearty and delicious, or need something that will feed a lot of folks, enjoy an Italian classic!
Check out the other dishes that are being prepared for Amy's virtual baby shower on Carries Sweet Life!
Serves 8 to 10
Pasta Fagioli
Ingredients
Extra virgin olive oil
1/4 lb pancetta, 1/4-inch dice
1 onion, cut into 1/4-inch dice
salt
pinch of crushed red pepper
2 cloves garlic, smashed and finely chopped
1 28oz can San Marzano tomatoes, passed through a food mill
1 cup water
2 15oz cans cannellini beans, drained and rinsed
2 15oz cans chickpeas, drained and rinsed
1 lb ditalini pasta
1 cup reserved pasta water
Freshly grated Parmigiano
Chopped chives for garnish
In a large, wide pot (4.5 quart) drizzle with olive oil and add pancetta. Bring the it to medium heat and cook the pancetta until just crispy, 4 to 5 minutes. Add the onion and season with salt and red pepper. Cook until the onion is translucent and aromatic, about 8 to 10 minutes. Stir in the garlic and cook for 2 to 3 minutes. Add the tomatoes and 1 cup water, season with salt and bring to a boil. Once a boil is reached, reduce to simmer and cook for 15 minutes.
Add in the cannellini beans and chickpeas and cook for 20 more minutes.
Meanwhile, bring a large pot of salted water to a boil and cook the pasta two-thirds of the way. It should still be somewhat hard in the middle. Drain the pasta, reserving 1 cup of the water. Add the pasta and reserved pasta water to the tomatoes and beans and cook for another 3 to 4 minutes. Season to taste.
Serve with Parmigiano and chives.
Source: Cook Like A Rock Star, Anne Burrell