Potato Crisps with Chive-Sour Cream Dip
21 Tuesday Jan 2014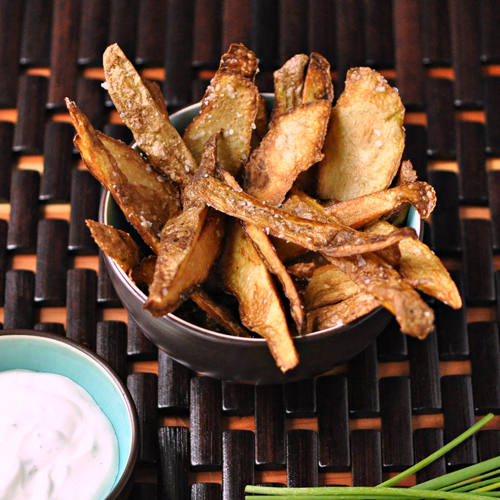 I love a good snack. Given the choice, I will choose an appetizer any day of the week. I love these potato crisps for so many reasons. First, you can use those potato peels that you would have normally thrown away. Way to use up those kitchen scraps! Mostly though, I love the salty crunch of the potato and dipping it into the cool, chive-sour cream dip. It's the perfection combination and makes for a great snack. I usually have left over chive-sour cream dip leftover which goes nicely with a baked potato another day!
Since I prefer these to the main dish, I make these for my snack on a night when I know I can make potatoes for dinner as well. Priorities!
The chive-sour cream dip can be made and kept in the refrigerator overnight.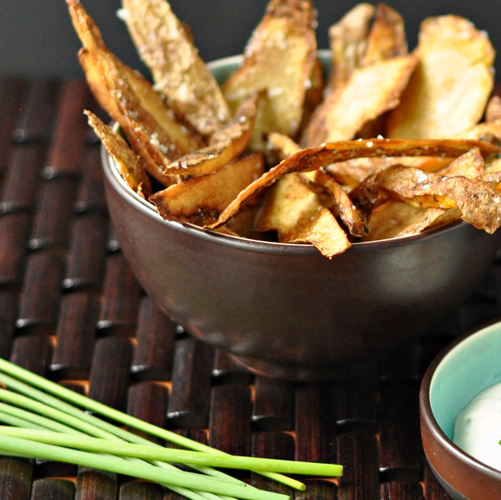 Potato Crisps with Chive-Sour Cream Dip
Ingredients
Thick peelings from 3 pounds of Yukon Gold or russet potatoes, about 3 large potatoes (roughly 1-by-3-inch strips)
3 cups canola oil
kosher salt
2 Tbsp freshly grated Parmigiano-Reggiano cheese
1/2 cup low-fat sour cream
freshly ground pepper
2 Tbsp snipped chives
Pre-heat oven to 350 F.
In a large saucepan over moderately high heat, heat the oil to 360 F. Fry the potato skins in batches, stirring occasionally, until browned and crisp, 2 to 3 minutes per batch. Using a slotted spoon, transfer each batch to paper towels to drain, then sprinkle with salt immediately.
Transfer the potato strips to a baking sheet and sprinkle them with the grated cheese. Bake for 3 to 4 minutes, just until the cheese has melted. Let the crisps cool, then transfer to a bowl.
In a blender or processor, puree the sour cream with the chives and a pinch of salt and pepper until the chives are finely chopped. Transfer the dip to a bowl and serve alongside the potato crisps.
Yields about 4 servings.
Source: Food & Wine