Pull-Apart Pizza Bites
16 Tuesday Apr 2013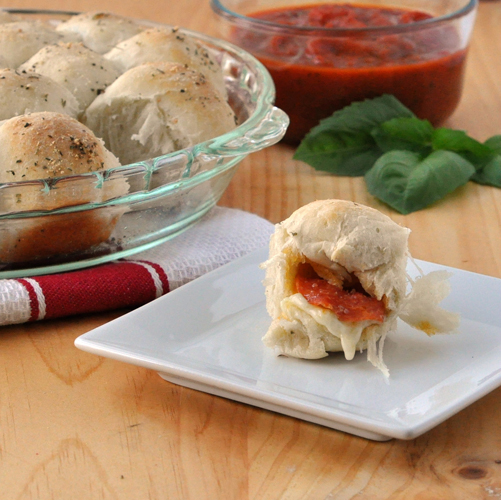 Have you ever had a recipe bookmarked, waiting for an occasion to make it? Then, when you make it it is so easy to make and tastes so good you wonder why you were saving it? Well, don't do that with these! I made these for my daughter's birthday party, looking for something that everyone of all ages would love. I was even curious to see if my daughter would eat them since they contained no marinara sauce. Nope, the word pizza stuck with her and she refused to try it. Honestly, what kid doesn't like pizza? So, anyways. These were so so so easy to whip up. I've made them since and know they will become a go to weekend snack and a must have once football season starts back up. They are also slightly addictive since it's easier to grab a few at a time than say, another slice of pizza! No more buying those freezer appetizers, once you pull apart that warm, fluffy bread you'll never be the same. My favorite part? Hearing them sizzle sweet nothings to you as you take the dish out of the oven! I've suggested serving them with marinara sauce since I have a recipe, but you could also serve them with a melted butter and garlic sauce, like Papa John's and that would be really good as well!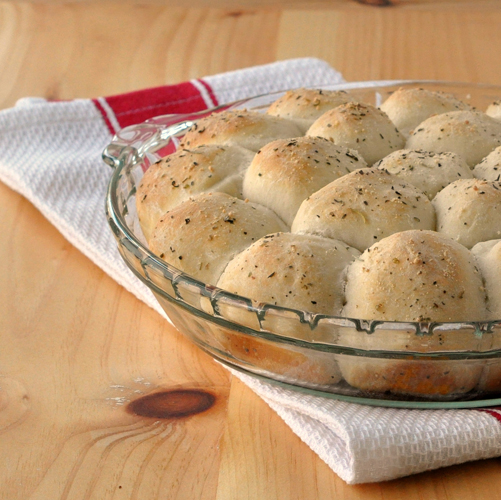 Pull-Apart Pizza Bites
Ingredients
1/2 batch pizza dough *recipe below* or enough to make 1 pizza
4 oz. mozzarella cheese, cubed (about 24 pieces)
sliced pepperoni
For Topping:
Olive oil
Grated Parmesan cheese
Serve with Marinara Sauce
Pre-heat oven to 400 F. Lightly grease a 9-inch pie plate.
Divide the dough into 24 equal sized pieces. Mine end up weighing just over 1 oz. each. Place one mozzarella cube and one to two pieces of pepperoni slices on each piece of dough.
Push the cheese and pepperoni down into the dough and pull the sides of the dough up around it. Pinch to seal and place the dough, seam side down in the pie plate. Repeat with the remaining dough and place the pieces of dough in a circular pattern around the pie plate.
Lightly brush olive oil over the top of the dough balls. Lightly sprinkle the Italian seasoning or pizza spices and Parmesan cheese over the top of the dough balls.
Bake for 20 minutes or until golden brown. Serve warm.
Pizza Dough
Ingredients
1/2 cup warm water, 110 F.
1 envelope instant yeast
1 1/4 cups water, room temperature
2 Tbsp extra-virgin olive oil
4 cups bread flour
1 1/2 tsp salt
olive oil or cooking spray for greasing the bowl
Measure the warm water in a 2-cup liquid measuring cup. Sprinkle in the yeast and allow it to stand for 5 minutes, until the yeast dissolves and becomes foamy. Add the room temperature water and olive oil and stir to combine.
Place the flour and salt in the bowl of a stand mixer fitted with the paddle attachment. Stir the dry ingredients until combined. Slowly add the liquid ingredients and continue to mix at low speed until a cohesive mass forms. Stop the mixer and replace the paddle with the dough hook. Knead until the dough is smooth and elastic, about 5 minutes. Form the dough into a bowl and put it in a large greased bowl. Cover with plastic and allow it to rise until it has doubled in size, about 1 1/2 to 2 hours. Press the dough to deflate it.
Yields enough for 2 pizzas.
Source: Annie's Eats, Inspired by Chaos in the Kitchen, Baker's Illustrated