Silky Spinach Soup
02 Wednesday Jan 2013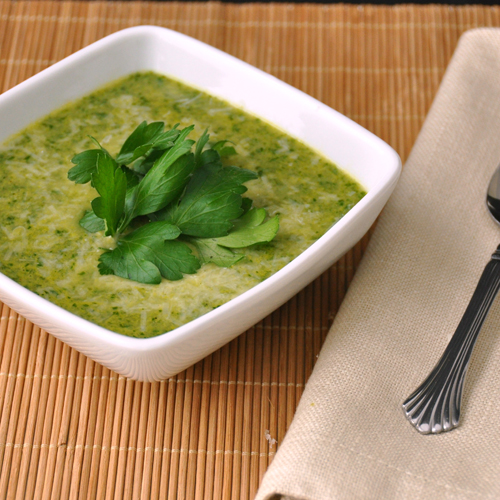 I've really been into making soups lately and decided I wanted to try my hand at a spinach soup. I am not sure I've even eaten spinach soup before, but I figured I would give it a try! When I was scoping out recipes I found a lot that used heavy cream and while I knew that would make it taste good, one recipe stood out from the rest. There was no cream and there was the addition of dry sherry. The best part was I checked into the recipe I noticed it was written by Tami Hardemen, Running with Tweezers, who taught our Food Styling session at Mixed. I knew I had to give it a try! This soup was even more special in that it was cooked in my new Le Creuset dutch oven. Santa was good to me this year and I got a few pieces, but oh how I love my dutch oven baby so much. The only pictures I took were on Instagram, silly me should have taken some good ones of the christening!
I was very pleased with the taste of this soup. The sherry added a nice tone to it and it wasn't heavy like a cream soup. The potato did a nice job thickening it. My daughter really enjoyed the soup as well! This is a great, comforting way to be good this new year!
Silky Spinach Soup
Ingredients
2 Tbsp unsalted butter
1 medium yellow onion diced
1 clove garlic, minced
1 medium russet potato, peeled and diced into 1/2″ chunks
4 cups vegetable stock or 2 cups stock and 2 cups water
8oz baby spinach leaves
1/8 tsp cayenne pepper
1/4 tsp nutmeg
2 Tbsp dry sherry
salt and pepper to taste
grated Parmesan cheese, parsley, watercress, or creme fraiche for optional garnish
In a large stock pot on medium heat, melt butter.
Add the onions and saute until translucent and aromatic, about 4 minutes.  Add garlic and saute for 1 to 2 minutes, until softened.
Add potatoes and cook for 3 minutes, stirring to coat with onions. Reduce heat to a simmer and add the vegetable stock. Cover the pot and cook for 15 minutes, or until the potatoes are fork tender.
Add in the spinach and cook until wilted, about 4 minutes.
Using an immersion blender, or regular blender, puree the soup to your desired consistency. Return the soup to the pot and add the sherry, cayenne pepper, nutmeg, salt, and pepper to taste.
Turn the heat back up to medium and bring the soup up to temperature.
Serve immediately with optional garnishes.
Source: Running with Tweezers