Soft M&M Chocolate Chip Pudding Cookies
22 Tuesday Mar 2016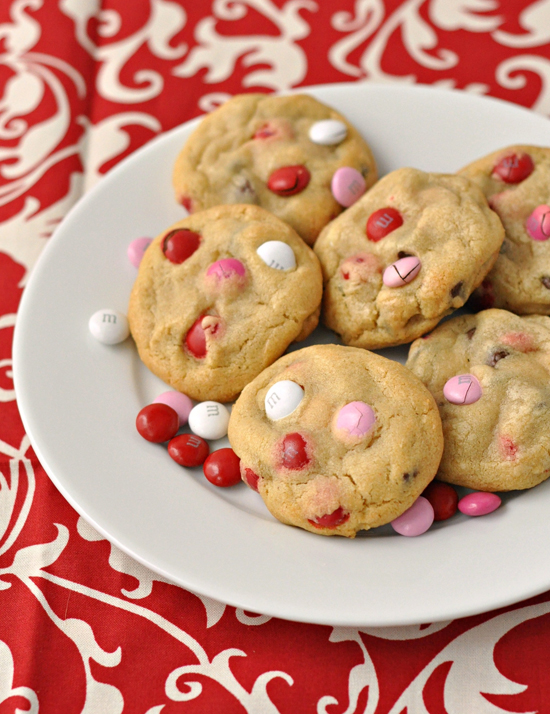 I know what you're thinking. Why is she posting Valentine's Day cookies in March? Well, I'm posting them now because I don't want you to miss out. See past the Valentine's Day themed M&M's and think of any holiday themed M&M candies. Or, simply forget about the M&M's completely and know that these are deliciously soft chocolate chip cookies. See past the fact that I made these on short notice for my daughter's school party and thankfully had everything on had but had no time to post them before leaving for vacation. Just see the delicious cookies for what they are 🙂
When I had to make a last minute snack for Caroline's school party I immediately grabbed the dessert off the potluck sheet because I knew I had something on hand. When I went into my pantry and saw that I had M&M's, I always have candy because I'm always eating all of the candy, I knew I'd make these cookies. They are so festive and kids love them. They are also super soft and nice and thick so it really ups the wow factor for the kids. It also helps that there aren't a ton of crumbs to clean up off of the classroom floor as well.
The trick to these cookies is adding instant pudding mix. You heard me. That gives the cookie plenty of thickness, while still keeping it soft and moist, and a lovely buttery and slightly cakey taste. Just trust me on this. If you like those "soft" batched cookies, you'll love these. So, go ahead and make a batch for that Easter party or because it's Tuesday. I'm not judging.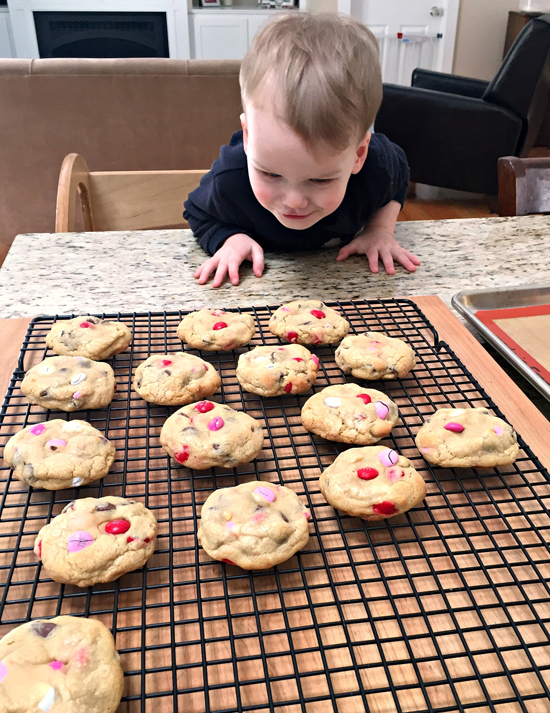 Since George also had to lend his time to help make these class cookies I told him we rightfully earned one each as well. He couldn't wait to get his hands on these!
Soft M&M Chocolate Chip Pudding Cookies
Ingredients
3/4 cup unsalted butter, softened
3/4 cup light brown sugar, packed
1/4 cup granulated sugar
1 large egg
1 tsp vanilla extract
2 cups all-purpose flour
1/4 cup instant vanilla pudding mix (not sugar-free or "cook & serve") or use 2 tsp cornstarch in place of pudding mix
1 tsp baking soda
pinch of salt, optional and to taste
3/4 cup semi-sweet chocolate chips
3/4 cup milk chocolate M&M's for the dough and 1/2 cup for placing on top of cookie dough mounds
In a large bowl, combine butter, brown sugar, granulated sugar, egg, and vanilla on medium-high speed until creamed, about 4 minutes.
Add flour, pudding mix, baking soda, and salt and beat on low speed until just combined, about 1 minute.
Stir in chocolate chips and the 3/4 cup M&M's.
Using a 2 tablespoon cookie scoop, scoop out 20 cookies and place on a large plate. Flatten slightly and then add remaining M&M's to the top of each dough ball . Cover the plate with plastic wrap and refrigerate for a few hours or up to 5 days.
Pre-heat oven to 350 F. Line cookie sheet with a silpat or parchment paper.
Place cookies on sheet, about 2 inches apart, and bake for about 9 minutes or until the cookies have just set and are pale, but flossy. You do not want the typical "golden brown" on these cookies. Allow cookies to cool on the cookie sheet placed on a wire rack for about 10 minutes.
Cookies will stay fresh in an airtight container for a week.
Freezing recommendations: If baked or unbaked, it will last in freezer for 6 months.
Yields 20 cookies
Source: Averie Cooks