Steamed Prince Edward Island Mussels
25 Friday Jan 2013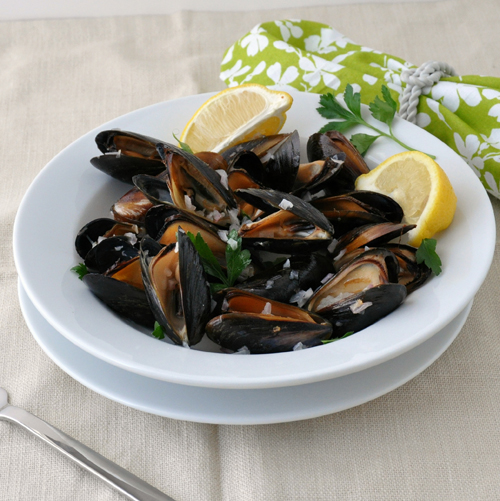 When I was young, you wouldn't dare catch me eating mussels, clams, or oysters. No matter where we lived, New York or South Carolina, we lived on the coast so these items were common around our house and although I didn't eat them, I loved shucking them! During the summer of one of my college years I had a job at a local marina and I finally started trying any seafood I could get my hands on. I found that I loved it all and couldn't get enough. Of course, by this time I had to foot the bill! Why didn't I try this stuff sooner?!
I am making up for lost time and just like growing up, I still live by the coast and love having fresh seafood nearby. One of my favorite things about seafood is it's simplicity. You don't need to many flavors, just a pinch of this and that will do and you it cooks very quickly. Since I am the only one that really enjoys seafood in my house, although my daughter does like some, I can still whip up a batch of mussels in a matter of minutes and I can adjust my serving size accordingly. A little for a snack, or more for lunch or dinner, no problem! These are so easy to make that there really is no reason to wait for a special occasion. Go ahead and enjoy them on a weeknight! The best thing is, besides the actual seafood, you typically have everything you need in your house already!
This can be served as an appetizer for four or serve with spaghetti or angel hair pasta for a dinner for two.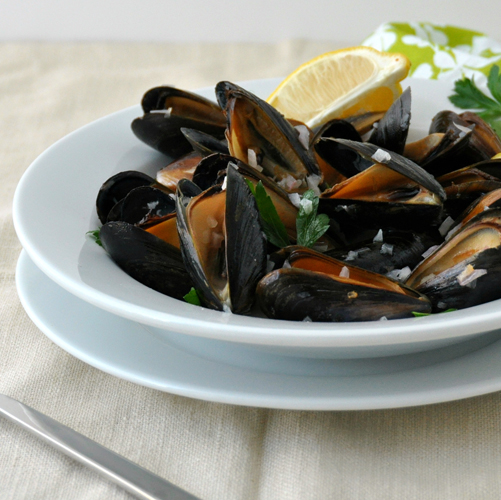 Steamed Prince Edward Island Mussels
Ingredients
2 lb mussels, scrubbed and debearded
1 Tbsp canola oil
1 large shallot
4 garlic cloves
1 cup white wine
Heat a large pot with a lid or a dutch oven on medium heat. Add oil and swirl around. Add shallot and allow to sweat, cooking until it is translucent, about 2 minutes. Add the garlic and cook for an additional minute.
Add the wine and allow to warm up before adding the mussels. Once you have added the mussels, cover with the lid and cook for 3 to 4 minutes. Remove the mussels, discarding any that did not open.
Serve immediately with the broth.
Source: The Way to His Heart