Strawberry Chipotle Jam
12 Friday Jul 2013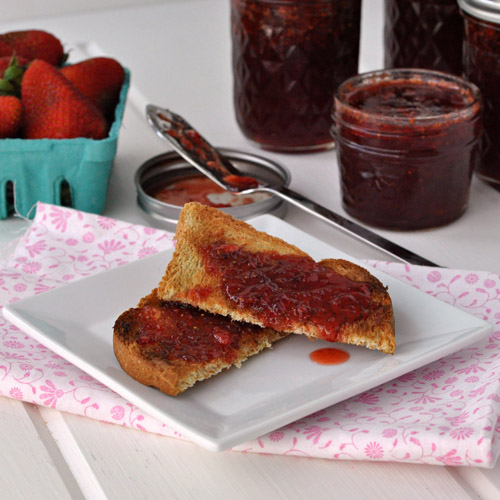 It's no secret that we love strawberries in this household. We've even begun to really enjoy the process of making jams and enjoying wonderful fruit all year long. It takes a little bit of time, but oh is it worth it. You don't have to go on a canning frenzy, but if you haven't tried it before, please do so.
When I saw this recipe I knew I wanted to give it a try. I meant to last year, but we just kept using up all of the strawberries. This year, I made sure to make a batch. While I'm not too crazy on chipotle, my husband is. I thought the sweetness of the strawberries matched with the heat of the chipotle may be something he would love. A little zing for your morning toast or serve it over cream cheese and with crackers and you have a nice, easy appetizer! The original recipe called for too many chiles for either of our preference. My husband, who loves heat, said using a whole can of chiles would make it inedible. So, we took it slow and luckily found a great balance the first time out of the gate.
Also, please don't forget to vote for my Lobster "Roll" Cups on Smart Balance's Facebook page!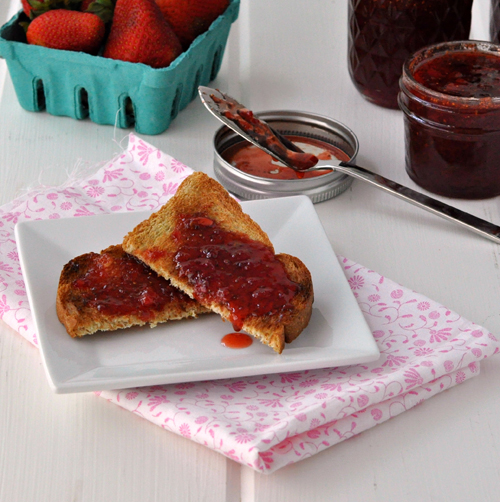 Strawberry Chipotle Jam
Ingredients
6 cups fresh strawberries
2 chipotle chiles and 1 Tbsp Adobo sauce
1/4 cup lemon juice
1 pkg powdered pectin
6 1/2 cups granulated sugar
Pulse the strawberries and chiles in a food processor, be careful not to over process. You want the berries to be somewhat whole, rather than a puree.
In a large pot, pour the strawberry mixture, lemon juice, and pectin. Cook over medium-high heat until it comes to a full boil, stirring frequently. Add the sugar and stir until dissolved. Return to a rolling boil and allow to cook for another minute, stirring constantly. Remove from heat.
Immediately pour jam into hot jars and place lids on. Place in a hot water bath for 10 minutes.
As seen on Tide & Thyme, adapted from SB Canning and The Ball Blue Book Guide To Preserving