Strawberry Rhubarb Crumb Cake
27 Thursday Jun 2013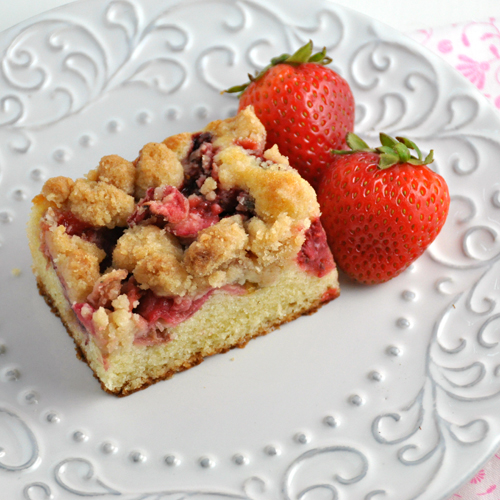 We've had an abundance of strawberries passing through my kitchen lately and I wouldn't have it any other way. Especially when there is rhubarb to go along with it. My husband loves rhubarb. Although his favorites are rhubarb pie and strawberry rhubarb jam, I enjoy coming up with other things that he will enjoy. Little did I know that I have a mini rhubarb lover in the house as well. My daughter has no problem eating it raw, not even dipped in sugar, simply raw right after picking!
This recipe was originally for "bars," but I feel like it's too "dessert" like to be in the same realm as a bar, the end result too pretty. You can serve this for breakfast as a wonderful coffee cake, a great snack, or as a lovely dessert to finish off a great summer meal. I've added some strawberries to the recipe as well, because while we like rhubarb, why not add strawberries to the party? If decided you want strictly rhubarb, that's okay though, simply omit the strawberries and bump the rhubarb quantity up to 1/2 pound. I also had a little bit of crumb mixture left over, don't throw this away! You top other things with it, or just snack on it while these are baking 😉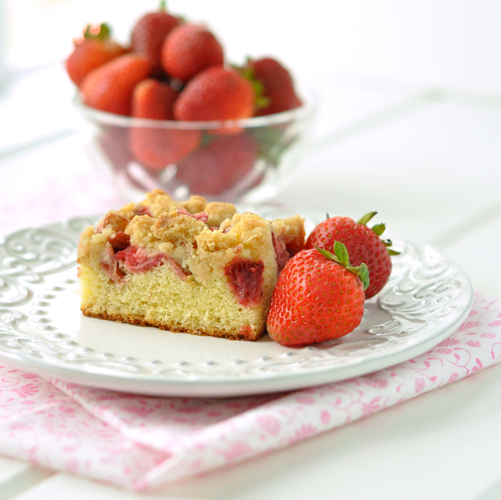 Strawberry Rhubarb Crumb Cake
Ingredients
Streusel
6 Tbsp unsalted butter, melted, plus room-temperature butter for pan
1 cup all-purpose flour, plus more for pan
1/2 cup packed light-brown sugar
1/4 tsp salt
Cake
1/4 pound rhubarb, cut into 1/2-inch pieces
1/4 pound strawberries, hulled and sliced
1 Tbsp light-brown sugar
1 cup all-purpose flour
1/2 tsp baking powder
1/4 tsp salt
1/2 cup (1 stick) unsalted butter, room temperature
1 cup confectioners' sugar
2 large eggs
1/2 tsp pure vanilla extract
Pre-heat oven to 350. Butter an 8-inch square baking pan. Line with parchment paper, leaving a 2-inch overhang on the sides. Butter and flour both the pan and parchment pan, shaking out the excess flour.
To make the streusel, whisk together the butter, brown sugar, and salt. Add the flour and mix with a fork until large crumbs form. Refrigerate until ready to use.
To make the cake, combine the rhubarb, strawberries, brown sugar, and 1/4 cup of flour in a medium bowl. In another medium bowl, whisk 3/4 cup flour, baking powder, and salt. In the bowl of your stand mixer, beat butter and confectioners' sugar until light and fluffy. Beat the eggs in one at a time. With the mixer on low, beat in the vanilla and then the flour mixture. Spread the batter in the prepared pan.
Sprinkle the rhubarb and strawberries over the top of the batter and then cover the top with the streusel.
Bake until golden an a took pick comes out with moist crumbs attached, about 40 to 50 minutes. Let the cake cool completely in the pan. Using the paper overhang, life the cake from the pan.
Serve as a cake or cut into 16 bars.
Adapted from Everyday Food