Sweet Tea Glazed Pork with a Blackberry Sweet Tea Sauce
18 Friday Jul 2014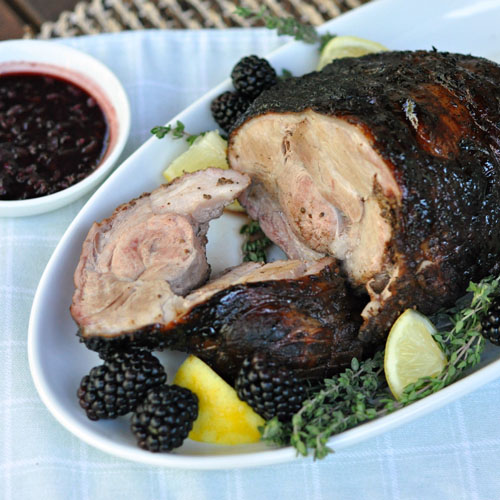 Whether you grew up in the south or have visited, you'll know one thing is of utmost importance, Sweet Tea! Way before water bottles were the norm in cars, people drove around with a glass of sweet tea. That's right, a glass! Some restaurants even provide a glass of sweet tea while you glance over the menu, who needs water?! We moved to South Carolina when I was ten and this was one thing I could get behind. Mass amounts of sugar in my delicious, cold beverage? Yes, please!
When I was glancing in my magazine a couple of weeks ago I noticed this recipe and it piqued my interest. Then, my husband saw it and told me we should make this. He likes anything that involves grilling a large piece of meat. Well, this recipe definitely involved both of us since it was a bit of an all day affair. Worth it, but an all day affair! I think the next time we make this we'll be a bit more prepared and it will go much faster though, and there will definitely be a next time. The meat was delicious and the blackberry sweet tea sauce was delicious! My daughter gobbled that up as fast she could. It's so good, if you have leftovers I suggest using it to top ice cream or pancakes the next day! This would make a wonderful meal for when you have guests over and you want to grill, but don't feel like doing the same old steaks or burgers. It provides a bit of elegance to your al fresco dinning!
When I made this, I couldn't fine a pork loin roast that was big enough so I opted for a picnic roast because we wanted it right then and I didn't feel like driving all over town. Really, any large cut of pork will work fine but if you want nice slices for guests then go with the pork loin roast. If you want chunks of goodness, then get a picnic roast like we did! Since the roast can be made with or without the sauce, I have added the sauce recipe below, separate from the roast recipe.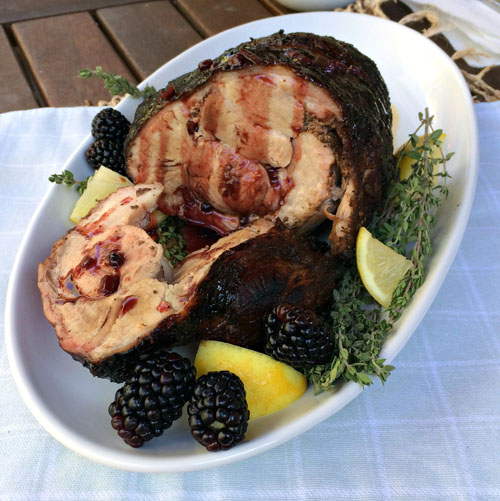 Sweet Tea Glazed Pork with a Blackberry Sweet Tea Sauce
Ingredients
For the brine
2 cups water
1/2 cup kosher salt
1/2 cup light brown sugar, packed
1/4 cup black peppercorns
3 cloves garlic, smashed
3 sprigs fresh thyme
Minced zest of 2 lemons
6 cups ice cubes
1 center-cut pork loin roast (3lbs), trimmed
For the glaze
4 cups water
1 cup granulated sugar
8 bags black tea
6 sprigs fresh thyme
Minced zest of 2 lemons
2 Tbsp olive oil
Salt and pepper
For the brine, heat water, salt, brown sugar, peppercorns, garlic, thyme, and lemon zest in a saucepan over medium-high heat until salt and sugar dissolve.
Combine the hot brine mixture with ice cubes in a 1-gallon resealable plastic bag; chill to below 45F. Submerge pork in brine, squeeze out air, and secure bag; refrigerate overnight, turning occasionally.
For the glaze, heat water and sugar in a saucepan over high heat to a boil. Off heat, add tea bags, thyme, and lemon zest and let steep, covered, for 30 minutes. Strain tea mixture and reduce over high heat until it coats the back of a spoon and measures 1 cup, 30 to 35 minutes. Reserve 1/4 cup for Blackberry Sweet Tea Sauce.
Prepare grill for indirect grilling, heating one side to medium-high and leaving the other side unlit to maintain a temperature of 325-400F. Brush grill grate with oil.
Remove pork from brine and pat dry; rub with oil and season with salt and pepper.
Grill pork over direct heat, covered, 3 to 4 minutes on both sides; baste with glaze and transfer to indirect side. Grill pork, covered, turning and basting every 10 minutes, until an instant-read thermometer inserted into the center registers 140F, about 45 minutes. Transfer pork to a cutting board; tent with foil and let rest for 10 minutes.
Slice pork and serve with Blackberry Sweet Tea Sauce, recipe below.
 Blackberry Sweet Tea Sauce
Ingredients
1 Tbsp olive oil
1/2 cup diced onion
2 cups blackberries, divided
1/4 cup low sodium chicken broth
1/4 cup reserved tea reduction from above glaze
2 Tbsp cider vinegar
1 tsp cornstartch
salt and pepper
Heat olive oil in saucepan over medium heat. Add onion and sweat until softened, 3 minutes.
Stir in 1 cup blackberries, chicken broth, and reserved tea reduction. Bring sauce to a simmer and cook until blackberries soften, 2 minutes.
Whisk together cider vinegar and cornstarch; whisk into sauce until it thickens, while pressing down on berries to help break them down. Add 1 cup blackberries and season with salt and pepper.
Source: Cuisine at Home July/August 2014