Sweet Zucchini Relish
16 Tuesday Aug 2016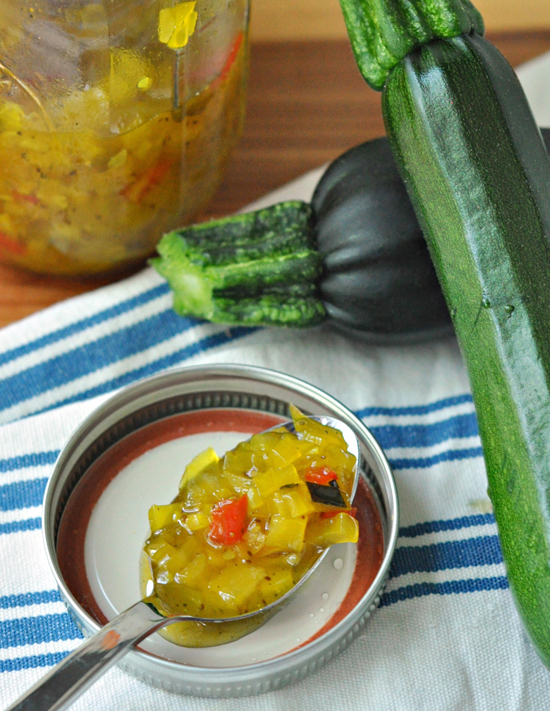 If you are growing zucchini then you have probably run the gamut in ways to use it all up. Everything from zoodles (spiralized zucchini), zucchini bread, zucchini cookies, and a ton of different side dishes. My mom introduced me to zucchini relish last year when she gave me a jar as a gift. There's nothing better than relish on a hot dog, but I was a bit hesitant, until we opened it up and had a taste. It was delicious. Now, obviously the recipe plays a key factor in the taste, but what I really loved was just how well the zucchini worked. I honestly felt like it was better than cucumbers. Where has this been my whole life? The zucchini itself is mild, but it holds up to cooking and maintains a nice texture without getting mushy. It also really absorbs the flavors well.
So, now I've realized another great use for this garden workhorse and I couldn't be happier! This recipe was too sweet for my liking at first, so I cut the sugar down. You can tweak it a bit as you go, but even if you like really sweet things like me, the original recipe was truly too in my opinion. I also prefer to dice everything up rather than shred. It takes a few extra minutes, but you get a product that you are used to eating rather than a pickled, sauerkraut type texture. The recipe can easily be doubled, but when I try a new recipe for canning, I like to go small first. Hope you enjoy! Let me know your favorite ways to use zucchini below!
Sweet Zucchini Relish
Ingredients
6 cups finely diced zucchini (peeled or unpeeled)
2 cups finely chopped onion
2 1/2 Tbsp canning salt
1/2 red bell pepper, finely chopped
1/2 green bell pepper, finely chopped
2 cups sugar
1 1/4 cups white vinegar
1/2 Tbsp cornstarch
Heaping 1/4 tsp ground nutmeg
Heaping 1/4 tsp ground turmeric
3/4 tsp celery seed
1/4 tsp freshly ground black pepper
Place the zucchini, onion, and salt in a large non-metallic bowl. Mix well, cover, and refrigerate overnight or at least 8 hours.
Drain the zucchini in a colander and rinse well with cold water. Squeeze out excess water and set aside on a towel or paper towels.
In a large pot, stir in remaining ingredients and add zucchini. Bring to a boil over medium-high heat and then reduce to medium-low and simmer for 30 minutes.
Meanwhile, sterilize jars and get your canner ready.
Add relish to jars, making sure to eliminate air pockets. Fill jars to 1/2-inch from top. Process jars for 15 minutes.
Remove jars from canner and place on a cloth until cool.
Makes about 2 pint jars.
Adapted from Allrecipes