Weeknight Meatballs
25 Monday Mar 2013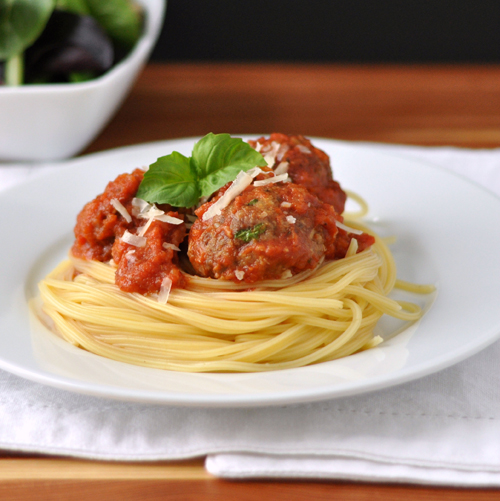 I never know what I am going to get when I ask my daughter, "What do you want for dinner?" Her answer could be ice cream, macaroni & cheese, or snow. So, when I asked the family last week what they wanted and she responded, "meatballs" I was in shock. Of course, my husband jumped on the meatball bandwagon faster than I could shoot it down since I was tired and didn't feel like going through the ordeal of making meatballs. But, if my husband and daughter want meatballs, they are going to get meatballs!
I have a little more time intensive meatball recipe that I will share with you one day that yields great results, but this recipe is simple and fast and they really taste great. Frankly,  if you are going to have one meatball recipe in your repertoire then this should probably be it. I just still enjoy making them in a more traditional way, but when I have more time and energy, which I'm lacking these days.
These meatballs taste wonderful enough to entertain with, but are quick enough to make any night of the week. You can whip up a double batch and freeze them pre-cooked or after they have baked. If you prefer to saute them rather than baking, go for it. You really can't mess these meatballs up! After I have baked the meatballs, I toss them in a warm batch of marinara sauce and let them finish on the stove top. Serve with spaghetti and you have a dish worthy of a song !
Weeknight Meatballs
Ingredients
1 small onion, grated
1/4 cup chopped Italian parsley
1 large egg
3 Tbsp ketchup
3 garlic cloves, minced
1 tsp salt
1/4 tsp ground black pepper
2/3 cup grated Parmesan

1/4 cup dried Italian-style bread crumbs

1 lb ground beef
Pre-heat oven to 350 F. Line a baking sheet with aluminum foil and place an oven proof wire rack on top.
In a medium bowl, whisk the first 7 ingredients together. Stir in the Parmesan and breadcrumbs until combined. Fold in the ground beef.
Roll the meatballs in to small balls, evenly sized. This will ensure even cooking time. I like to use my cookie scoop to make sure they are all the same size and then give them a slight roll in the palm of my hand. Don't over work the meat as it will become tough.
Bake the meatballs for 20 minutes, depending on the size of your meatball. Again, mine are small, about 2 tablespoons worth of meat. Do not overcook them if you are planning on adding them to your sauce later on.
Adapted from Giada De Laurentiis